CEO Dialogue 2019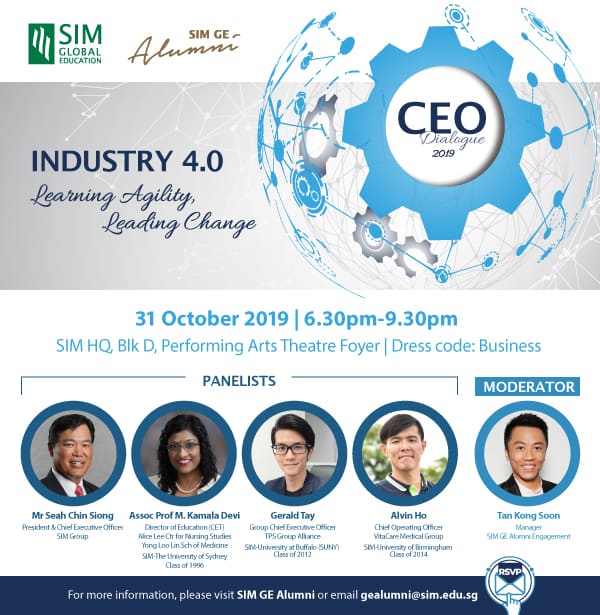 Started in 2012, the SIM CEO Dialogue is a signature alumni event where 2-3 senior alumni join SIM CEO to share their views/insights on key topics trending industry and education. Topics in past years revolved around leadership, innovation, disruption. Event format is a moderated panel dialogue whereby the panellists exchange views with each other as well as the audience.
This year's Dialogue topic: Industry 4.0 – Learning agility, Leading change
Today's new economy is one of rapid digitalisation, A.I. technologies and new jobs/skill sets.
"Industry 4.0" as the economy is now known, requires workers to master new skills ranging from using new technology platforms to different ways of working and interacting with colleagues, in order to stay employable. Education institutions, such as SIM, are ramping up efforts and enhancing curriculum to train learners in emerging skills such as machine learning, entrepreneurship and data analytics, to stay industry-relevant.
How are SIM alumni staying agile to avoid skills gap in the workforce? How is SIM helping to develop a pipeline of future ready talent for Singapore's industry transformation? Come join us for an evening of live exchange with alumni, students and industry guests.

Reserve My Seat