SIM announced its rebranding in India, as part of its regional campaign
SIM announced its rebranding in India, as part of its regional campaign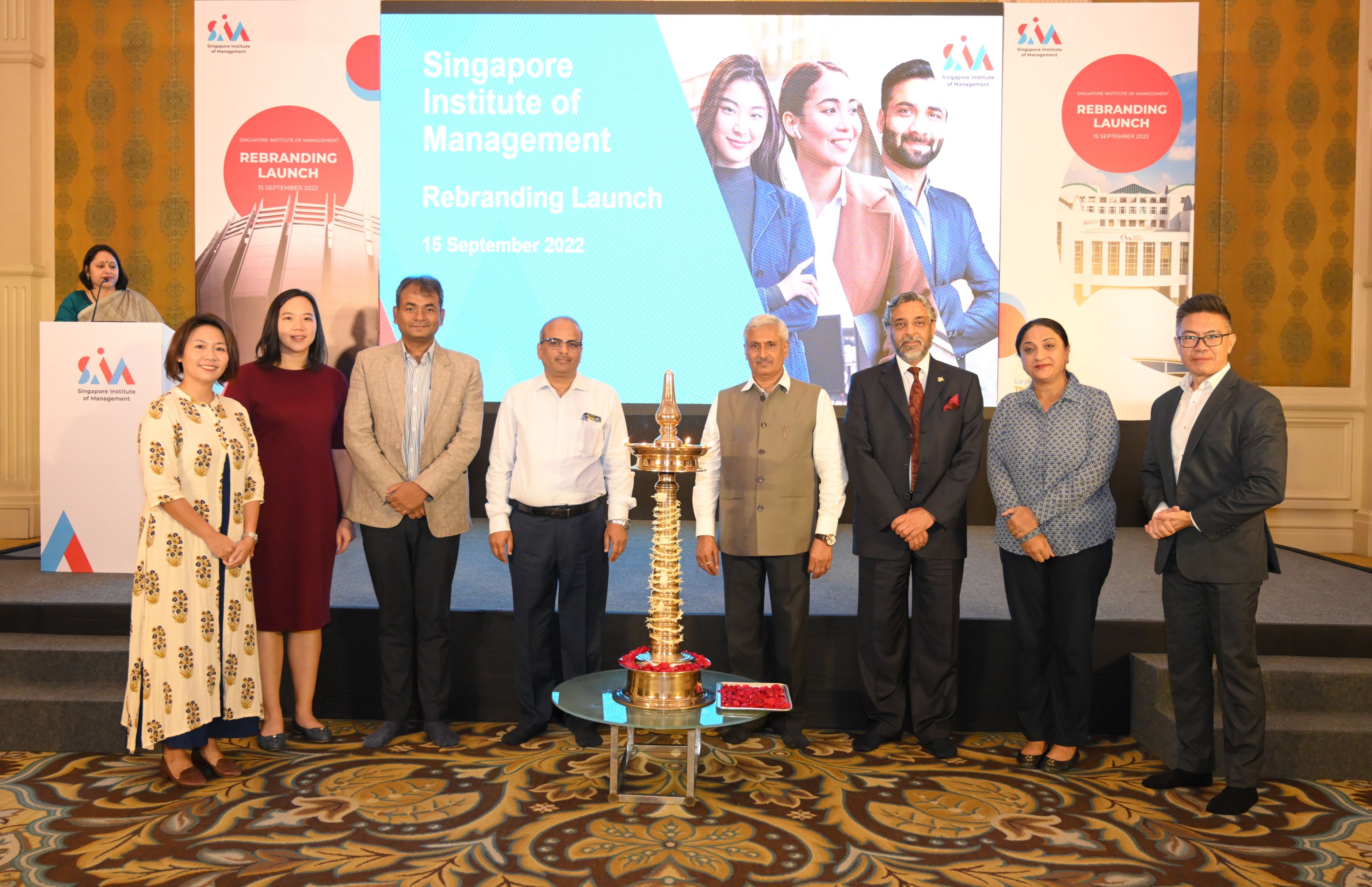 The event commenced with the lighting of a ceremonious lamp by (from left) Ms Sabrina Ho, Regional Director, South Asia, Enterprise Singapore; Ms Amanda Kwek, First Secretary (Economics), High Commission of the Republic of Singapore in New Delhi; Dr Rajesh Pankaj, Director, Federation of Indian Chambers of Commerce and Industry; Guest of Honour Mr Ved Mani Tiwari, Chief Operating Officer, NSDC; Professor C B Sharma, Professor of Education, Indira Gandhi National Open University; Mr Arvind Sharma, Executive Director, DBS Bank India; Ms Amita Mehta, Business Director, South Asia, Enterprise Singapore; and Mr Gerald Lum, Director, Brand, Marketing & Communications, SIM.

Speaking at the event, Mr Gerald Lum, Director, Brand, Marketing & Communications, SIM, noted that rapid technological advancement is shaping the world we live in, work, study and play, and that success in the new normal is increasingly dependent on continuous lifelong learning, effective decision-making and constant upskilling.

"The full impact of Industry 4.0 has yet to be felt, but it has already fundamentally changed the nature of work. Studies in India have shown that at least 92% of working professionals in the country believe that a skills gap exists, with 76% of them expressing that they feel personally impacted by it. Furthermore, 82% of employees surveyed agreed that college education had not equipped them with the skills and competencies to thrive in today's fast-paced world. Clearly, what India Inc requires is robust executive education initiatives that are aligned with the needs of Industry 4.0," he said.

In view of the global developments, SIM's mission moving forward will focus on future-readying its learners and enabling them to thrive in life through lifelong learning. "SIM is a platform for people and organisations to acquire critical skills and knowledge for meeting the challenges in the environment they operate in. We are here to inspire and equip learners with the necessary skills they need to stay relevant for the workplace of the future," Mr Lum added.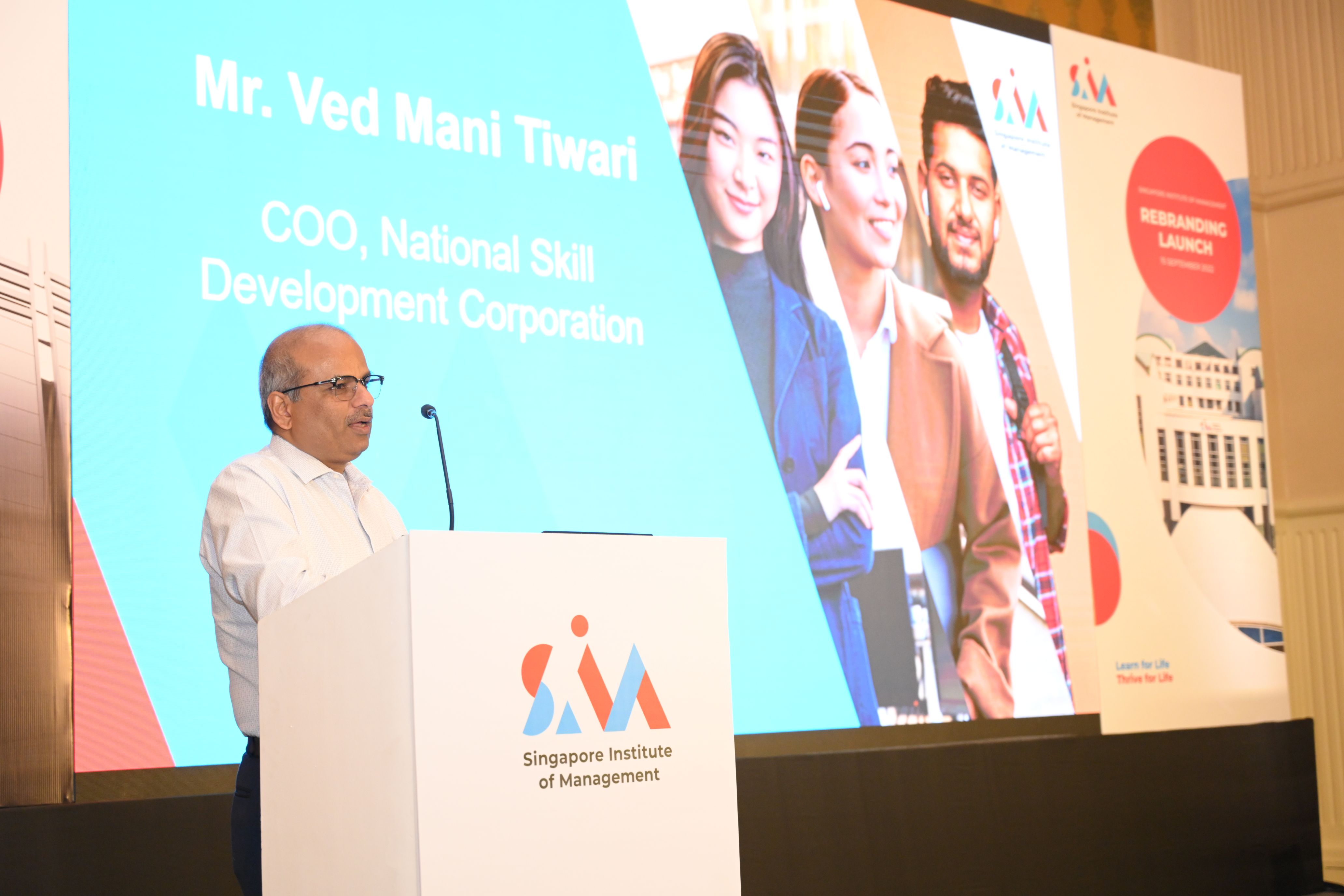 Commenting on SIM's rebranding, Guest of Honour Mr Ved Mani Tiwari congratulated the institute for having a forward-looking approach towards creating an equipped workforce that has the potential to adapt to a new world of work, and commended it for its commitment in creating future-ready talent that matches NSDC's vision of building world-class talent through robust skilling endeavours that empower India's youth and prepare them for global markets.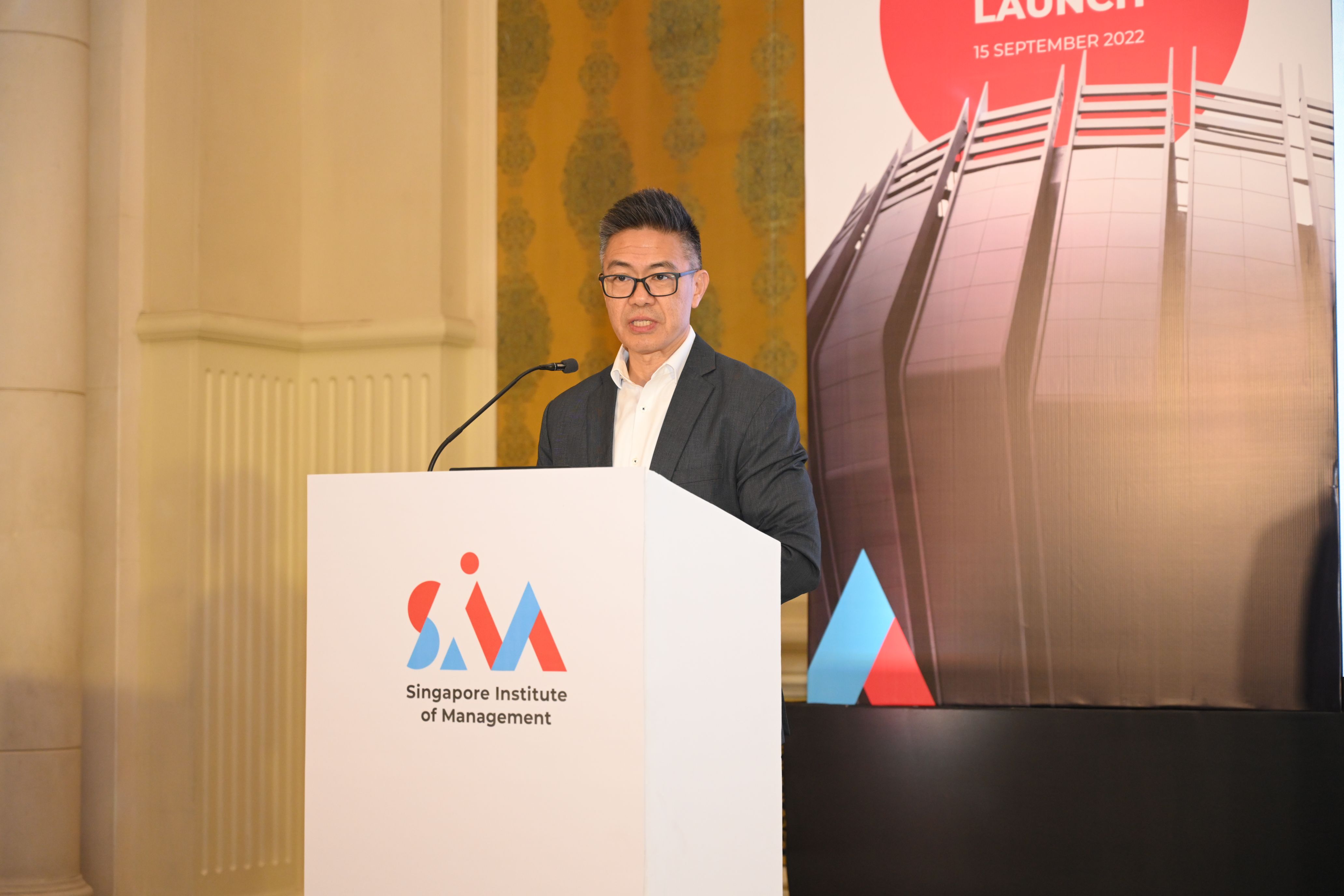 Mr Gerald Lum touched on SIM Global Education (SIM GE) having attained the EduTrust Star certification award recently. This highest tier of award under the EduTrust Certification Scheme administered by the Committee for Private Education under SkillsFuture Singapore recognises SIM GE's outstanding academic, operational and customer excellence.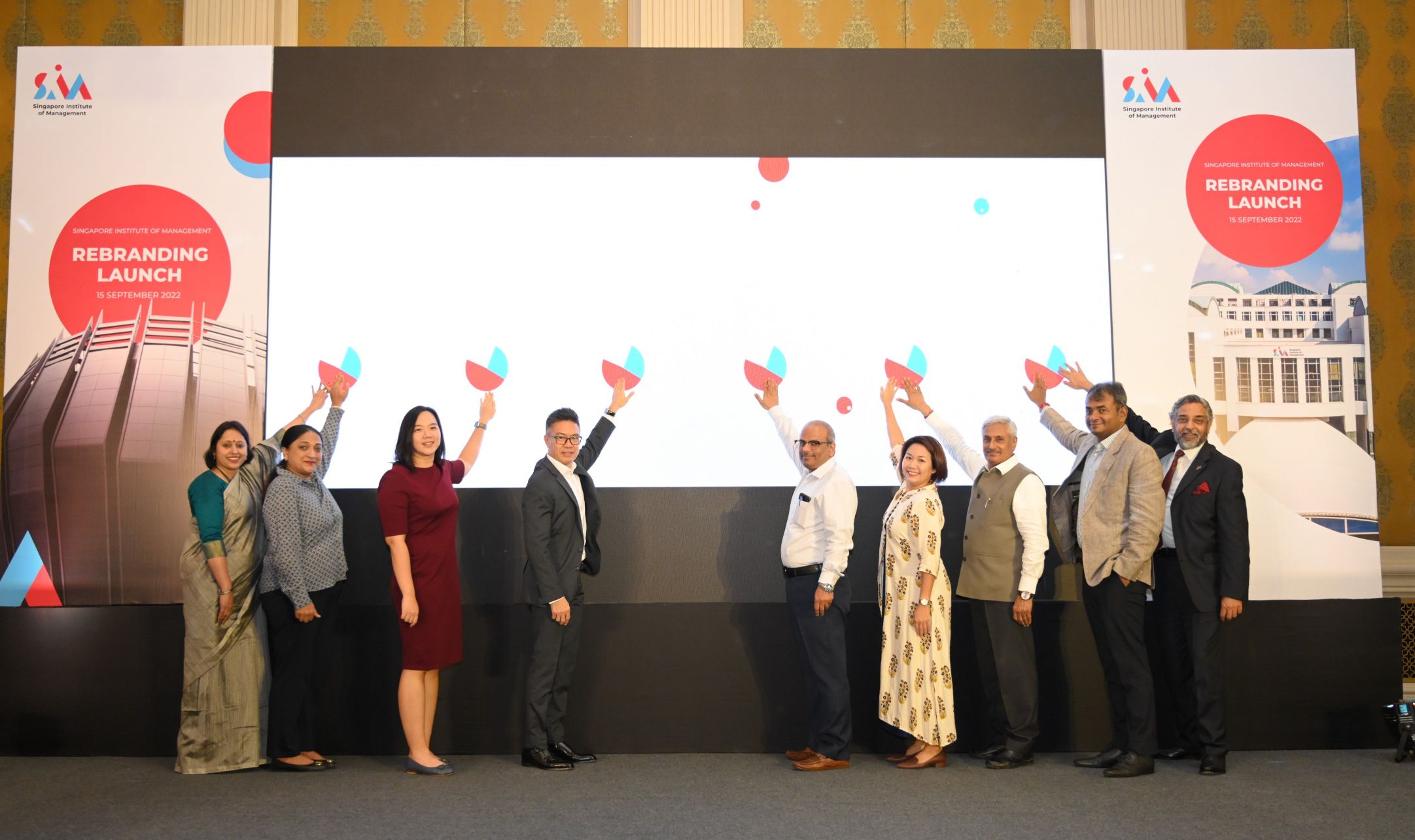 [From left] Ms Tricha Vatsa, Country Manager (India), SIM Global Education; Ms Amita Mehta, Ms Amanda Kwek, Mr Gerald Lum, Guest of Honour Mr Ved Mani Tiwari, Ms Sabrina Ho, Professor C B Sharma, Dr Rajesh Pankaj and Mr Arvind Sharma collectively unveiled the new SIM brand identity at the event.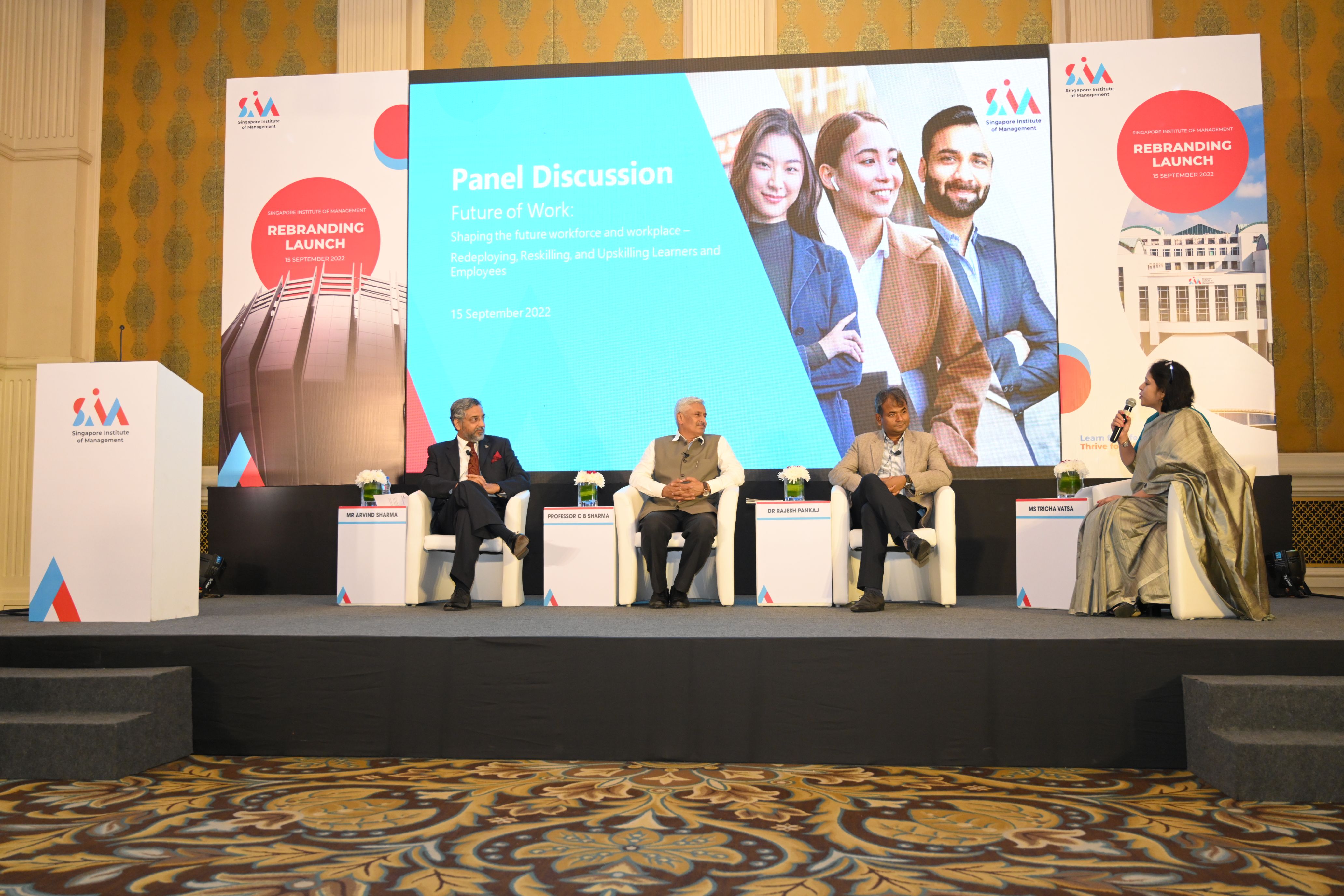 The event featured a panel discussion where (from left) Mr Arvind Sharma, Professor C B Sharma and Dr Rajesh Pankaj shared their insights and exchanged views with moderator Ms Tricha Vatsa on how the future workforce and workplaces could be shaped through the redeploying, reskilling and upskilling of employees, as well as the technical and soft skills workers would need to have to excel in their careers.

SIM GE has seen more than 1,500 Indian learners passing through its doors over the last decade. As at current, about 11% of SIM GE's international student population come from India. To actively support Indian students looking to study at SIM GE, SIM opened a full-fledged office in New Delhi in 2019.

Moving forward, SIM will be expanding its footprint in India. For a start, the institute has partnered Jagannath Institute of Management School (JIMS) in Delhi to collaborate on student exchanges and academic credit transfers from JIMS' programmes into the degree programmes offered by SIM GE's university partners. SIM GE has also authorised Garodia International College (GIC), part of the Garodia Education Group, to establish its first Overseas Teaching Centre in Mumbai, offering SIM's Diploma in Management Studies programme to students there.

"We have truly come a long way and I want to extend a massive thank you – to our learners and our partners in India – for your continued support in working with us, that allows us to provide best-in-class learning and education pathways for Indian students, without which SIM would not be where we are today. I look forward to us working closely together to address the many challenges the future ahead will pose for us," Mr Lum said to the attendees.


Singapore Institute of Management (SIM) officially announced its rebranded identity at an event in India on 15 September 2022. Taking place at The Leela Palace, New Delhi, the event was attended by Guest of Honour Mr Ved Mani Tiwari, Chief Operating Officer, National Skill Development Corporation (NSDC), industry and educational partners of SIM, SIM alumni, media and other special guests. This is the second overseas launch of SIM's new brand as part of its regional rebranding campaign, which followed closely the official launch in China in August 2022.