Our Heritage
SIM has grown in tandem with Singapore, responding and innovating to meet manpower needs at different phases of its development, into becoming a leading private institution for education and lifelong learning.

The Singapore Institute of Management (SIM Group) was founded in 1964 on the initiative of the Economic Development Board (EDB) to support Singapore's industrialisation. A professional management institute was set up and Dr Richard Eu Keng Mun was invited to be our Founding Chairman.

We started with the social mission of advancing management excellence and developing manpower in support of Singapore's growing need for professional leadership and managerial know-how. Today, we are reputed for our commitment to a high standard of professionalism and quality, and relevance to industry.
Watch our 50th Anniversary Video
Our History
1960s
Birth of a national institute to mould business leaders for economic development
Singapore was a newly independent nation with a fledging economy that required strong business leaders
With a founding grant from EDB, SIM was set up in 1964 to develop professional managers and leaders to marshal economic development
Short crash courses helped equip managers with necessary skills to manage organisations successfully
1970s
Reinforcing foundation for management training and manpower development
The Government encouraged foreign investments in local economy to fuel growth, resulting in greater demand for higher level training and skills upgrading
SIM pioneered and launched three major diploma programmes in management studies, marketing and personnel development
Successful programmes laid strong foundation for other certificate and degree programmes to follow
1980s
Transforming the private educational landscape in Singapore
With a booming economy and greater demand for higher education, SIM radically changed the education landscape of Singapore by collaborating with renowned overseas universities (such as Henley Management College/Brunel University and University of London) to offer their degree programmes locally
​SIM launched signature programmes – Annual Management Lecture and The Job of the Chief Executive
1990s
Coming of age with MOE's charter to run Open University programmes
SIM was invited by the Ministry of Education (MOE) to run the Open University Degree Programme (OUDP) in partnership with the Open University of the United Kingdom (OUUK)​
OUDP received accreditation from OUUK and was renamed The SIM Open University Centre; this became the seed for the formation of SIM University later on
Industry-relevant degree courses were offered, including courses for the skills upgrading of teachers​
2000s
Birth of Singapore's first private university for working adults
SIM received MOE's mandate to start a private university for working adults – SIM University (UniSIM), the first and only university in Singapore then dedicated to adult learners
SIM was restructured into three business entities – UniSIM, Singapore Institute of Management Pte Ltd (SIM Global Education) and SIM Professional Development
SIM's headquarters campus at Clementi was officially opened by Dr Tony Tan, then Deputy Prime Minister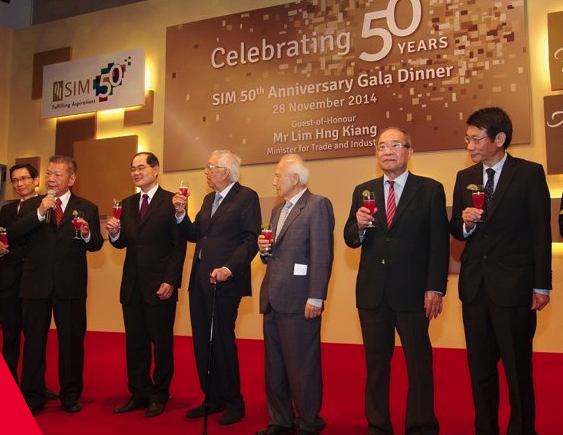 2010s
Geared to support Singapore's next phase of development through education and training
$300m campus extension at Clementi was officially opened by Mr Lim Hng Kiang, then Minister for Trade and Industry, in conjunction with SIM 50th anniversary
UniSIM was designated by the Government to provide publicly-funded full-time university places and to host Singapore's third law school
UniSIM subsequently became the sixth Autonomous University and was renamed Singapore University of Social Sciences
Show More
SIM Annual Management Lecture was renamed and re-launched as Singapore Management Festival
New business unit – Singapore (Cambodia) International Academy – was launched in Cambodia to offer education pathways based on Singapore and Cambridge curricula
2020s
Empowering individuals and organisations to learn and thrive across life stage
SIM was renamed SIM Society to return it to its roots as a membership society to focus on providing its members with lifelong learning, networking services and opportunities for sharing industry best practices
Singapore Institute of Management Group Limited, a new Company Limited by Guarantee, was incorporated to undertake the business operations from SIM Society from 1 March 2020
SIM Group Limited went through an internal restructuring and external rebranding exercise to ensure its continued relevance in being the learning organisation of choice for every learner and organisation
2022
Lending strength to the Horizon 2025 strategic plan with SIM's rebranding
Through the Horizon 2025 plan, SIM aims to vitalise Global Education, rejuvenate Professional Development, and chart new territory in Enterprise Solutions. On 20 July 2022, SIM rebranded to herald this strengthened direction
The renewed brand included a new set of logos, tagline and colours. This unified brand identity would support SIM's refreshed goals, purpose and vision