SIM Launches SGUnited Skills Advanced Manufacturing Programme
SIM Launches SGUnited Skills Advanced Manufacturing Programme
The Singapore Institute of Management (SIM) has come on board the SGUnited Skills programme as one of the appointed training providers to provide programmes overseeing the Advanced Manufacturing sector.
SGUnited Skills programme
as one of the appointed training providers to provide programmes overseeing the Advanced Manufacturing sector. The SGUnited Skills programme is part of the whole-of-government response to help job seekers impacted by the COVID-19 pandemic to acquire industry-relevant skills.
The manufacturing sector continues to be a vital part of Singapore's economy. In the
Ministry of Manpower's Jobs Situation Report issued on 26 August 2020
, it was reported that the manufacturing sector contributes about 20 per cent to Singapore's GDP and employs about 472,000 workers. With advancements in technology and knowledge, the nature of the manufacturing sector has evolved, and it requires workers with new and specialised skills that are currently lacking in Singapore manpower. Through the six-month full-time SGUnited Skills programme offered by SIM, participants can be trained in the latest in-demand skill sets and be eventually placed in various roles in the advanced manufacturing sector.
Participants who are successfully enrolled in the programme will undergo career coaching, skills assessment, training courses and an industry attachment. With a better understanding of their current level of skill sets and gaps, SIM will customise a structured training programme for individual participants comprising 240 hours of industry-relevant courses. Participants will be trained on both core competencies such as design thinking and agile project management, as well as technical competencies such as CAD (computer-aided design) and blockchain.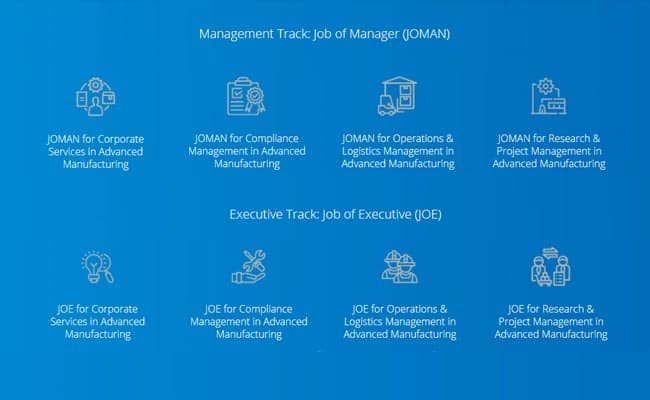 Participants have eight programme tracks, categorised under management and executive, to select from. Each track will train them to take up specific job functions within the advanced manufacturing sector.
Programme participants will have a chance to gain experience in a real work environment via a 120-hour industry attachment where they get to apply their newly acquired skills. Those who have not found a job at the end of the programme will continue to receive career advisory and employment assistance from SIM to increase their chances of landing a job.
The SIM SGUnited Skills programme also benefits the industry as SIM will be training and building up talent with the right skills to fulfil the advanced manufacturing sector's manpower needs. Many companies and organisations have already come on board to collaborate with SIM on this journey. They include learning partners like Autodesk, FireEye, HP Inc. and Yellow Pages Singapore, industry partners like Jabil Singapore, Servoconnect Systems Asia and Wavin Asia Pacific, as well as several recruitment partners.
For the participants, the programme fee is heavily subsidised and is $500 nett. They can offset it with their SkillsFuture Credit, including the top‐ups announced in the 2020 Unity Budget. Besides, they will receive a monthly allowance of $1,200 for the duration of the programme. Members of public who are keen find out more or to apply for the programme can visit the
SIM-SGUnited Skills Advanced Manufacturing programme portal
.
Article extracted from sim.edu.sg, 31 August 2020
The Singapore Institute of Management (SIM) has come on board the