Marcus Moo
Passionate in entrepreneurship, strategic management and anything digital – Marcus Moo decided to sharpen his business acumen with RMIT University at SIM. A staunch believer of collaborative spirit, he volunteers actively in his free time as a peer mentor, guest speaker and at youth summit events.
Ask SIM #FutureMaker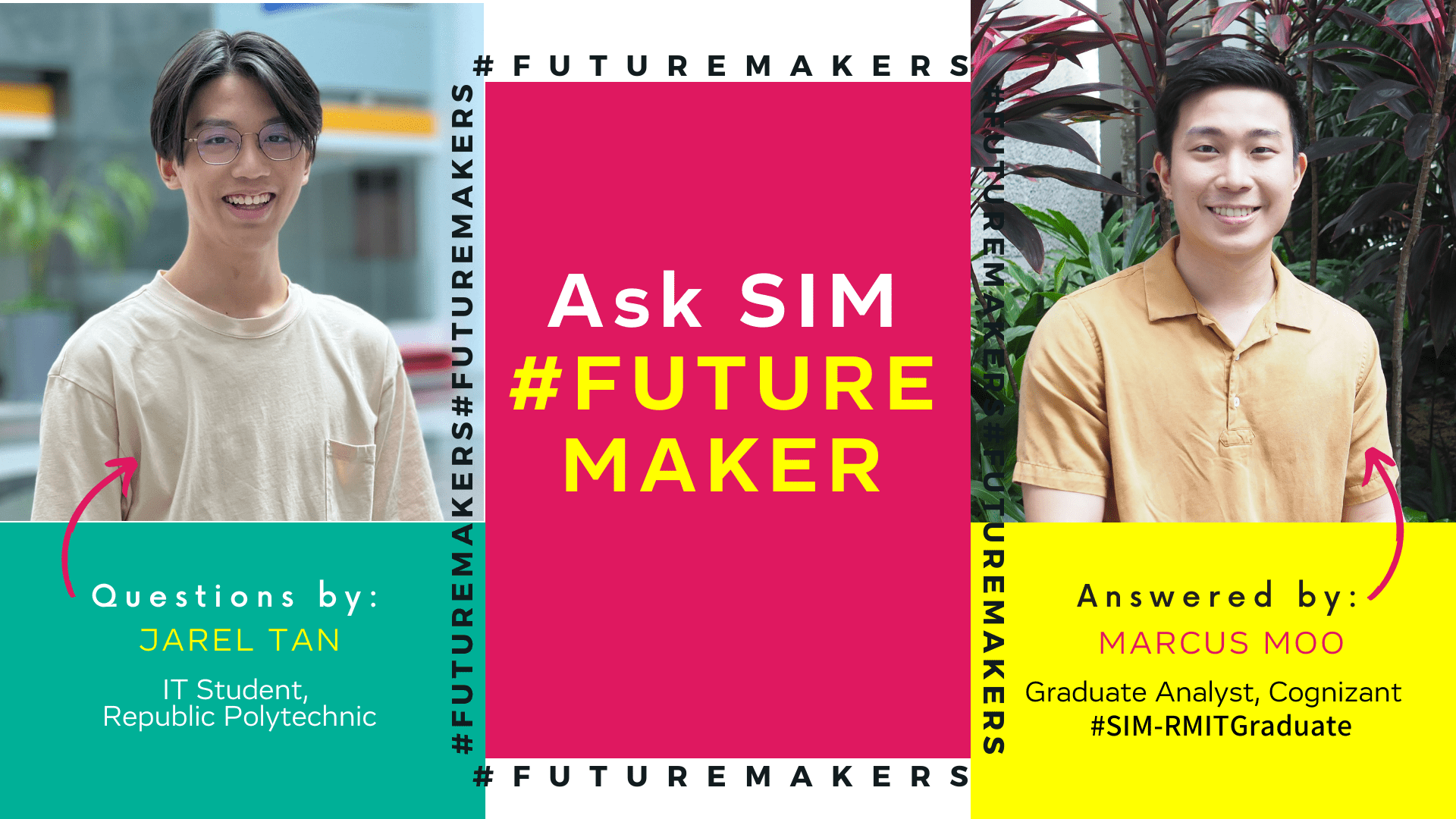 Here, Marcus answers a series of questions posed by prospective learner; Jarel Tan, a current IT student of Republic Polytechnic.
Jarel (J): What do you do as a Graduate Analyst at Cognizant?
Marcus (M): I use enterprise software to help automate business processes and data. From there, I help to build incremental functionalities on digital products for our public sector clients. I am currently serving Govtech – so my day-to-day role includes communicating with multiple stakeholders.
J: I am interested to major in Business after completing my IT Diploma. What motivated you to study Business Management with RMIT University at SIM?
M: I have always been a technically inclined person. I felt that adding business expertise and good communication skills to the equation would increase my value as an employee. Therefore, I made the decision to pursue Business as a major in University.
J: What were some of the highlights for you during your University days?
M: The group module components present an accurate representation of the real-world workplace. From there I learned to manage teammates' expectations and learn to collaborate cohesively to achieve results.
RMIT University focuses a lot on global awareness too. I went on exchange programmes and took on leadership courses that helped me gain new perspectives. That exposure helped me differentiate myself from my peers in a globalised world.
J: I saw that you won an SIM Edge Award – has that been helpful in your career thus far?
M: I have gained exposure and multiple opportunities through the award. It increases my professional value to potential employers – and is a nice accolade to add to my LinkedIn profile and resume, haha!


J: What do you think are some of the things a University student can do to improve his/her employability?
M: To me, there are a few important areas to focus on.
Academic – Put in the effort to ensure you ace your assignments and group projects. A tip is to let your lecturers vet your work where possible.

Extra-curricular Activities – Try to participate actively outside of the classrooms. SIM has many student clubs. Join something you are interested in e.g. Management Consulting, IT club and aim to take on leadership roles to hone your soft skills.

Practical Experience – Clock your internship! There are career support services available for students at SIM. Internships help you gain the soft, hard and interpersonal skills to be work-ready.

Volunteer – Many companies are spearheading their corporate social responsibility initiatives. If you have the heart to advocate for a cause you believe in, do it! That will help you stand out as well.
Create your own future. Be a #FutureMaker.
Posted online 10 Dec 2021.
Learn more about programmes offered by RMIT University at SIM today.