Stanley Eu
Stanley Eu is a rare corporate executive who has enjoyed his work life from the beginning of his career in the Software industry. Armed with more than three decades of professional experience, he rose through the rank and is currently the Regional Director, Parasoft SEA. As the president of RMIT Alumni Singapore, Stanley is passionate about building a nurturing network and hope to reconnect with those who have lost touch with their alma mater.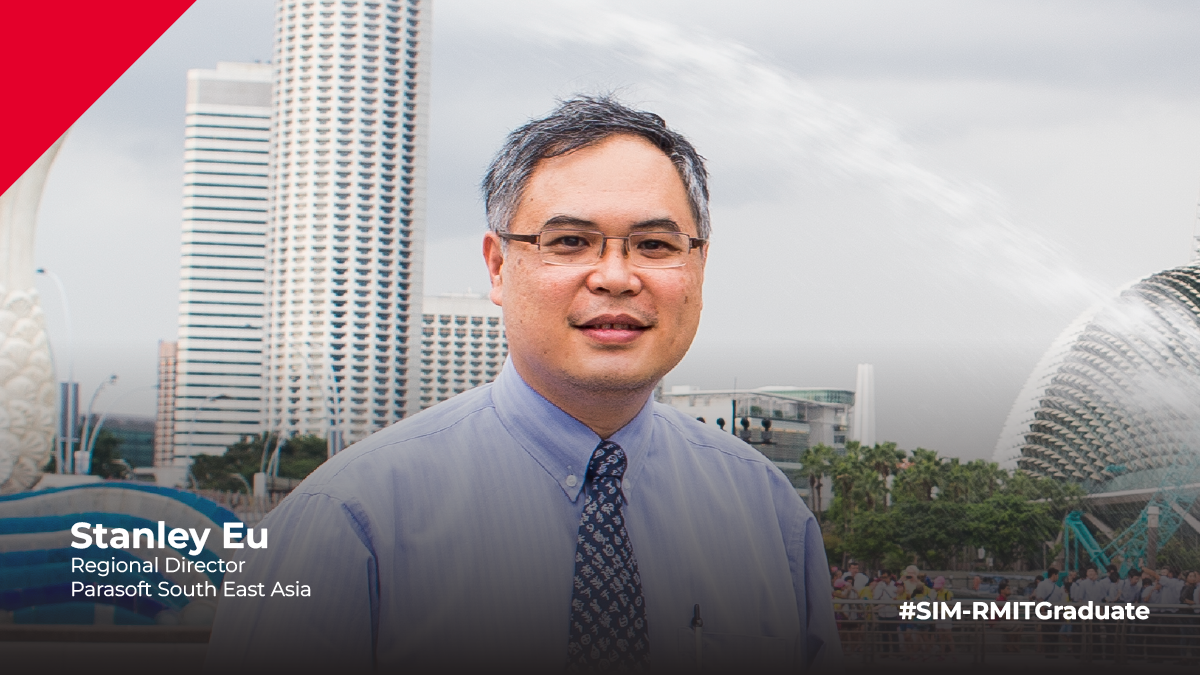 Please tell us about yourself and your career path after graduating.
Well, I'm 57 years young and I'm happily married for 29 years with 2 adult kids. I have been working for 30 years and have enjoyed my work life ever since I started at GE Information Services. After that, I was at EC1, SCS and Progress Software and currently, I'm working at Parasoft. The key to enjoying your work is to balance it with your family and other interests.
After graduating from SIM-RMIT University with an MBA, I was ready for the next stage in my career. I finally landed at Parasoft as their Country Manager for Singapore in 2005. I've been with Parasoft for the last 18 years, overseeing their sales & technical operations for South East Asia.
Could you tell us about your current job role?
As the Regional Director, I am responsible for its operations from sales & marketing to partner management and managing my team. Work-wise, I would strategise on what we can do to improve our sales as well as communicate with customers and prospects on what our solutions are and how it can improve their quality of software.
Working with our distributors in the region is also something that I have to do frequently – such as helping them to respond to proposal pitches and price negotiation. Apart from that, there is the reporting work to management to ensure visibility of what goes on in our neck of the woods so that they have a full view of all operations globally.
Can you provide us with 1 to 2 success stories in your current job where you had to overcome a specific challenge?
I think the most challenging aspect of my job was when I first joined Parasoft. I was their first and only employee. I was given the task to hire one technical staff and make Parasoft Singapore profitable.
I took up the challenge head on. Many interviews later, I eventually hired someone who had not completed his degree in Computer Science! During the process, I decided not to select an employee just for his/her academic credentials but also, his attitude and ability to communicate clearly. My new tech consultant had his reasons for not finishing his degree. However, he had other professional degrees. It was the interview that make me decide to hire him.
The second challenge took us six to eight months to make Parasoft profitable in Singapore. We had to persevere while working with the Defence Science and Technology Agency (DSTA) as they were very thorough when evaluating our proposed solutions. Many times, my tech consultant had to visit them to explain how our solution worked. Fortunately, they were able to understand his explanation and eventually became our customer. My most memorable success was when DSTA awarded us a three-year period contract which opened the door to the other teams within DSTA, who would also purchase our software. This was a milestone in my career.
Since then, DSTA continues to be our main customer in Singapore for the last 16 years. Through them, DSO, MINDEF, CSA, MHA, STE, NCS became our customers over the years.
Do you face any frustrations while advancing your career and how did you overcome them?
One frustration that stood out was when I was still an account manager in one of my previous companies. When the new sales director took over, I recalled he asked my sales manager how do I sell if I don't smoke, drink, golf or entertain! I was taken aback as my style was to be technically competent and present a solution to meet my customer's needs within their budget. Taking them out for lunch or dinner usually occurred after a sale, not before. I had more of a consultative sales approach than the traditional wine-dine-sell. It was timely that I had just finished my studies at SIM-RMIT, as the decision to look for a new position was a lot easier.
Has your MBA helped you in your career?
My MBA studies helped me crystalize my thoughts as the leader of a company. The different aspects of sales, marketing, accounting, strategy, human resource management were shared and learnt during the course. Further, in the International Management module, we explored and learnt about cross cultural understanding and nuances in different countries. This helped me to better deal with my distributors from various countries in South East Asia.
Most times, our lessons are based on actual case studies and experiences. Through the course, I was able to understand and learn from not just the lectures, but from the people in my cohort and how to deal with different individuals, how we each manage our business and work together despite different perspectives. Remember, an MBA is not just academic learning, it is also about experiential learning.
You have been volunteering your time as the President of the RMIT Alumni Singapore (RMITAS) as well as being a mentor to RMIT students at SIM. What motivates you and what do you hope to achieve from your efforts?
I've always enjoyed sharing my experiences with the younger generation. So I was actually a mentor before I took on the role of President of RMITAS. I wanted to be able to pay it forward to help fresh graduates navigate the start of their careers. I also like to share with first-year students that they should start thinking about their careers when they enter the university and not just before they leave!
So, taking on the role of President of RMITAS was an extension of what I was doing as a mentor – but having a bigger and wider audience. I wanted our RMIT graduates to feel that they have a network of peers that they can relate with at various stages of their career. Those with rich experiences can share with their juniors to make career decisions that would better impact them.
Moreover, those who are in positions to employ can then help job seekers. This reassures the younger generation that there is a network of alumni who are here to support them. With more than 55,000 alumni, we should be strong but unfortunately, many are disconnected with RMIT. This is what motivates and drives me to organise events to re-connect with those who have lost contact.
Posted online 10 Jul 2023.
Learn more about the programmes offered by
RMIT University
at SIM today.