Raymond Chia
After graduating in 2001, Raymond Chia went on to pursue his master's degree in Australia. His University of London degree gave him such a strong foundation in economics that he would graduate as the top student of his cohort. Since then, he has been working with some of the largest financial companies, focusing on research and analysis of varied investment instruments. Last year, Raymond joined BlackRock as its Managing Director, Head of APAC Company Research/Portfolio Manager.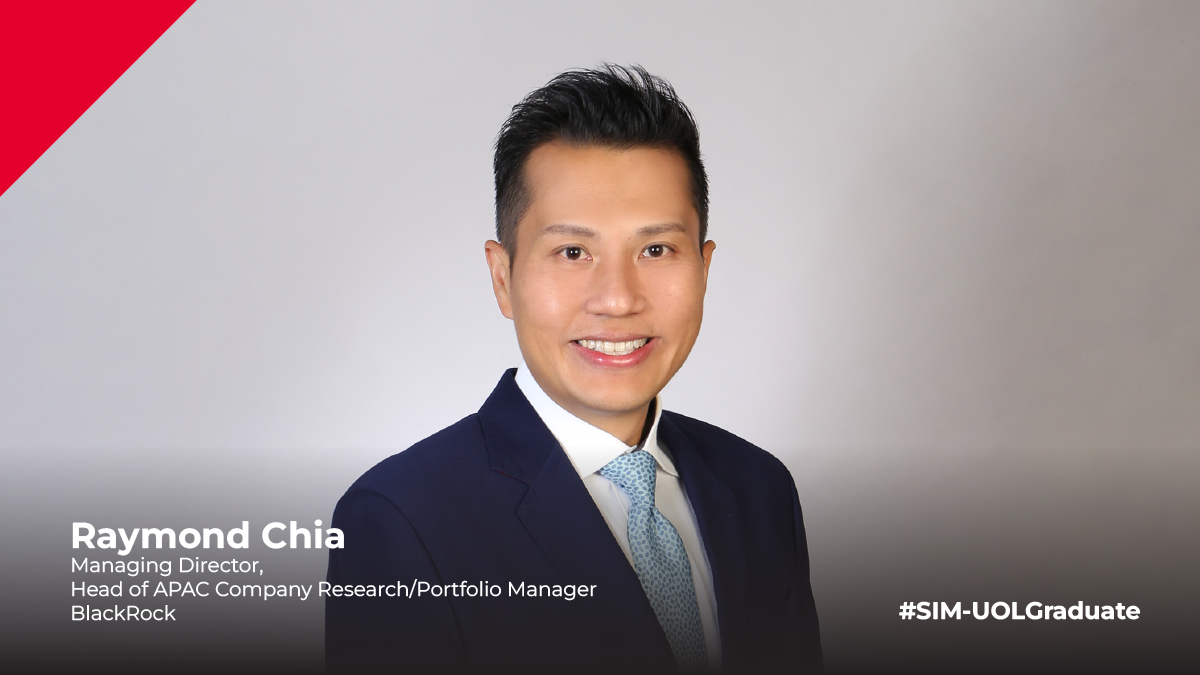 Tell us about your career path after graduating from SIM-University of London.
I graduated in 2001 with a second upper class honours degree in management. I was also awarded the bronze award for third highest achievement student of the 1998 intake. After my bachelor studies, I went to Australia to further my master's degree. The strong economics foundation that I obtained from the bachelor programme helped me achieved the top student award for my master's degree in business economics. I was on the dean's honour roll with a 6.85 (out of 7) GPA score.
After my master's studies, I landed a job as a Country Risk Analyst with a Temasek Subsidiary in early 2003. That was my foray into the investment world where I focused on research and analysis of fixed income instruments by corporates and sovereigns. Through my 18+ years, I work in the same industry with some of the largest financial companies such as Schroders and Prudential Financial. Recently, I joined BlackRock where I take on the role of Managing Director, Head of APAC Company Research / Portfolio Manager.
What do you do in your current role?
My main focus is to research and analyze companies' debt instruments and manage the portfolios, so as to generate stable and risk adjusted returns for our clients.
Share with us a success story.
For me, my main daily success is to pick up a good investment proposition for our clients and to avoid the pitfalls and defaults (i.e. pick the good companies and avoid the bad).
The satisfaction of being able to do a correct and good recommendation is comparable to scoring a goal in the World Cup Finals.
How has the programme that you studied in SIM benefitted you?
The main benefit for me was to have a strong foundation in economics, which subsequently led me to further develop my own skill sets.
What was your most memorable experience as an SIM student?
I would say the lecturers' teachings, notably from Mrs Pat Chia (Marketing), Mr David (Management Science Methods), the late Dr Ho (Managerial Economics) and Mr. Nageb (Introduction to Management, International Comparative Perspectives).
Posted online 10 Jul 2023.
Learn more about the programmes offered by
University of London
at SIM today.