Tan Meng Chuan
Tan Meng Chuan has always been interested in psychology. He decided to pursue a full-time psychology degree from the University of Wollongong and discovered strong interests in organisational and industrial psychology. Despite being an adult learner, Meng Chuan chose to embrace student life fully by participating in several CCAs from canoeing to peer mentoring. His active engagement with his younger classmates has enhanced his empathy and communication skills. Currently, Meng Chuan is a HR Business Partner with M1.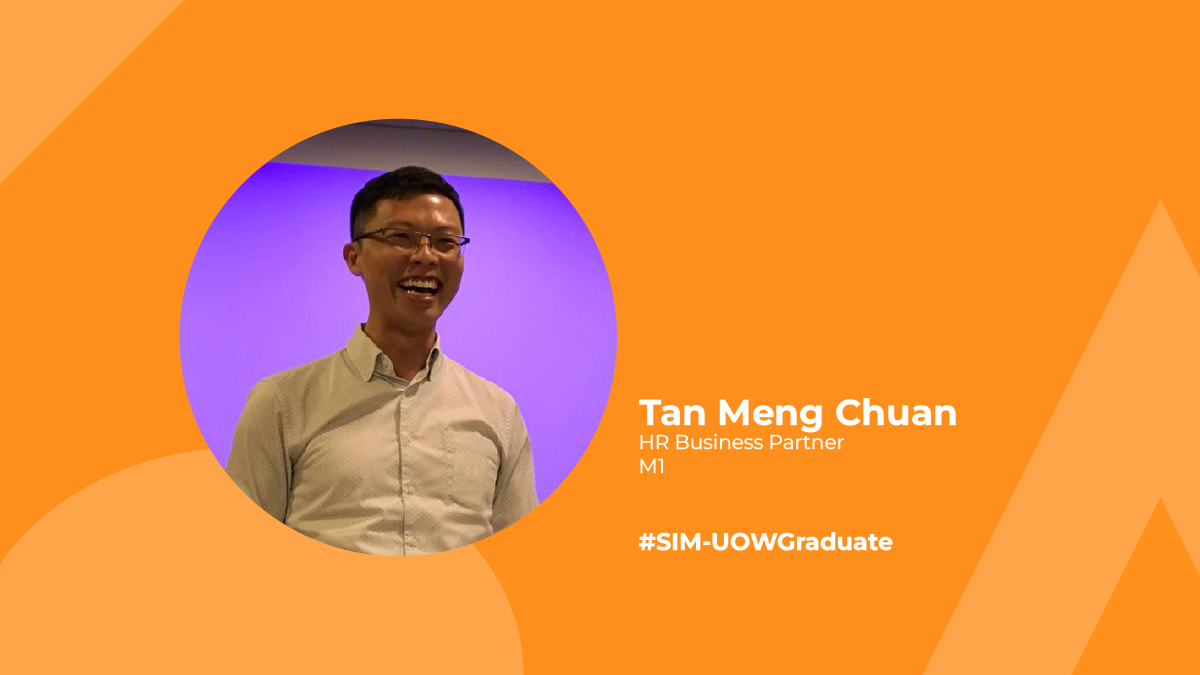 Please tell us about yourself after graduating.
Before graduating from my degree course, I was already working as an intern at a HR consultancy firm. After graduation, I continued to work and grow with them for five years, before moving on to M1 as a HR Business Partner.
Share with us your current job role.
As a HR Business Partner, my role is to support business units, leaders and employees with human capital challenges, issues and questions. On a daily basis, I handle a range of HR strategic and administrative activities, from manpower planning to requisition. There's never a dull day as every day presents different sets of challenges.
What sparked your interest in Human Resource?
My primary interest lies in psychology, specifically organisational and industrial psychology. In business context, HR presents a more natural fit. There are many opportunities to put on the psychological lens to look at problems and challenges. At the same time, solving people challenges in business context requires putting on many different lenses, and that to me is fascinating.
Share with us the key challenges you faced at work and how you overcame them?
It's ironic that people is the source of both the meaning and frustrations at work. While I have met nice, cooperative and collaborative people, I have also met people who are rough, rude and insistent on wanting things their way. To overcome these challenges, I have to constantly practise a lot of patience. I would consciously provide the space for people to be who they are, without taking things too personally. I have to always come with a perspective about how best to support my clients.
There was a particular task which ran on a very tight deadline but required inputs from multiple stakeholders. Instead of waiting for responses via email, I decided that my team would take on a more proactive approach. We would schedule short 30-minute face-to-face meetings to get all the necessary inputs in order to meet the deadline. It was a challenge to reach out to our busy stakeholders thus in many incidents, my teammates and I had to be flexible and jumped into a meeting whenever a timeslot was available.
It was a test of resilience, flexibility, collaboration and teamwork. We successfully got all the required inputs for our analysis and presentation.
How has the programme that you studied in SIM benefitted you?
As an adult learner and older than most of my classmates, studying at SIM has taught me how to be more empathetic. I learnt to respect and appreciate their perspectives, no matter how young they are. Everyone's perspective is as valid as mine, and I should never let my own ego and hubris get in the way of creating better communication and understanding with others.
The programme also helped me to think more analytically and how to use data to make more informed proposals.
What was your most memorable experience during your student days?
My most memorable experience was gaining new knowledge and be reminded that one is never too old to learn. Besides studying, I also took the time to do CCAs like canoeing, Toastmasters and peer mentoring. These student activities taught me different life lessons such as resilience, public speaking and community spirits.
Posted online 11 Jul 2023.
Learn more about the programmes offered by
University of Wollongong
at SIM today.