Ian Kan
Ian Kan took the road less travelled - he started a business overseas after his diploma and returned to SIM two years later to pursue a business degree from RMIT University. His first job in a golf resort ignited his passion for the hospitality industry. An avid learner, he decided to return to SIM to pursue an MBA during the pandemic. It has proven to be rewarding as Ian got a promotion even before he completed his MBA. Now, as an Assistant Director of Sales, Ian oversees the sales performance for SEA properties under Frasers Hospitality.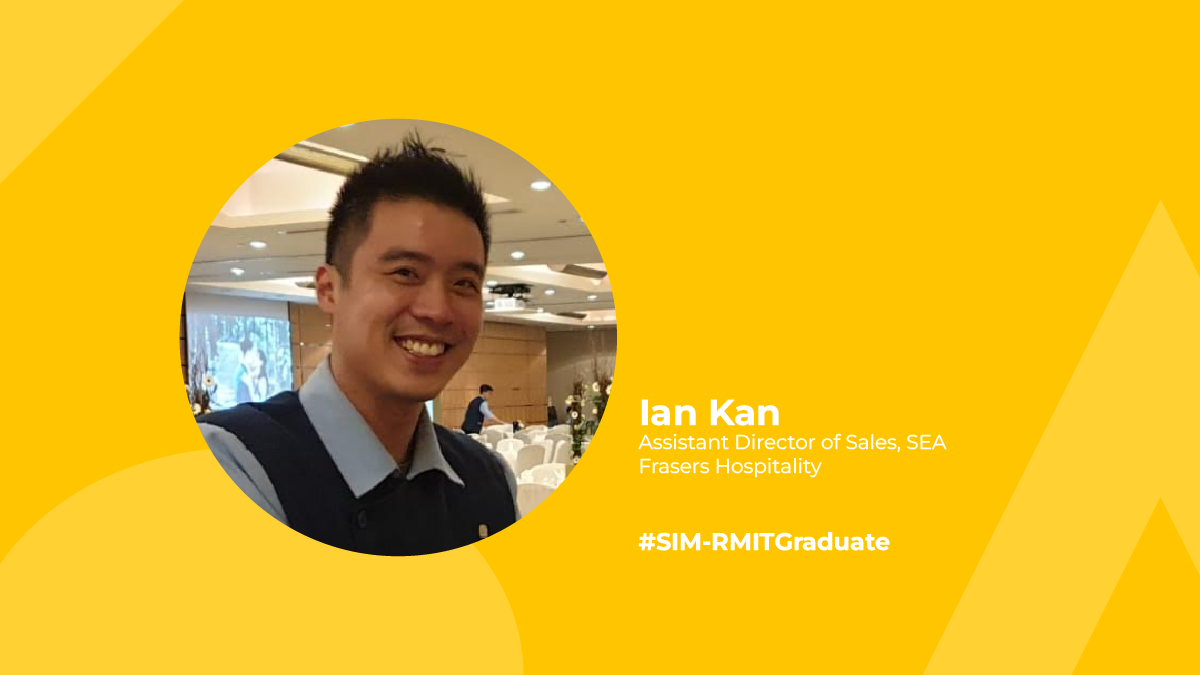 Briefly share with us your career path after graduating from SIM-RMIT University.
I joined a golf resort owned by Keppel Land and rose to become the Regional Sales Manager for Keppel Land Hospitality Management. I discovered my love for the hospitality industry, which is where I decide to build my career in, moving from Keppel to Pan Pacific Hotels Group and now to Frasers Hospitality.
You've worked in the hospitality sector since you graduated. What sparked your interest in this field?
I liked to play golf back then and thought joining a golf resort would at least mean doing something that I enjoy. However, life has other plans for me. My group general manager surmised that I was able to handle more challenges and deployed me to the Hotel Division, which you could say subsequently brought me to where I am today.
You started your own business after your diploma studies and then returned to SIM for your bachelor's degree. Can you share more about the path you took and how it has shaped you?
It is a road less travelled but I would assert that having practical knowledge in running a business is very valuable in life. It hastened my maturity and sharpened my business acumen, giving me a professional edge. The education that I have received was like a knife that got sharpened, and where my skills were honed over time.
Can you provide us with 1 to 2 success stories in your current job where you had to overcome a specific challenge?
During the Covid period where we worked from home, connection with clients was almost zero. Connection and presence are vital in the hospitality industry so we had to pivot towards online platforms such as Zoom to conduct virtual events. It was a logistical nightmare but we still managed to accomplish it with limited resources. Also, during manpower crunches, many of our colleagues were deployed to other roles including myself where I had to help out as a banquet staff. The camaraderie and resilience displayed by the team enabled us to pull through tough times.
You had an active student life as an undergrad. How did it shape you?
I was part of the SIM-Canoe club. It taught me the need for discipline and hard work in order to achieve the results. Student life taught me to respect deadlines and to work with diverse teams for project works. This is akin to what you'll face in your work life.
You came back to SIM in 2020 to do your part-time MBA. What motivates you? Has the knowledge been useful to you so far?
As the hospitality industry was in the doldrums then, I had spare "brain capacity". Hence, I decided to embark on this MBA course. I was promoted in January 2022, just about two modules away from the completion of my course. It is important to get your employer's acknowledgement and display greater critical thinking skills that you would have picked up during the course and apply it at work.
Posted online 10 Jul 2023.
Learn more about the programmes offered by
RMIT University
at SIM today.