Louis Martin-Vézian
As someone passionate in Defence, Politics and Security, Louis Martin-Vézian, chose to study Economics and Politics offered by SIM-University of London after completing the International Foundation Programme. The French student utilises his analytical skills by engaging in discussions with other like-minded individuals and subject experts in hopes of making a positive difference in the world.
Making Headway with Economics and Politics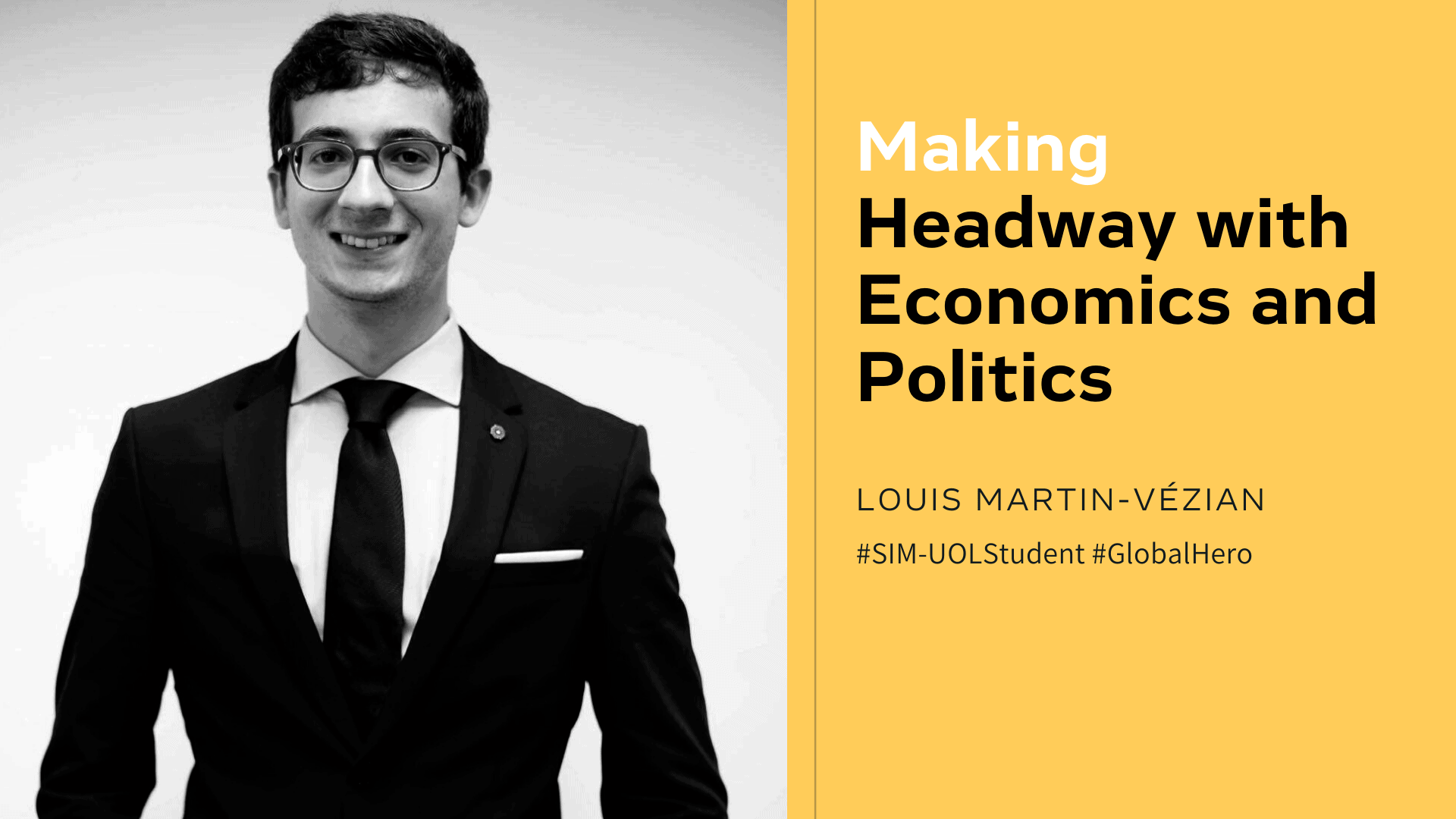 What sparked your interest in Defence and Politics?
I have always been intrigued in this area, as it is where patterns of behaviours and the unexpected intersect. For instance, institutions and organisations are formed to bring order to a country but it can also easily be overwritten by outlier events. This dichotomy calls for adaptability and perseverance from the involved parties. This makes it my favourite topic.
What have you gained out of the SIM-University of London International Foundation Programme?
The programme was a great way to start my higher education journey; it has a robust 4-module curriculum with supportive teaching staff and visiting faculty from the University of London. The faculty and lecturers are enthusiastic and passionate about moulding great future for us students.
Why did you choose to pursue the SIM-UOL Economics and Politics programme afterwards?
After graduating from the International Foundation programme, I decided to pursue my Bachelor's with SIM-UOL because of the renowned academic direction by the London School of Economics and Political Science.
The programme also has a good mix of quantitative and qualitative modules which could hone my analytical, theoretical skills as well as practical knowledge that can be applied in many areas. This would provide me with the flexibility when choosing my career path in the future.
What do you enjoy about your school-going experience in SIM?
If I had to choose one, it would have to be the vibrant student life. After undergoing the selection process for the Model United Nations competition, I had the opportunity to represent SIM in Boston where we competed against Ivy League schools and other international colleges.
From the training and selection process to the intense negotiations at the Conference itself, it was a great bonding experience with my SIM teammates. After the competition, the team planned and trained the next batch of delegates.
You are the founder of CIGeography and Co-President of the Center for international maritime security. Can you share with us briefly about these platforms?
CIGeography is a blog which I started about seven years ago when my interests in maps, defence and geopolitics started to grow. It was a way to expand my research and graphical skills. I collaborated and was featured on various news outlets, research groups and publications including Foreign Policy, Stratfor, War on the Rocks, The US Naval Institute as well as companies like GE Aviation. It has since evolved to be an avenue to publish my research projects.
The Centre for International Maritime Security (CIMSEC.org) is an American think tank based in Washington, D.C. It publishes articles and essays on maritime issues with a focus on security. I joined as a member a few months after its inception. Since then, I have collaborated with subject matter experts on articles covering topics such as the invasion of Crimea, the war in Yemen or the disaster response in Vanuatu.
Who is your hero and why?
I cannot even begin to pick a single hero; I believe everyone has different strengths or facets that are admirable.
#SIM-UOLStudent #GlobalHero
Click here to learn more about the programmes awarded by University of London.
Posted online, 01 Sep 2020