Sebastian Tay
As the Head of Client Onboarding at a fintech company, AxiCorp, Sebastian Tay, SIM-The University of Warwick alumnus, hopes to impact the industry with new solutions. The key principles he gained from the MSc Engineering Business Management programme, have been valuable as he approaches complex situations with a fresh perspective.
Engineering Solutions Through Fresh Perspectives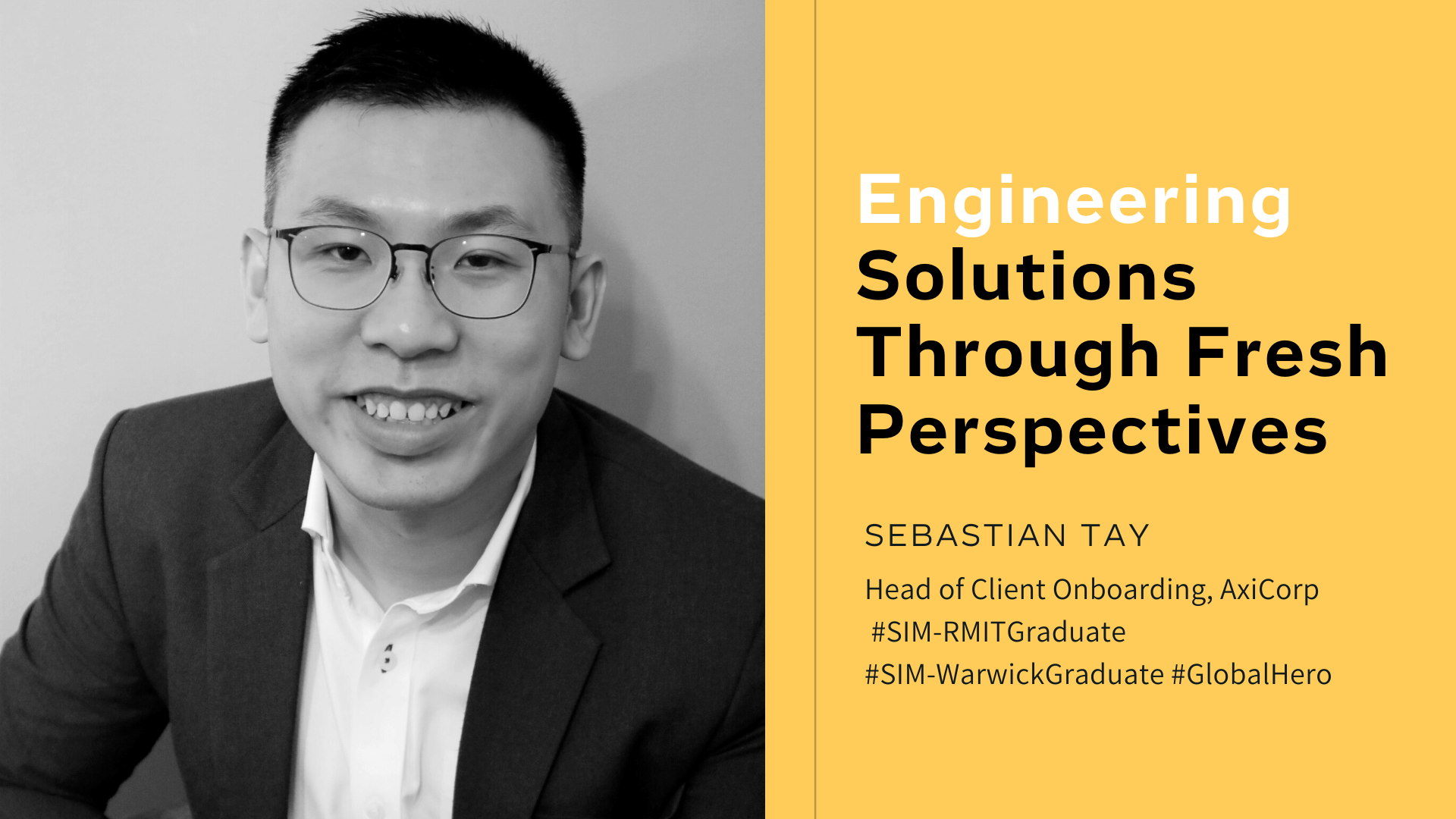 Tell us more about career journey before your current role as Head of Client Onboarding at AxiCorp.
I wanted to complete my degree in the shortest duration to enter the workforce sooner and I chose the SIM-RMIT University Business Management degree as it ticked all the boxes of my requirements – the option to pursue it part-time and the ability to complete the programme in a faster duration. SIM's reputation among other private institutions was also key to helping me make that decision.
The degree opened more career opportunities for me and I landed a position with the Bank of New York Mellon (BYNM) for five years. Subsequently, I worked at HSBC before taking on the position at AxiCorp, a fintech company.

What motivated you to pursue the MSc in Engineering Business Management programme with SIM-The University of Warwick?
While I was with BYNM, I undertook various responsibilities like assisting in drafting of legal contracts, executing operational tasks, project management while also managing a team. I felt the need to put these responsibilities into perspective and furthering my education would help me achieve that.
I started scouting for a suitable postgraduate programme at various Open Houses and was especially impressed that the University of Warwick flies their lecturers in from the UK for each lecture to teach at SIM. It was a chance to receive an education locally while attaining the same academic experience you would receive overseas. How exciting is that?
Beyond that, Engineering has always been a subject that I wanted to study. It is full of technical concepts, which drills down to the details of how things work around us. This programme has the right mixture of both, allowing me to steer away from my business management background and grasp the technical engineering mindset.

In your opinion, what are the advantages of the programme?
As I was juggling work, studies and multiple commitments, the ability to manage my schedule was important to me. A huge advantage of the programme is its flexibility. Although there were mandatory modules, but I was able to modify my curriculum by picking modules that interest me and fit into my schedule.

What key principles did you pick up from the programme?
Due to my business management background, I found the engineering aspect of doing things to be intriguing and beneficial for me. For instance, a complex product can be easily understood if we were to break it down to its fundamental materials and structure. It is a concept that I can easily apply in my work and daily life.

Besides work, you are also active in your volunteering pursuits. Could you elaborate more on your volunteering efforts?
My volunteering pursuits revolve around empowering youths to make a difference in our society, supporting the elderly and maintaining beneficial programmes for the lower-income families. Most of these initiatives are rolled out in the Kampong Glam constituency, where I am the Chairman for the Youth Network (YN) and auditor for the Citizen's Consultative Committee (CCC).

What is next for you?
With two kids around, my focus is now on my career and family. The master's programme has given me fresh perspectives when looking at issues. It is one of the key reasons why I chose to make the move from traditional banks to a fintech company. I hope to bring about change to the industry with new solutions.

Who is your hero and why?
Our everyday unsung heroes – the ones who keep our lives going by supporting our ecosystem. Many of these heroes are ordinary individuals who do things with heart. As we continue to grow and become better versions of ourselves, we have to slow down and do a stock-take on our blessings. So much of what we have is made possible by the efforts of these individuals. For that, we have them to be thankful for.

#SIM-RMITGraduate #SIM-WarwickGraduate #GlobalHero
Click here to learn more about the programmes awarded by RMIT University.
Click here to learn more about the programmes awarded by the University of Warwick.
Posted online, 12 May 2020