RMIT University
RMIT University
About RMIT University
One of Australia's original educational institutions founded in 1887, RMIT University now enrols nearly 96,000 students each year, including about 19,000 at postgraduate level.
RMIT has been in partnership with SIM since 1987, with over 50,000 graduates. Today, the university's Bachelor programmes at SIM GE include Arts & Social Sciences (Communication/Design), Business & Management studies, and speciality programmes.
Show more
Overall Employment Rate (SIM/RMIT) – 88.5%*
*Based on the SIM Graduate Employment Survey 2021/22 conducted by Media Research Consultants on the 2021 cohort of graduates from the full-time Bachelor degree programmes, approximately 6 months after completing their studies. The overall employment rate includes graduates in full-time, part-time and freelance employment rate.
Visit the university's website for more information.
Rankings & Accreditations
11th highest ranked university in Australia and 190th globally (QS World University Rankings 2023)
74th globally for graduate employability (QS Graduate Employability Rankings 2022)
5th in Australia and 18th globally among universities less than 50 years old (QS Top 50 Under 50 2021)
5-Star QS ranking for excellence in higher education (QS World University Rankings 2015-2021)
QS World University Rankings by Subject 2022

• Art and Design: 15th globally and 1st in Australia
• Architecture & Built Environment: 31st globally and 3rd in Australia
• Communication & Media Studies: =40th globally and 4th in Australia
• Library and Information Management: =49th globally and 3rd in Australia
• Development Studies: 51-100 globally and =4th in Australia
• Engineering (Civil & Structural): 51-100 globally and =6th in Australia
• Geography: 51-100 globally and =4th in Australia
• Materials Science: =87 globally and 7th in Australia
• Accounting & Finance: =98 globally and 9th in Australia
• Agriculture & Forestry: 100 globally and 7th in Australia
Effective Learning

A combination of face-to-face and online lectures, case studies, business simulations and experiential activities

Excellent Support

Taught by RMIT academics and local lecturers, to the highest quality standards

Practical Curricula

RMIT programmes are co-designed with industry to give you the practical skills needed to succeed in the workforce.

Alumni Success

Over 30 years of partnership between SIM and RMIT, with close to 49,000 graduates who work across a variety of sectors.

Global Experiences

RMIT offers campuses in Melbourne and Vietnam, and over 200 exchange partners across Europe, Asia and North America.
Show more
Hear from our students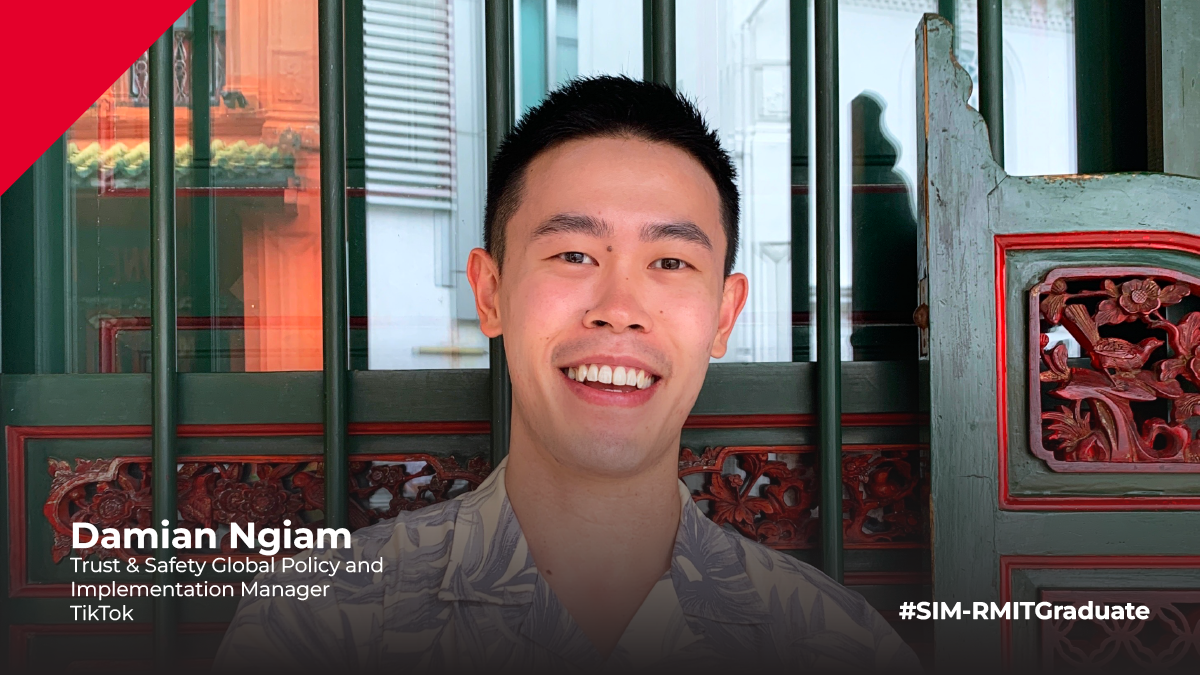 Damian Ngiam
From Airbnb to Facebook to TikTok, Damian Ngiam's career journey is surely the envy of many young graduates. With a business management bachelor's degree from RMIT University, Damian landed his first full-time job in Airbnb as a Fraud & Risk Analyst. Now, as a Trust & Safety Global Policy & Implementation Manager in TikTok, Damian leads a team in the development of policies, procedures and implementation of programmes for safety issues.

Read story
RMIT is committed to be a leading university of impact in the Asia Pacific region and the 35-year partnership with SIM GE is an extremely important part of this commitment. Throughout this period, the two institutions have achieved so much in the field of education and continue to work closely to ensure that the learner is always put first.

RMIT is driven by a shared vision with SIM GE to ensure a transformational experience for all students that allows quality learning at any stage of life, which in turn contributes to positive social and economic outcomes for Singapore and the region.

Students can benefit from a world-class education along with important exposure to cutting-edge and industry-relevant programs, which has resulted in over 50,000 highly valued and skilled alumni bringing practiically and agility to their work.

Read more
Disciplines Offered
Experience future-focused business, communication, design, aviation and construction management degree programmes. Through industry projects and work-integrated learning RMIT equips you with the skills you need today to get the job you want tomorrow.