Ryan Peh
As an advocator of self-development and lifelong learning, Tax Manager, Ryan Peh embarked on his postgraduate journey with the SIM-University of London to stay competitive in the industry. Having picked up data analytical and critical-thinking skills, the SkillsFuture Study Award recipient aspires to be a subject expert in the industry upon completion of the Professional Accountancy programme.
Staying Ahead in Accounting with Lifelong Learning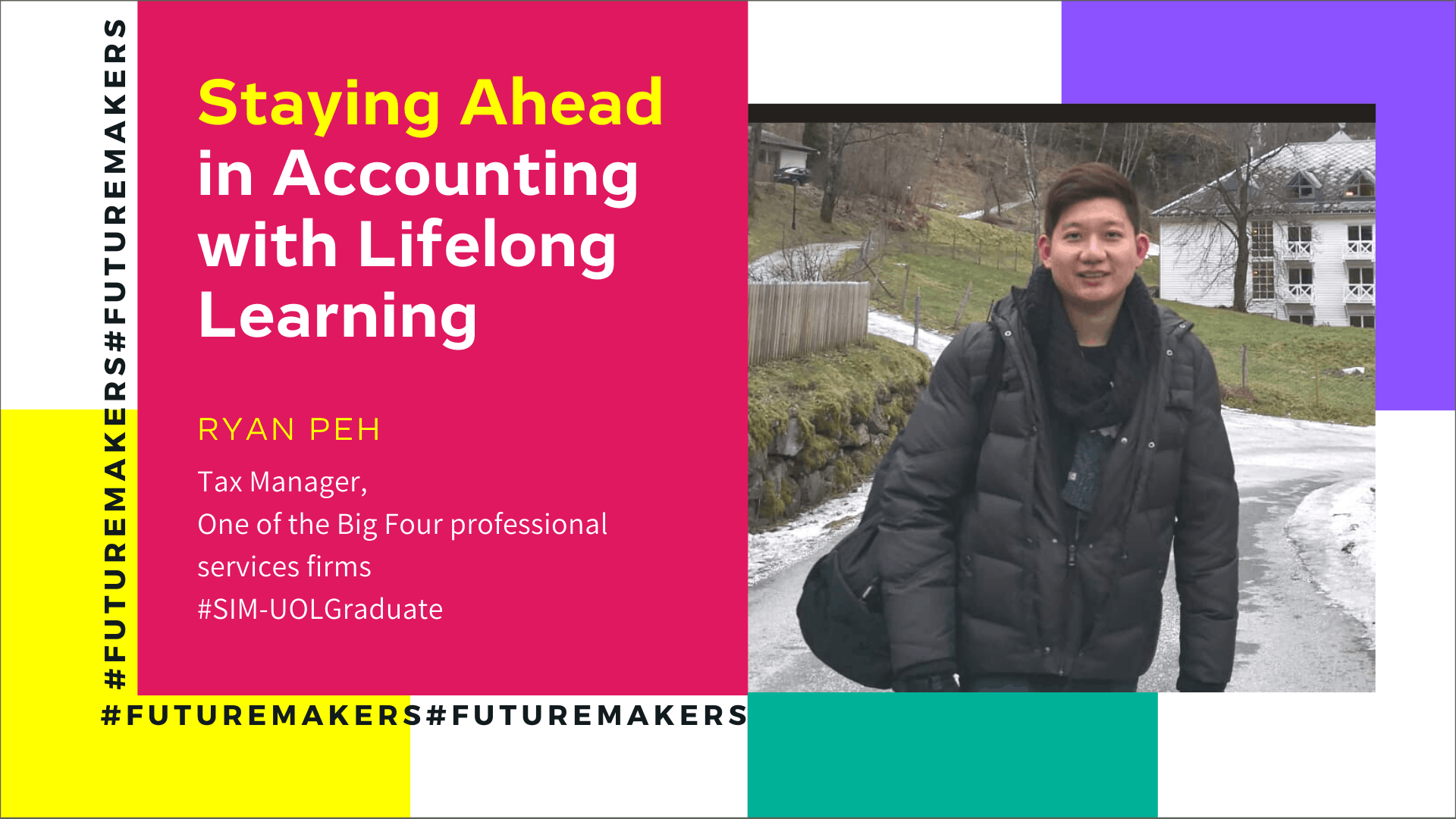 Tell us about what you do as a Tax Manager.
As a Tax Manager at one of the Big Four professional services firms, I help multinational and Singapore-based companies identify appropriate tax incentives and government grants based on their investment activities and plans. In addition, I ensured their tax affairs remain cost-effective.
What motivated you to pursue the SIM-University of London Master of Science in Professional Accountancy programme?
In a constantly evolving world where professionals are required to think ahead, there is a need to have the right blend of skills, experience and knowledge to succeed in the dynamic Accounting and Finance environment.
The opportunity to complete a Master's degree from one of the oldest and prestigious universities in the United Kingdom as well as the generous exemption of modules appealed to me. As a busy professional with multiple commitments, being able to complete a reputable programme within a short duration mattered to me. Hence, the MSc in Professional Accountancy programme suits me in every aspect.
What do you enjoy about the programme?
I like that the programme allows us to delve into current and global issues through extensive research. I grew an appreciation for research methodologies in accounting-related scenarios and am able to apply them in business challenges and plans.
Each week, I also look forward to the robust exchange of views on current issues that are covered in the syllabus. Some of the issues covered include sustainability, international tax avoidance, global mergers and acquisitions and even corporate valuation techniques. It's really interesting to hear the perspective of friends from diverse backgrounds!
How has it helped you in your career thus far?
The programme sharpens my critical thinking skills in selecting alternative solutions. When approaching business problems, I am also able to undertake research and analyse the data collected.
I believe the skills I've gained are invaluable to my professional development. It allows me to excel in my role and prepare for the future as well.
One tip I would share with other students is to leverage on the vast experiences of the tutors. Ask them about their corporate experience or anything you're curious about!
You've also been awarded the SkillsFuture Study Awards. How has it empowered you?
In my journey of continuous learning, the Award helps to defray the out-of-pocket expenses for the programme which I'm really grateful for.
Has the pandemic impacted your industry and role?
Like many industries, my industry has been affected as well. Many key projects and investments in Singapore have been halted due to economic uncertainties and travel restrictions. Many of our clients prefer to have greater clarity on their financial and economic situation before committing to their investments.
Our responsibilities have now evolved to support our clients on a personal and professional level. We're also more focused on recovering for a potential rebound by keeping abreast of the tax changes in Singapore and around the world.
On a personal note, I have been attending self-development courses so that I may have the skill sets needed to thrive in the new normal.
Despite these challenging times, I'll continue to be resilient. Pandemic fatigue is real but I believe in seeking help from my colleagues or bosses where required.
What are your future plans upon completion of the programme?
I would like to apply what I have learnt in the programme and be a subject matter expert in Accounting.
As a believer in continuous self-development, I definitely wouldn't rule out pursuing other professional programmes or courses!
Click here to learn more about the programmes awarded by the University of London.
SIM will be celebrating the 35th partnership anniversary with the University of London (UOL). To mark the significant milestone of an enduring collaboration, there will be year-long fringe activities to celebrate the accomplishments and transformative impact it has on our students and alumni. Find out more about UOL here.
Posted online, 15 Jan 2021