When Passion Meets Purpose
When Passion Meets Purpose
Growing up as a kid, Leslie Yeo was often very shy and kept his social circles mostly small. But that all changed when he developed an interest in basketball. His love for the game opened doors for him to meet people from all walks of life on the court from children to working adults and even retired elderly.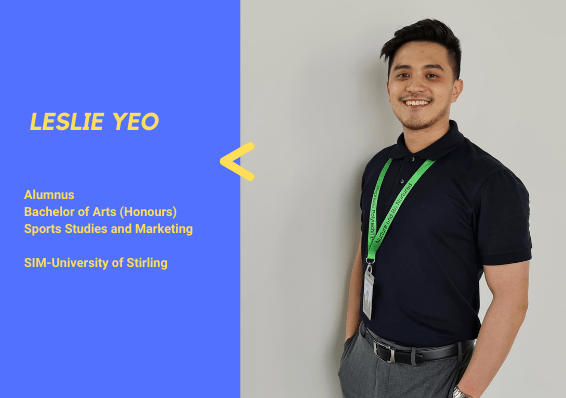 As the captain of his school's basketball team, Leslie flourished in his role and it helped him develop confidence and important leadership skills. Having been positively impacted by the sport, it sparked a desire in him to pursue a career in the sports industry.
Leslie decided to take up the SIM-University of Stirling Sports Studies and Marketing degree programme to broaden his knowledge on sports and to understand the business aspects of it. He excelled at the programme and upon graduating with First Class Honours, he took up the Coaching Development Executive position under the SGUnited traineeship programme at Republic Polytechnic, his alma mater. The traineeship programme is aimed at supporting those who have recently graduated from ITE, polytechnics, universities and other private educational institutions to find traineeships across various sectors and to gain valuable industry experience.
"I decided to take up the programme as I was looking for a good foundation to gain more experience in the sports and education industry. Playing sports has helped mould me as an individual and I have seen how it can be beneficial both physically and mentally. I felt that this traineeship was an ideal platform to pick up relevant knowledge and skills," says Leslie.
Leslie worked as an educator and mentor to students in the Diploma in Sport Coaching programme. His duties included facilitating lessons as well as planning the curriculum for different modules. He also worked with external coaching academies that offer attachment programmes for students. Additionally, Leslie was involved for a funded project 'MOVES' (Moves Of Varied Exercises Singapore), which aims to engage seniors through physical activities.
While stepping into this new role proved a challenge at first, the degree programme at SIM helped him to assimilate quickly into his new job.
"The progamme helped me with the work I was tasked to do during my traineeship. For instance, modules such as 'Research Methods in Sports Studies' and 'Managing the Business of Sport', enabled me to apply the skills that I've learned and to comfortably take on projects that require research and coordination with relevant stakeholders," Leslie shares.
On Gratitude and Giving Back
One of things he enjoyed most was getting to interact with students on a daily basis and being able to leave a positive imprint on them.
"It's been really interesting to work with the students. Watching them go through the coaching lessons has been nostalgic. It brings back memories of when I was a student and going through these same lessons with my friends.
"As a student, I often looked up to my teachers and lecturers, many of whom have become my colleagues now. In the same way, I hope to have impacted the lives of students and have helped them as much as I can. It's life coming to a full circle, and I have only given back what my teachers have given me," he adds. L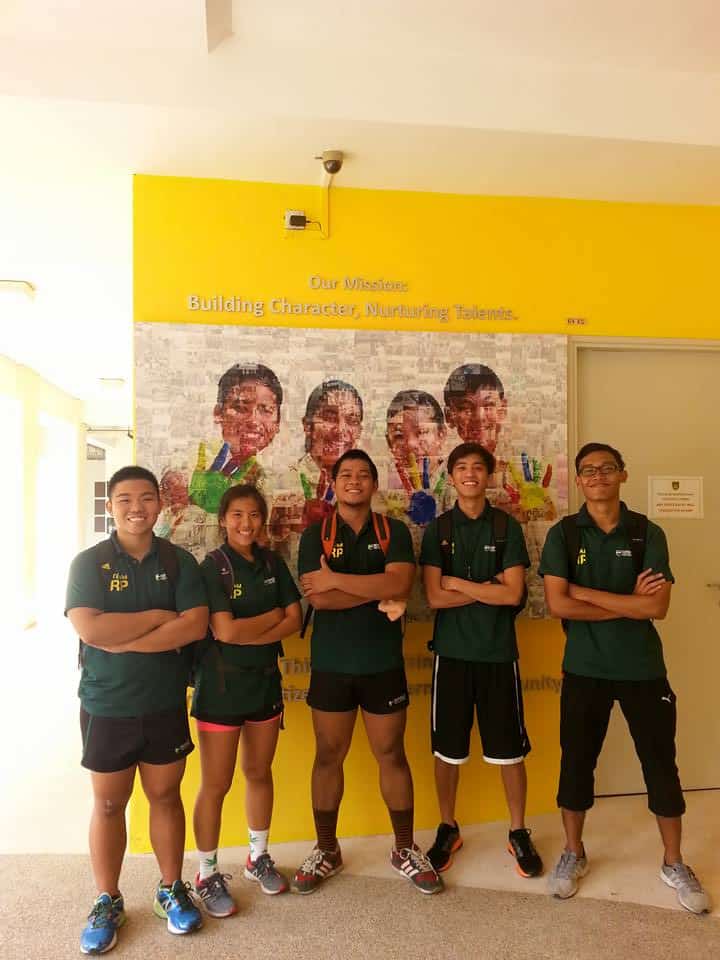 Leslie (second from right) with his friends in his time as a student at Republic Polytechnic.
One of the memories that he cherishes is his time spent with the elderly while working on the MOVES project.
"Seeing the elderly smile excited made me feel content. Some of the elderly in our community are struggling with physical and mental health as many of them have been isolated, especially during Covid-19. To see them exercising together and having fun with their peers made it feel like we are doing something beneficial for them"
On the whole, the traineeship has been an eye-opener for Leslie with many treasured lessons. "I think many us have taken accessibility to education in Singapore for granted. I used to question the purpose of programmes and activities organised in school. But now I have witnessed first-hand how hard the school and educators work to ensure that students have an abundance of opportunities to develop themselves. Whatever that is planned is genuinely done with the sole purpose of helping students and this makes me feel grateful for the opportunities I have been provided with as a student."
While his traineeship has come to an end, Leslie hopes to continue in his pursuit of gaining more experience and inspiring young ones within the sports industry. He also plans to become a lecturer someday.
Keen to further your passion in sports like Leslie? Find out more about the SIM-University of Stirling Sports Studies & Marketing programme here