Wang Bang Hong
Wang Bang Hong is a ferocious learner with many passions. His drive to act on his passions is commendable. Even when he was an undergraduate pursuing a University of London computing degree, he would actively seek out internships and organised activities in school. Currently, Bang Hong is a Regional Technical Product Owner for the Asia Pacific region with Johnson & Johnson, after a career stint in the financial sector.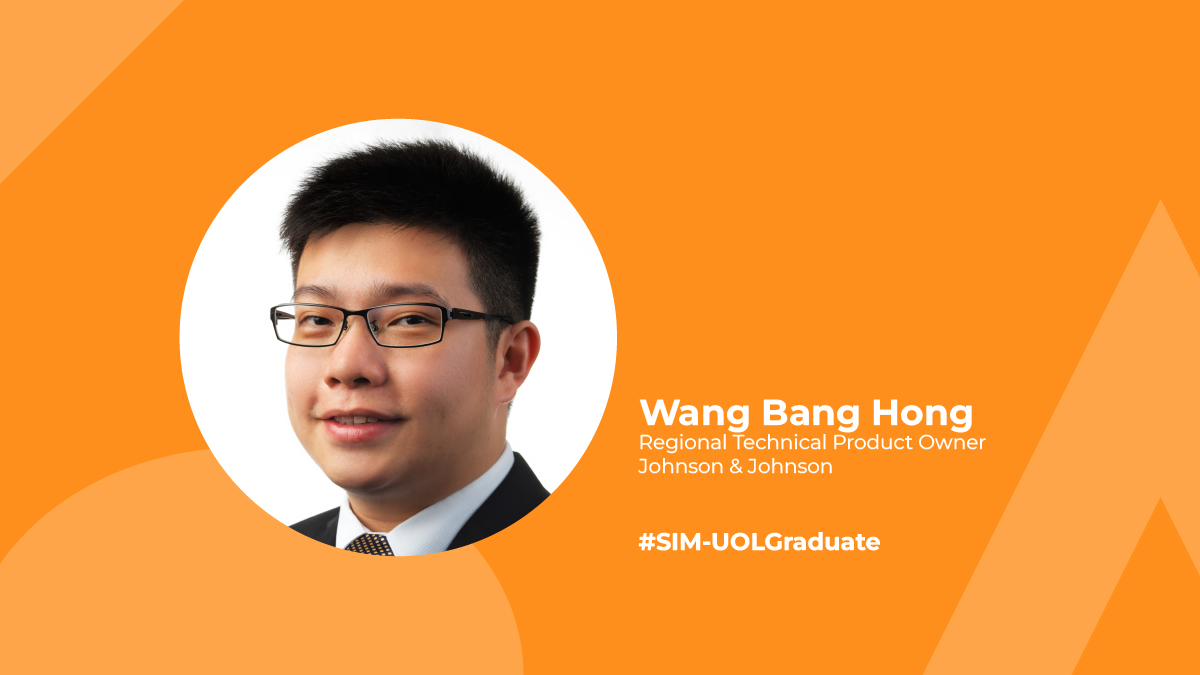 Share with us your career path after graduating from SIM-University of London.
It started way back in 2011 when I was still a Year 1 student. I always have a passion in technology as it can unlock untapped potentials. For example, automation helps relieve mundane job tasks.
Excited and curious for hands-on experience, I approached SIM Career Connect Department to explore my internship options. This was a time where internship is not common unlike today.
I was privileged to join a German MNC as a technology global project coordinator intern where I had hands-on experience working on IT projects. After the internship, I was hired to continue the projects I was working on. It gave me the opportunity to travel to Australia and India to implement global projects.
Then, I made an unconventional decision as an IT graduate. I took a leap of faith and joined the DBS Graduate Associate Banker program - a career move that was totally unrelated to my major in technology. One of my (many) passions is personal finance. I have explored and traded multiple financial products in my personal capacity.
A year in the role, I leveraged DBS internal mobility initiative and transferred to DBS Institutional Banking Group Technology to pursue both my passion in Finance and Technology.
There is no "standard" career path as the industry and market are constantly changing. Looking back, I am happy I gave myself the opportunity to seize the opportunity and follow my passion.
Can you tell us more about your current role?
My current role is Technical Product Owner, Regional Manager for Asia Pacific at Johnson & Johnson. I am responsible for setting and maintaining a clear operational vision for the assigned products, platforms and associated capabilities for the Engineering & Property Services (E&PS) and Global Security portfolio in Asia Pacific.
On a daily basis, I define and execute the global and regional portfolio as well as product roadmaps with various stakeholders from business and technology partners to consultants and vendors.
Can you provide us an example in your current job where you had to overcome a specific challenge?
My past working experiences are with organisations with a list of Standard Operating Procedures (SOP) and they operate in a structured approach for many things.
However, in my current job with Johnson & Johnson, there are guidelines but no strict structured way of operations. So, I have to find out what is the best approach to some aspects of my work.
I overcome this by having regular communication with various stakeholders to seek their opinions and feedback while make minor changes progressively.
What was the main challenge you faced in your career?
Identifying and finding the relevant skills and knowledge for the next career stage is challenging and intimidating at times. Back in the university days, it was easy because the learning journey was planned for you.
I overcome this by making a plan base on my career goals. I also reach out to the network of my peers and acquaintances. Sometimes, by bouncing my ideas off someone, I get feedback which result into something really useful.
How has the programme you studied in SIM benefitted you?
SIM-University of London provided me with a solid foundation in Information Systems and Technology, which I find useful to kick start my career. The lecturers were friendly, approachable and guided my learning journey.
I was in the Global Programs with the University of London where they had a forum portal for students to ask questions. I found such peer-to-peer learning helpful, apart from discussion with my classmates.
Posted online 19 Oct 2022.
Learn more about the
programmes
offered by
University of London
at SIM today.