Terence Yew
When asked about his most cherished moment as an SIM student, Terence Yew, University of London alumnus raved about his opportunity to attend summer school abroad in the UK at the London School of Economics and Political Science (LSE). While studying at LSE, he also landed a six-month internship stint with Birdie, an organisation that develops home care solutions for the elderly.
Seizing Opportunities for Growth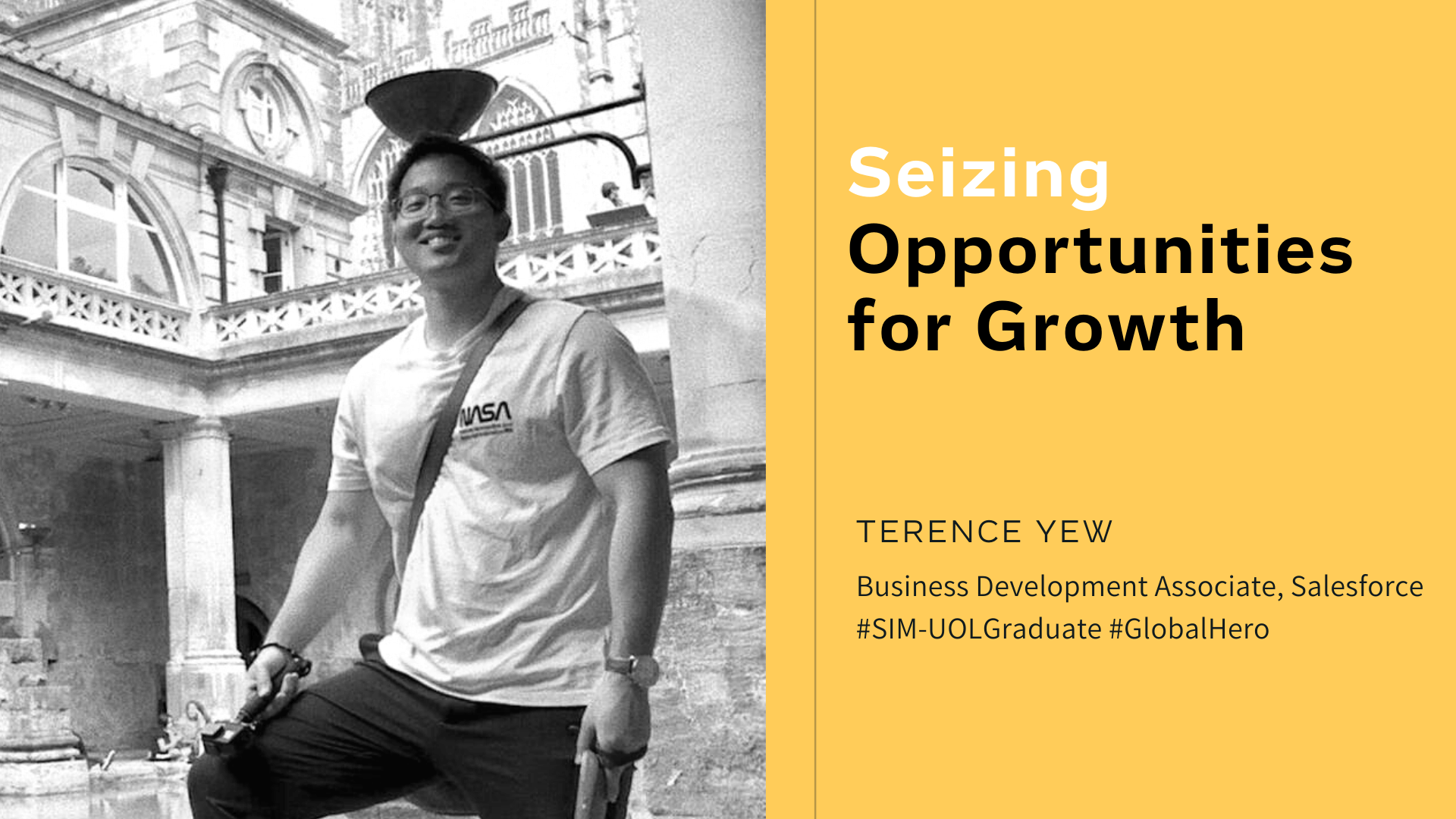 Coupled with another stint back home with Amazon Web Services (AWS), these valuable experiences served as a catalyst in accelerating his professional growth now as a Business Development Associate at Salesforce.
What led you to your current role as a Business Development Associate with Salesforce?
I have always aspired to become a successful entrepreneur.
To be one, I knew I needed to sharpen my business acumen and develop critical skills like communication and strategic thinking. I also enjoy being in a fast-paced environment and to relish challenges.
As such, taking up a business development role at a rapidly growing company like Salesforce made perfect sense as it aligns with both my career aspirations and interests.

How have you benefitted from the SIM-University of London Business and Management programme?
The programme provided strong fundamental knowledge and competencies needed in the industry. Even though it's a Business programme, the modules deep dive into topics like information systems as well. The insights gained from taking these modules have been useful and relevant. More importantly, it allows me to quickly grasp new concepts like cloud computing and thrive in a technology company where technical knowledge is so important.

Tell us briefly about your student life experience in SIM.
Even though I was a part-time student, I still had a thrilling student life. From student events with the Global Learning department, attending the Summer School at LSE and seizing internship opportunities, these experiences moulded me into who I am today.

Is there a particular experience that you would like to highlight?
My summer school experience at LSE in the United Kingdom! I was fortunate to receive the scholarship awarded by LSE, which has enabled me to study at their campus throughout the summer.
The project-based curriculum focuses heavily on business case studies and presentations. As a Business Management student, I was excited to apply what I learned into real-life scenarios and simulations.
I was also able to complement my summer school experience with an overseas internship stint at Birdie. The life-changing six-month stint has certainly accelerated my career and personal growth as it has given me the opportunity to take ownership of many projects & pick up skills in business development and account management.
Let us not forget the many travel adventures as well!

How did you come across the opportunity to intern at AWS?
I found the opportunity on LinkedIn. However, the career preparation workshops organised by the Career Development Office certainly came in handy.
Through the workshops, I have learned to build my personal brand on the platform and gained beneficial tips for my job search.

Who is your hero and why?
My parents are my 'MVPs'. They are tireless in their support for me. Whether it is preparing home-cooked food or providing emotional support-, it is these little daily things, which enabled me to excel.
Let us not take for granted the privilege and opportunities we have and do them proud!

#SIM-UOLGraduate #GlobalHero
Click here to learn more about the programmes awarded by the University of London.
Posted online, 12 May 2020