Tan Jun Jie
Tan Jun Jie loves imparting his knowledge and interacting with young students. After graduating with a business management degree from SIM-RMIT University, Jun Jie went back to China to teach. He joined Guangxi Normal University for Nationalities in 2013, and was part of the team that came in first for the Guangxi Higher Education Teaching Achievement Award in 2019. Now, Jun Jie is an Associate Professor and the Head of International Economics and Trade in the university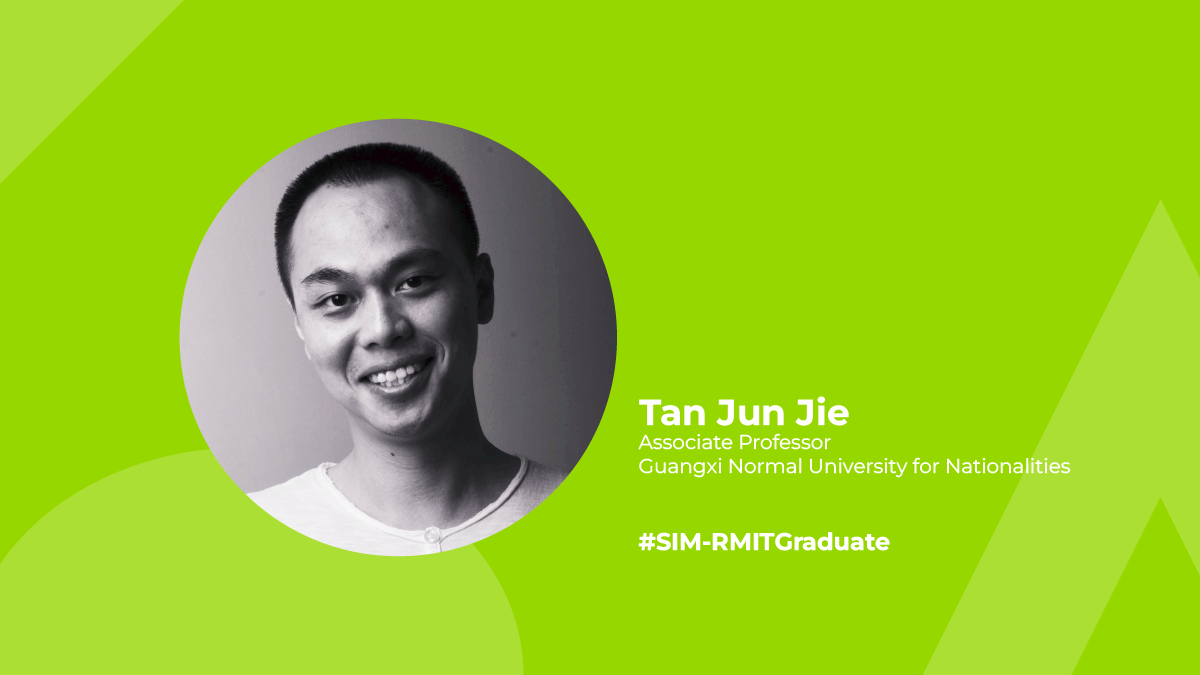 Briefly share with us about your current job.
As an instructor in the university, I spend a lot of time on teaching, mentoring, government consulting, as well as social science research.
My top priority is to provide courses including "Import and export commodity inspection and quarantine", "International marketing", as well as "International Business and Trade" to the young students in the university.
Can you elaborate more on your consulting work?
I am on a team that does consulting services for local government and local businesses. This job is about strategic planning and risk management. I have to visit the government and relevant companies after school quite frequently.
The university is only an hour's drive from the border between China and Vietnam, and the China (Guangxi) Pilot Free Trade Zone (FTZ) is located at the border area. Over 15,000 tons of fresh fruits from ASEAN countries are exported to China annually through this FTZ. Here, we have numerous enterprises that are involved in international trade, cross border logistics, as well as food production enterprises in the FTZ. In this year, the RCEP (Regional Comprehensive Economic Partnership) marks a new milestone in regional economic integration between China and RCEP members. There are great opportunities as well as unknown challenges from overseas.
Are there any synergies between teaching and consulting work?
Our team incorporates the consulting work as case studies and real-world problems into the classroom. We exchange ideas with the students and are able to receive a lot of inspiration from their brainstorming sessions.
For example, previously I provided consulting services to three companies - an enterprise from Spain, a stated-owned enterprise, and a well-known local enterprise. From the work, I made in-depth case analysis and discussion with my students. For instance, how to transform an equipment from Spain into MIC (make in China) equipment? The students were able to come out with solutions from completely different perspectives – some ideas were out of the box. The consulting work makes my teaching more relevant to the students.
What do you enjoy most about your job?
It is so great to always have opportunities to communicate with young people. They inspire me with fresh ideas, and I keep motivating them to move forward, and step forward. I love my job, and I enjoy every lecture in the university.
Posted online 20 Jul 2022.
Learn more about the
programmes
offered by
RMIT University
at SIM today.