Stanley Soo
What you resist, persists. Stanley Soo will attest to it but in a good way ultimately. After graduating with a business management degree from SIM-RMIT University, he was looking forward to a marketing or advertising career. He was adamant that he would never be in sales. But when life throws you curveballs, what do you do? Stanley chose to hit them out of the park. Seizing opportunities that came his way, Stanley is now an Adviser Development Manager.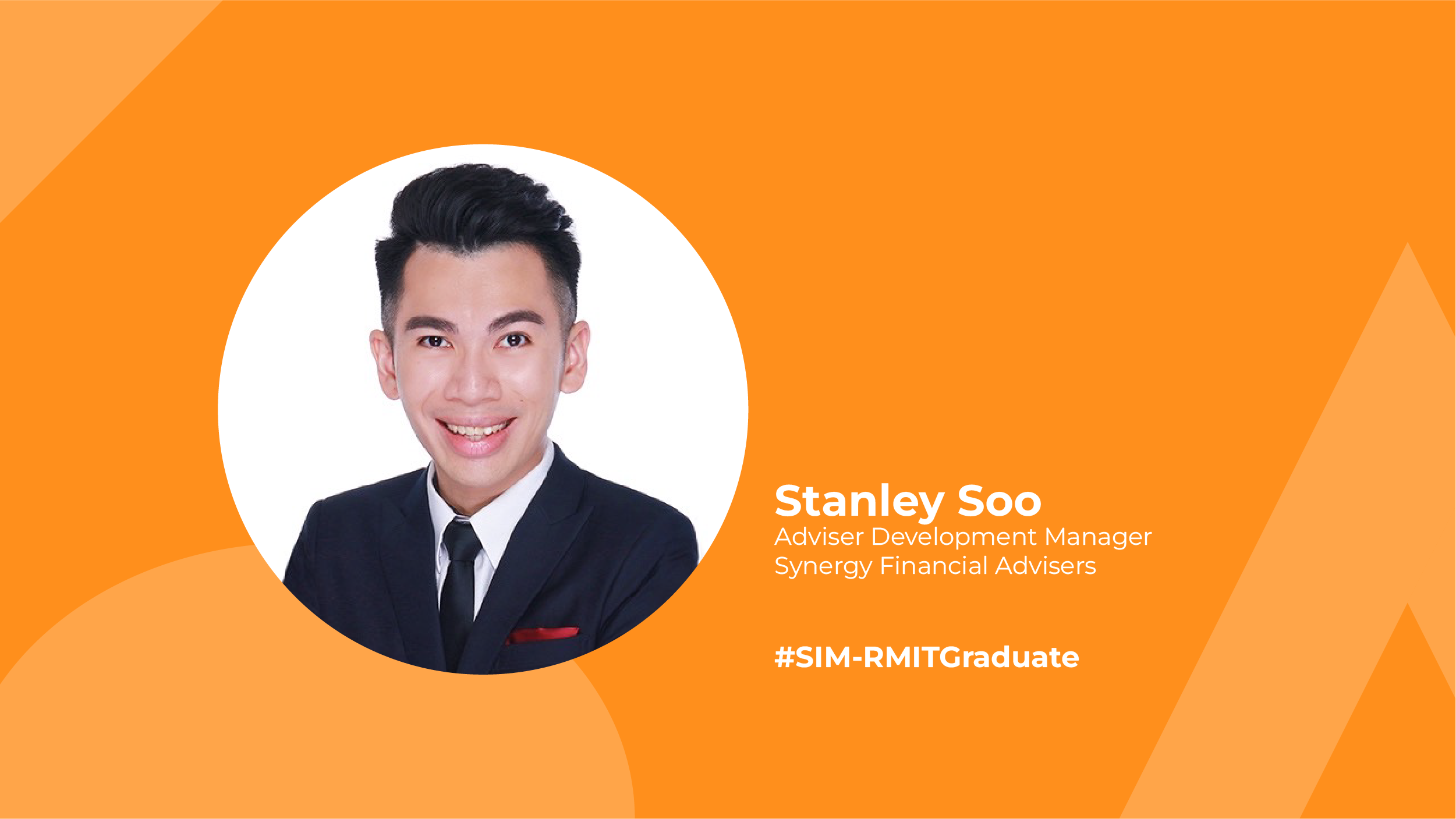 Tell us about yourself.
I graduated with a Bachelor of Business (Management) degree from SIM-RMIT University, Class of 2015. I am working in the financial services industry now although my initial dream career is to be in the marketing and advertising industry, as I enjoyed my marketing internships and I had a diploma in marketing.
Briefly share with us your career path.
I wanted to have a head start so I went for the career fair even before my graduation convocation. A recruitment firm contacted me for an interview. It was for a financial consultant sales role. Sales was never my priority so I was adamant to reject the interview. However, after numerous sessions with the hiring manager, I took a leap of faith and accepted the offer. My only motivation back then was that I needed a job before all my peers. Besides, this job would pay me handsomely.
This was how I became a financial consultant since graduation. It has been over six years now. My biggest take-away is I get to understand myself better. I have breakthrough moments along the way, achieving milestones that I never thought I could achieve.
Can you tell us more about your current role?
I am currently an Adviser Development Manager with a financial advisory firm. My main responsibility is to develop strategies to recruit and manage the manpower resources for the company.
On a daily basis, I would keep abreast of industry news and identify employment trends in Singapore and in the financial services industry. I would also curate and review our in-house training programme to improve competencies of our advisers especially the new recruits. This way, they will be equipped with relevant skill sets when meeting with their clients.
What was the main challenge you faced in your career?
The thing that frustrated me the most at work was being asked to perform a repetitive task that I did not sign up for. And this task is to do public speaking at all monthly meetings, which I am not good at.
However, I eventually saw it as an opportunity for personal development and growth. It would help build my reputation and give me more exposure within the company. Hence, I took the challenge in stride.
How did you overcome the challenge?
Public speaking is probably an irony for someone with six years of sales experience. No doubt, I could hold meaningful conversations with any person on an individual level. But when you put me on that stage with so many eyeballs looking at me, I would lose my train of thoughts and stuttered in my speech.
To overcome my fear, I started by believing that I can do it well. I use the Internet to pick up public speaking tips and know-hows including how to set up and conduct ZOOM webinars.
Now, I am glad that the company threw curve balls at me. I am proud to share that I recently hosted my very first recruitment webinar with a 100 per cent turn-up rate. I will also be the emcee for my company's Awards Night Ceremony next year.
Posted online 20 Oct 2022.
Learn more about the
programmes
offered by
RMIT University
at SIM today.