Sin Hong Wee / Charlotte Chan
Sin Hong Wee / Charlotte Chan
SIM and the University of London (UOL) have a longstanding partnership that spans 35 years, producing over 40,000 highly valued graduates. In this interview, Sin Hong Wee and Charlotte Chan, who graduated nearly three decades apart, shed light on their respective university and student life experiences at SIM.
Two SIM-UOL Graduates. Almost Three Decades Apart.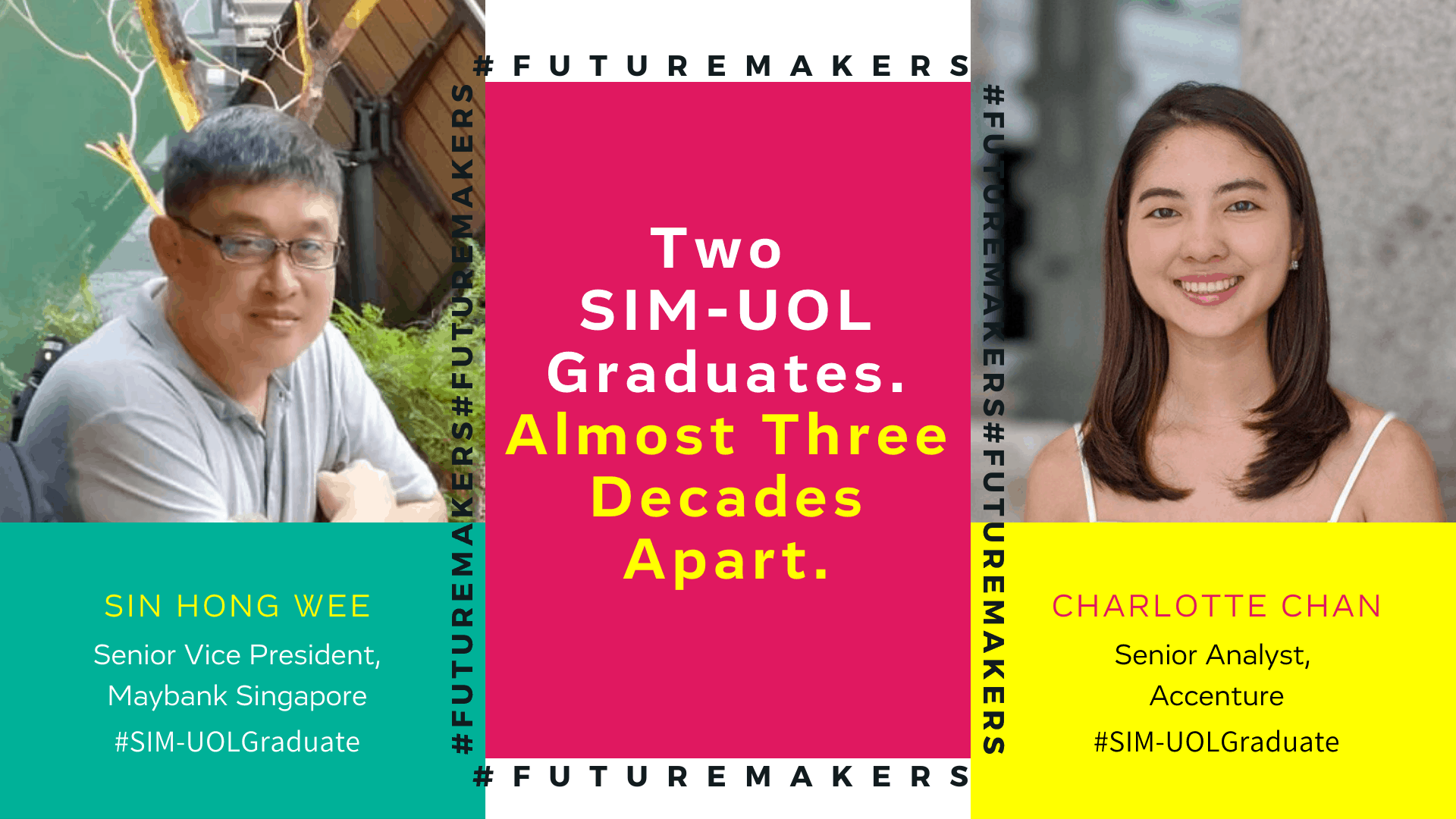 Tell us about yourself.
Hong Wee (HW): In 1989, I enrolled in SIM-UOL Diploma in Economics* before progressing to the SIM-UOL BSc (Economics) in Management Studies*. I am currently a Senior Vice President in the Product Control Unit of the Finance Department at Maybank Singapore. My scope of work involves preparation of Treasury P&L reports, reconciliation of P&L and the positioning of the bank financial statements and more.
Charlotte Chan (CC): As for me, I completed the SIM-UOL BSc (Hons) Economics and Management with First Class Honours in 2018. I am a Senior Analyst at Accenture, spearheading cloud, infrastructure and transformation for Fortune 500 companies across industry verticals from fast-moving consumer goods to pharmaceuticals. During my free time, I enjoy going to new spots to discover food and sights.

What made you decide to further your studies with the University of London (UOL) at SIM?
HW: Undertaking the UOL Diploma enabled me to progress to the degree wholly in Singapore. I did not have to incur the higher overseas living costs had I pursued my studies in London.
CC: One of my deciding criteria for undergraduate studies was to study with a renowned institution that can provide me with a globally recognised credential. UOL was my top choice due to the rigour of the economics and business curriculum reflected by the strong partnerships of SIM, UOL and the London School of Economics & Political Science (LSE). In addition, studying at SIM would provide me with the structure and student life support required for an enriching university experience.

How different were both of your classroom and learning experiences?
HW: I had a pleasant experience studying at SIM. Back in those days, the classrooms were well equipped and conducive for students attending lectures and tutorials. Besides the library, there were other classrooms designed as quiet study rooms.
The study materials were primarily hard copy study guides – SIM-UOL also made arrangements with bookstores to stock recommended textbooks for students' purchase. My classmates came from contrasting backgrounds, from A-level graduates, polytechnic-engineering graduates to working adults. My interactions with them helped me broaden my horizon.
CC: What you mentioned brought back fond memories of me receiving my first set of hard copy study guides as part of the onboarding kit. What is different now, is, perhaps the availability of digitised resources and intuitive technological interfaces to perform school-related activities.
My classroom experience was also elevating – the lecturers always made themselves available to resolve the queries I had at the end of each class. The classroom demographics were very diverse, as I learned alongside peers who flew in from different parts of the world.

Almost three decades! Student life must have been very different back then compared with now; can both of you share more about your experience outside of the classroom with us?
HW: My class attended lectures and tutorials at SIM Management House at Namly Avenue during our first year of studies before we moved to a bigger campus at Upper Thomson in the following year.
With the larger campus, more student activities could happen on-site such as soccer games where we had to play it off-site previously. SIM's decision to move to the Upper Thomson campus certainly helped facilitate student activities easier. In my perspective, SIM did its best to support student activities in making them a success.

In your opinion, how has the UOL degree and your SIM experience empowered you in your career journey?
HW: The SIM-UOL experience has trained me to think more critically and appreciate different perspectives. It enabled me to assess work problems from different angles to find an optimal solution based on the information available.
CC: My experience in creating opportunities for my peers through IONS has become one of my biggest life stories up until today. My successes and failures from this experience are highly valued by employers in reputable organisations and serve as a solid foundation for my career today.
What I have learned in the classroom can also be applied to the technological transformative work at my current job role – which includes talking to the client about industry trend analysis and using economic concepts to calculate business value.

Any word of advice for students considering SIM-University of London as their education provider?
HW: SIM works closely with UOL and has many years of experience delivering UOL degrees locally. The SIM lecturers are well equipped to teach in the UOL tradition – The programmes are also globally recognised. Additional effort is required outside of the classroom lectures and tutorials to excel in the SIM-UOL programmes. It is hard work – but, at the end of the day, students will be rewarded with the recognition they rightfully deserve.
CC: Yes, I agree. In addition, unlike many years ago, where there is a lack of information to prospective students considering further studies at SIM-UOL, abundant resources and guidance are readily available now.
After all, the best way to find out more about University life is from the people who have experienced it themselves! You might not know what you want to do upon graduation, but it is essential to start taking small steps to think about what subjects might provide you with the skills and knowledge required by your ideal industry/dream job.
Recognise that you are the owner of your unique university journey – be proactive and reach out to grab opportunities (or even create opportunities) to build a solid portfolio that includes high academic abilities, leadership and soft skills.

*These UOL programmes are no longer being offered at SIM.

SIM celebrates the 35th partnership anniversary with the University of London (UOL) in 2021. To mark the significant milestone of an enduring collaboration, there are year-long fringe activities to commemorate the accomplishments and transformative impact it has on our students and alumni. Find out more about UOL here.


Posted online, 10 Aug 2021