May Leh Khaing
Having served mainly as a Registered Nurse at Intensive Care Units (ICUs), May Leh Khaing decided to take a leap of faith by venturing into community nursing after being inspired by her lecturer at SIM-University of Sydney (USYD). Currently an Acting Manager at Metta Welfare Association, she shares how the Bachelor of Nursing programme has spurred her to greater heights in her career.
Carving a Path in Community Nursing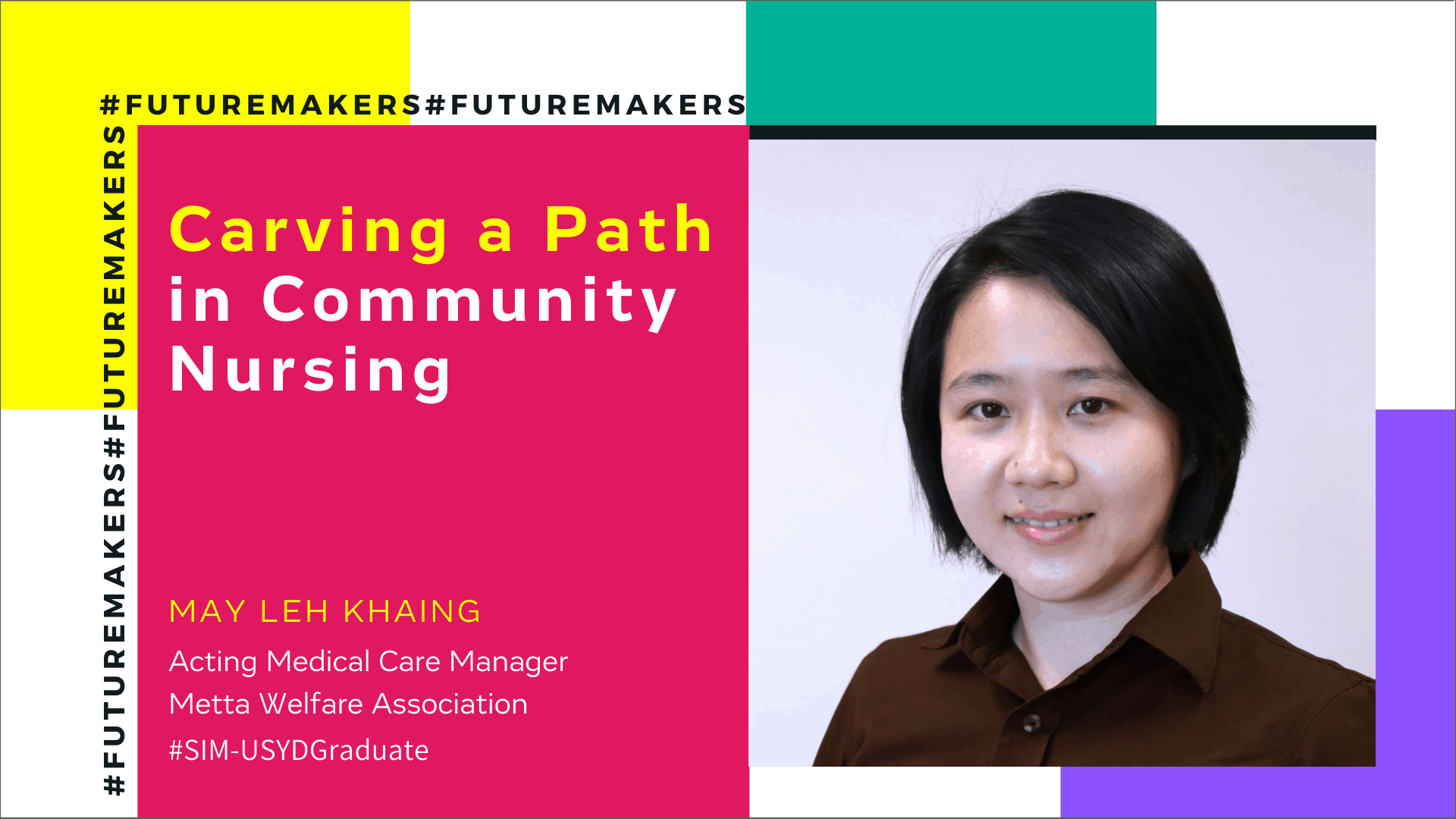 Tell us briefly about your nursing career and your role at Metta Welfare Association.
I became a Registered Nurse in 2011 after graduating from Ngee Ann Polytechnic where I obtained a diploma in Nursing. In my early career, I mostly worked at Intensive Care and High Dependency wards at the National University Hospital. After about seven years of working in ICUs, I decided to take on a new challenge of working in a community setting as I was inspired by Dr Susan Randall, the lecturer who taught me the 'Primary Healthcare and Community Nursing' unit at SIM.
I took on a new role as an Assistant Manager, Nursing, at Metta Welfare Association. My role as a community nurse was to provide nursing care for chronically ill patients in home-based settings. I also provided psychosocial support to both the patients and their families and took on administrative duties according to the operational needs of the department.
Now, I am the Acting Manager at the Association where I look after three sub-departments, namely, Metta Day Rehabilitation Centre for elderly, Metta HomeCare and Metta Hospice Care. This role requires me to oversee operational management, resource management as well as manpower management.

What were some of the challenges that you faced at work during the pandemic and how did you overcome it?
There were a lot of uncertainties when the pandemic came about. When Singapore went into the circuit breaker, we carried on working as home-based services were categorised under 'essential services'. One of the key challenges was having to switch our regular meetings online instead of having them in-person.
While ensuring the safety of the nurses under my care, I also had to ensure that patient care was carried out in the safest manner. It was indeed a challenging time for the team but the adversity made us stronger. The support that we gave each other was incredible and I am very proud to be a part of this dedicated team.

What made you choose to study the SIM-University of Sydney Bachelor of Nursing (Post-registration) programme?
I was looking for a part-time degree so I could continue working while studying as I wanted to develop my professional knowledge. Although there were five other Bachelor of Nursing programmes to choose from, I decided to pursue the SIM-University of Sydney programme because of the prestige of the university, the rigorous delivery of the programme and the strong emphasis on research.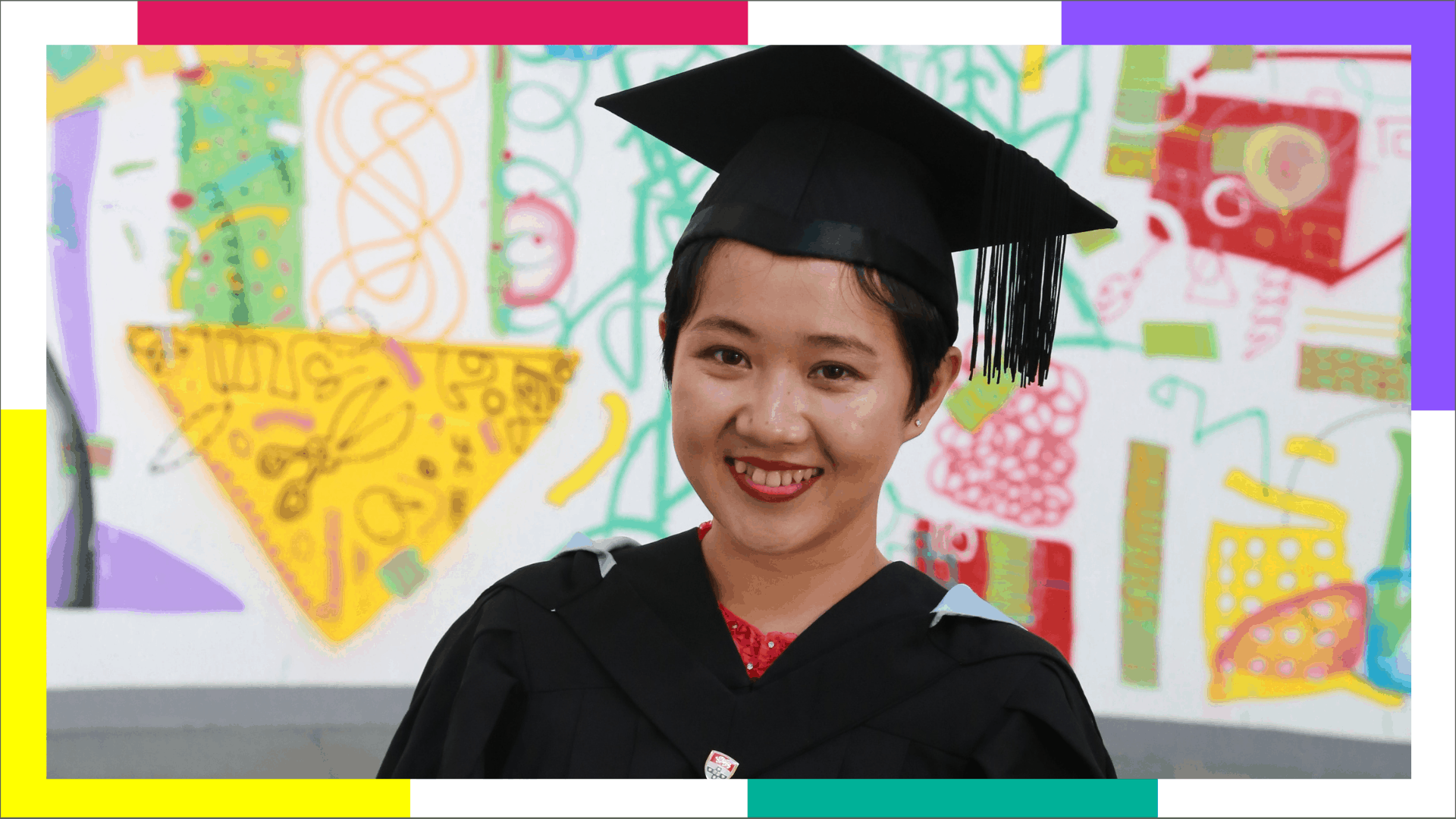 (Photo was taken before the pandemic happened)
A gratifying moment of mine at my Graduation Ceremony in 2018

How has the degree helped you in achieving your career and personal goals?
I enjoyed all eight units that I studied at SIM-USYD. Every lecture and tutorial sparked my learning and thinking abilities. This programme exposed me to various issues in nursing, as well as its development in a global context. The rigorous discussions during the lectures and assignments as well as exams have helped me develop my inquiry skills and quest for learning till this day.

How did you cope with juggling your studies and work demands?
I was blessed to be working with a team and manager that were accommodating to my schedule. Hence, I could attend classes regularly. When the demands of school work increased, I had to prioritise my studies and dedicate my time for it.
Working in the ICU also gave me the advantage of being able to take day-offs during weekdays to prepare my course work and attend lectures in the evening. I also had to dedicate some time to study and work on assignments. Furthermore, the lecturers were also very supportive and approachable, I was able to reach them through emails whenever I needed clarifications or help with my course work.

Any advice for SIM FutureMakers who are carving their own path?
I'd like to say to my fellow nurses that nursing is the most satisfying profession and it has diverse career paths. Choose what makes you happy and enjoy what you do. It is ever evolving, so, stay agile!

#SIM-USYDGraduate #FutureMaker
Click here to learn more about the programmes awarded by the University of Sydney.
Posted online, 06 May 2021