Mark Wee
Wanting to be more than book-smart after his 'A' Levels, Mark Wee, enrolled in SIM-University at Buffalo (SIM-UB), Business Administration programme for its broad-based American education. Hungry to see companies digitally transform, he is currently pursuing an MBA with the National University of Singapore to bring his career to greater heights.
Developing a Passion for Knowledge and IT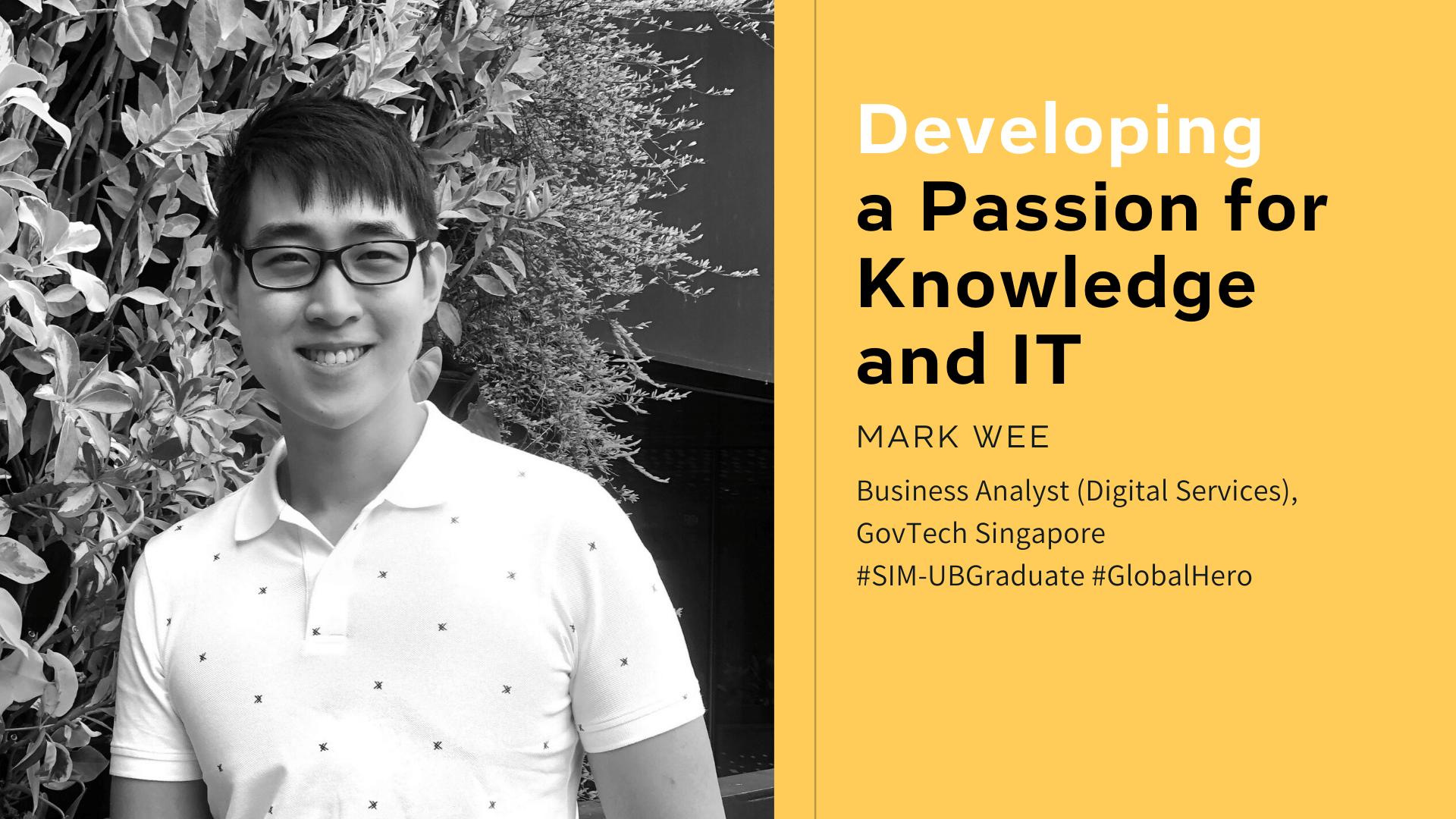 Why did you choose to pursue your studies with SIM-University at Buffalo?
After my 'A' Levels, I wanted a more all-encompassing education. Compared to the local universities, the US pedagogy appealed to me as it puts a greater emphasis on personal development. I also wanted to broaden my perspectives.
Could you share with us about your student life achievements?
My student life experience offered me the opportunity to take up leadership roles such as being Vice-President of the UB Society of Human Resource Management. It also led me to gain valuable experiences like organising networking events and representing the school in competitions.
Participating in a case competition at Wharton Business School was an especially eye-opening experience. I was able to observe how students from prestigious business schools analyse problems, carry themselves professionally and present their ideas articulately.
I also took part in a six-week-long Asian Study Abroad Exchange Programme where I hosted and made several friends from America, some of whom I still keep in touch with today.
What is your most cherished moment in SIM GE?
It has to be delivering the valedictorian speech at my graduation ceremony. This experience has helped me conquer my fear of public speaking. There was a lot of preparation involved. Hence, it felt great to be able to accomplish it.
What are some of the beneficial skill sets that you have gained during your time here?
I've developed strong writing and presentation skills, courage to speak up, and a broadened perspective. The biggest takeaway however, is discovering my passion for learning!
Please tell us what led you to pursue a career in the IT sector?
After completing my Human Resource (HR) internship in my final year, I found that most of the work was repetitive. Prior to the internship, I took an Information Systems module which made me realise that most of my tasks could have been automated.
Having worked in the industry for 3 years, I enjoy how everything is fast-paced and requires a lot of problem-solving and collaboration. But most of all, I enjoy how technology helps to improve the lives of both consumers and employees.
Was there a defining moment in your career that led you to pursue an MBA?
There was no defining moment. Having developed a passion for learning during my course of study, I knew that I wanted to pursue my masters eventually. I truly believe this zest for knowledge resulted from learning under wonderful professors at SIM-UB. I hope to be able to work with top global tech firms like Google or McKinsey Digital in the future, after I complete my MBA and have gained more experience in the industry.
Who is your hero and why?
In real life, there are no superheroes with superpowers. There are only ordinary individuals who choose to do extraordinary things. My hero is Greta Thunberg who is also Time Magazine's 2019 Person of The Year. She may only be 17 years old yet she has undertaken a cause larger than herself and has become the voice of climate change.
#SIM-UBGraduate #GlobalHero
Click here to learn more about the programmes awarded by the University at Buffalo (SUNY).
Posted online, 24 Apr 2020