Marcus Chee / Jonah Foong
Marcus Chee / Jonah Foong
The courage to steer away from a familiar path to nurture an underlying passion, or pursue an interest discovered midway is laudable. What better way to appreciate this than hearing the real stories of those who have self-discovered, recalibrated and made informed shifts towards fulfilling careers of their yearning? Hear first-hand from former engineering students Marcus Chee and Jonah Foong, who graduated with First Class Honours, from the University of London's BSc (Hons) in International Relations (BIR) programme at SIM.
Chasing Dreams & Taking a Leap of Faith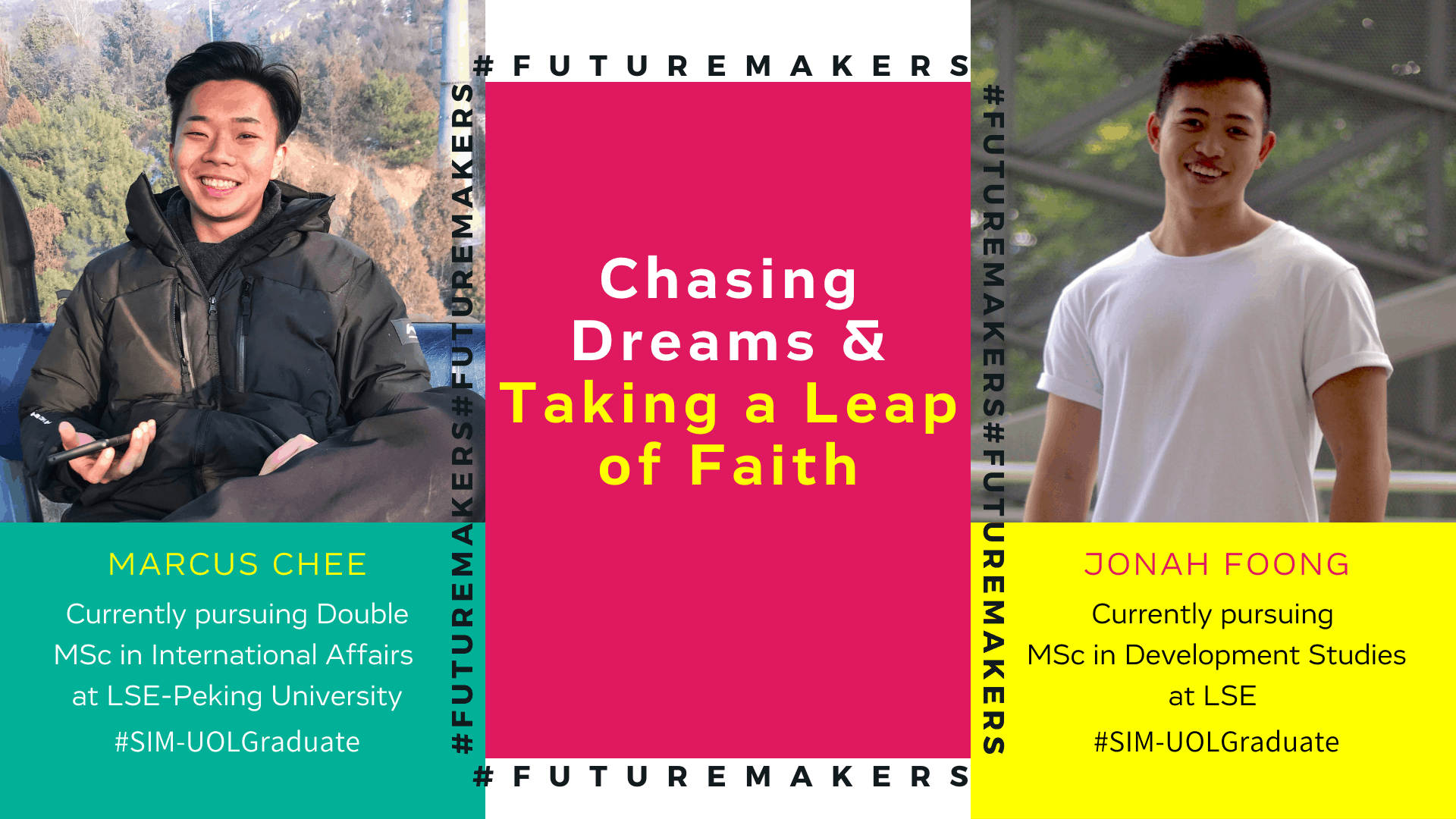 Why the shift from Engineering to Social Sciences?
Marcus (M): The shift from Aeronautical Engineering to International Relations took place against the context of my national service, where I was actively discussing the evolving geopolitical issues in the region, the what-ifs and the raison d'etre behind our national defence. It was through such discussions that revealed my deep curiosity for the subject, which was, fortunately, satiated at UOL-SIM, through engaging lectures, peer discussions and chats with professors.
Jonah (J): I have always enjoyed social sciences, and engineering was a temporary withdrawal from it. I chose International Relations because of my passion for current affairs and history. Interstate relations are tricky to navigate and even the best political leaders get foreign policy wrong from time to time – the news too, often reduces geopolitics to soundbites that detract from deeper nuances. Geopolitics has a tremendous bearing on our lives and I wanted to attain a better understanding of it.
Has having educational backgrounds in both Engineering and Social Sciences benefited you in any way?
M: Indeed. During my 2nd year (in school), I took up an internship with the Federal Aviation Administration (FAA) office at the US Embassy in Singapore. The FAA is the aviation arm of the US government and serves as the headquarters managing American aviation agreements for her partners in the region. Through this experience, I realised that much of the work at the FAA involved not just an understanding of American relations and geopolitical sensitivities, but also decision-making on technical matters.
J: Yes, though not directly – because of my engineering diploma I spent some time in manufacturing shop floors and interacted often with foreign workers. I worked with them, ate with them, had conversations with them. Over time, I gleaned useful insights into their lives and habits, giving me a more complete picture of the Singapore landscape. Social sciences is sometimes guilty of alienating alternative worldviews despite its claim to improve our understanding of the world. My engineering diploma has at least provided me with a foil to that.
What were the opportunities that UOL-SIM has presented to you in maximising your student life?
M: My student experiences have been diverse, as they had been fulfilling. I was presented with numerous opportunities; representing the school at international competitions, engaging with the wider student community, and even work with external stakeholders to organise events at SIM. These opportunities have allowed me to glean invaluable learning points.
SIM's Career Development Office (CDO) opened doors for me to intern with the US Embassy in Singapore – one that surely satisfies many politically curious students. There are also leadership programmes and accolades such as the EDGE Award to motivate students and 360o development programme, which hones career-preparation skills e.g. interview techniques, resume writing and presentation abilities.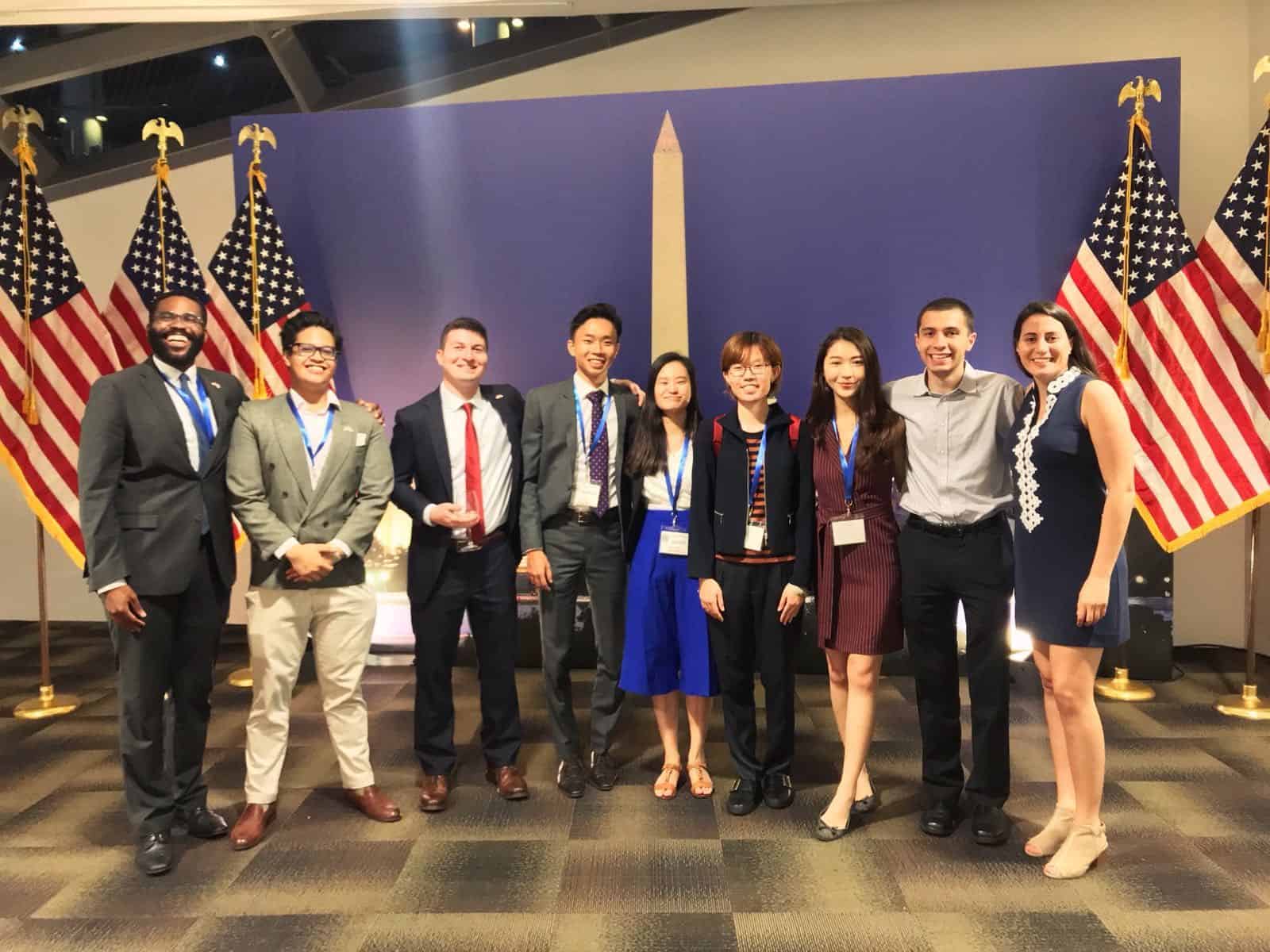 Marcus Chee (Middle), at the U.S. Embassy Singapore during his internship
stint at the Federal Aviation Administration.
J: Some of my best memories were forged as a student leader at the International Affairs Society (IAS). As part of the club's Harvard National Model United Nations (HNMUN) team, I had the opportunity to travel to Harvard and Hong Kong University to debate about foreign policy and current affairs. We role-played as diplomats and worked with delegates from distant lands to solve pressing global issues, all while forging friendships and learning about their cultures – as an International Relations' student, I found that it added a little life and colour to a subject that can sometimes be heavy on theory.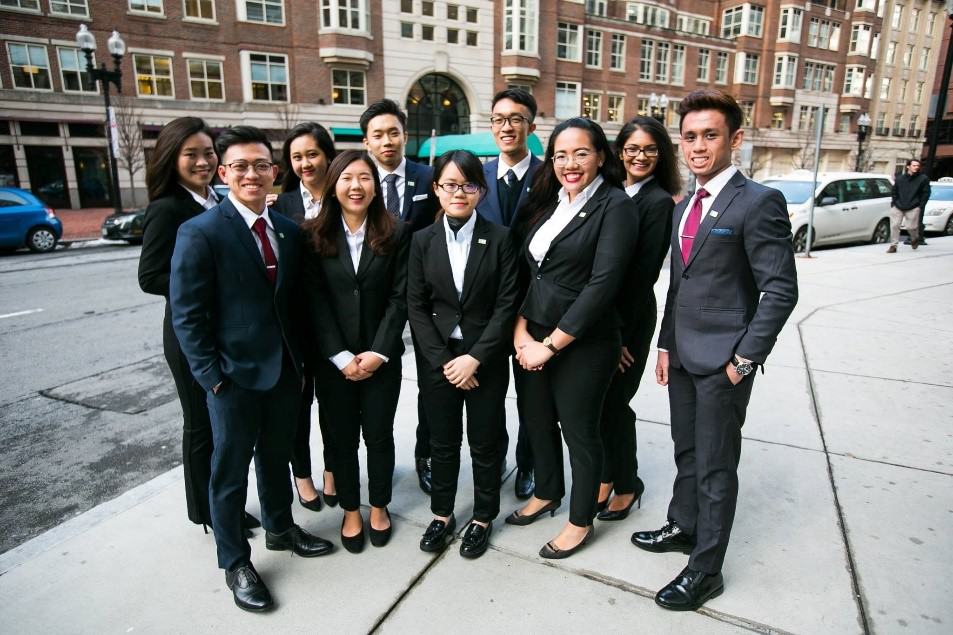 Jonah Foong (Far left), with his HNMUN team in Boston.

I wanted also to write, something I had a considerable passion for; hence the birth of a student publication to serve the growing appetite for politics and current affairs. With my friends, we launched The Capital in September 2017, a bi-monthly web magazine that covered a quirky range of topics from space politics to the role of fashion in the civil rights movement. A year later we made the leap to an online news publication, rebranded as The IAS Gazette; which was run newsroom-style with student journalists covering public seminars and press events. My best moments as editor included covering the 33rd ASEAN Roundtable and a press invitation to the British High Commissioner's residence.
For my efforts, I was conferred the SIM GE scholarship for academic excellence and leadership in Year 2. Above any scholarship and accolades that I have received, UOL-SIM gave me the opportunity to test my strengths. Prior to University, I had never been particularly studious or bookish. I eschewed hard work and lacked self-discipline, and so I entered university with a lot to prove. The fact that the opportunities were never freely given and that I had to fight to earn them, taught me valuable lessons about hard work. It is a joyous feeling to discover what you are capable of if you put in the effort; that kind of self-confidence never leaves you.
Who are the people behind you in your achievements?
M: My family has been behind me throughout all of my achievements. Their tireless and unwavering support is the reason why I have been able to dedicate most of my time and energy to my studies.
J: Being surrounded by like-minded course mates helped. International Relations, like any social sciences, is fuelled by discourse. There is no one right answer and a good answer is the sum of different perspectives. Having friends around me I could debate ideas with was crucial to enriching my mind with alternative viewpoints.
How has your student experiences at UOL-SIM shaped your future choice of career?
M: The learning experience in international relations have definitely broadened my understanding of ongoing global developments and the different ways and methods in which States, businesses and International Organisations operate within and try to succeed in the international environment. The BIR programme provided me with a unique opportunity to pursue academically my specific interests of political science, inter-State relations as well as political philosophy.
J: I think I discovered a real love for learning while in university. Even after graduating, I found myself actively acquiring new forms of knowledge, which makes a career in research a logical choice. Choosing to do research on development is also a natural extension of all that I have learnt as a student. As an International Relations student, one is exposed to the inequality present between and within nations, and it makes it all the more meaningful if I can, through my career, balance the cosmic scales even a little.
Click here to learn more about the programmes awarded by the University of London.
SIM celebrates the 35th partnership anniversary with the University of London (UOL) in 2021. To mark the significant milestone of an enduring collaboration, there will be year-long fringe activities to commemorate the accomplishments and transformative impact it has on our students and alumni. Find out more about UOL here.
Posted online, 09 Mar 2021