Lutfi Amali
Lutfi Amali, Civil Engineer at Hyundai Engineering & Construction, first discovered he enjoyed Project Management when he oversaw Alterations & Additions (A&A) works at PSA Singapore. Motivated, he pursued the Construction Management part-time programme where he learned about the industry in Singapore and beyond. With solid fundamentals of Project Management that complement his professional experience, Lutfi soared to greater heights in his career. At present, he spearheads his projects with better collaboration skills and a greater emphasis on on-site efficiency and safety.
Spearheading Efficiency And Safety at Construction Sites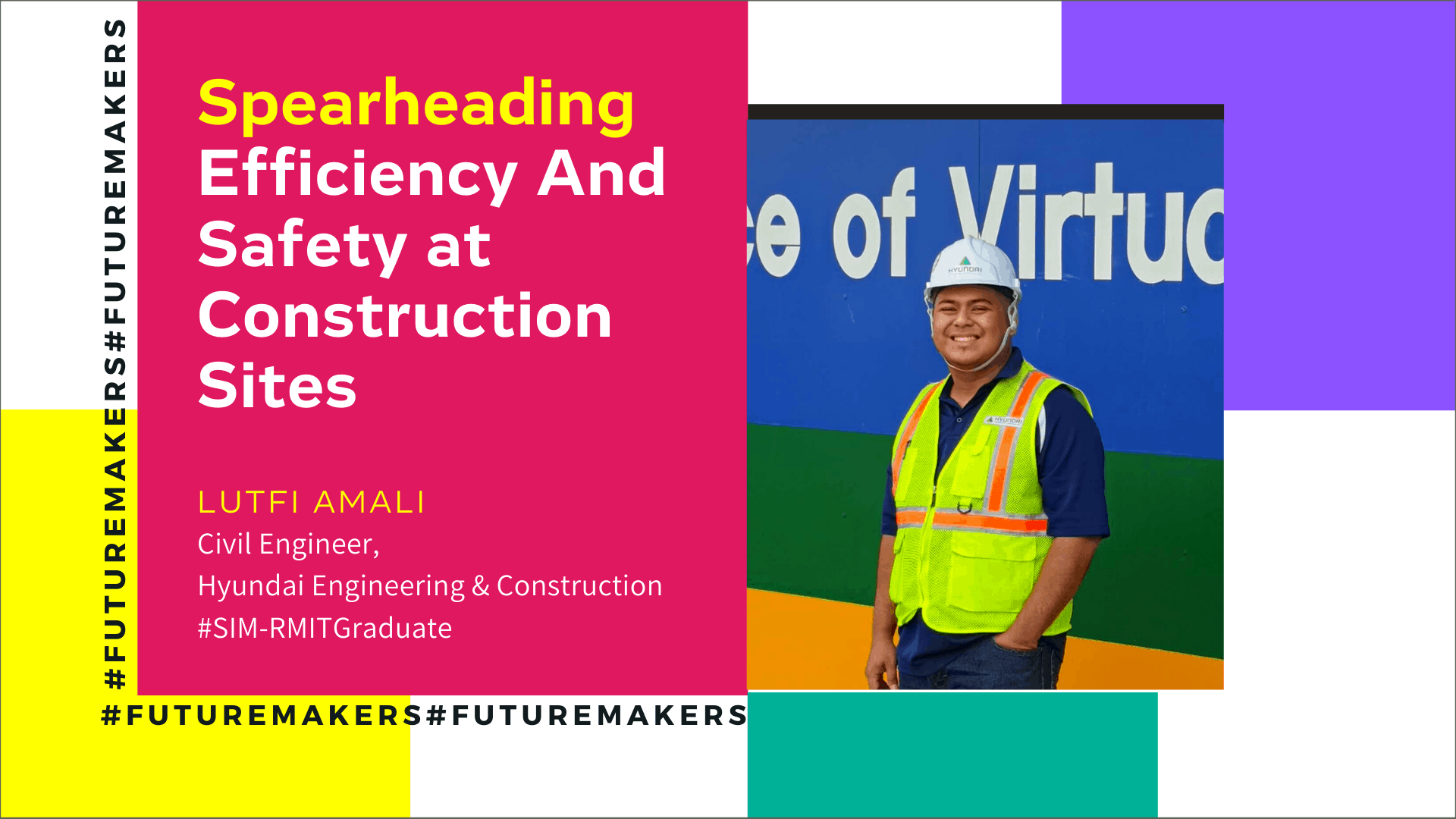 Tell us about your role as a Civil Engineer at Hyundai Engineering & Construction.
As a Civil Engineer, I am in-charge of all operational and maintenance works at the Tanah Merah Staging Ground (TMSG). TMSG is a part of the Construction & Management of Staging Ground and Infilling works (Phase 2) project at Pulau Tekong.
My day-to-day responsibilities include liaising with different people such as our clients, consultant, sub-contractors, users and authorities to ensure daily smooth operations.
I also work alongside the Safety Department to oversee on-site safety by ensuring that all works have been carried out according to the submitted Risk Assessment, Safe Work Procedures and safety regulations.

(Photo was taken before the pandemic happened)
Being in this industry has truly been a rewarding and exciting experience

What do you personally enjoy about a career in the Construction industry?
I really enjoy the vast networking opportunities it provides! I get to meet diverse people from across the globe with different approaches and perspectives on Project Management. I've learnt various problem-solving methods through our interactions too.
Being in this industry and working with foreign workers has also been a truly humbling experience.
Has the industry or your role been impacted by the pandemic?
The pandemic has notably impacted movement and resulted in worker restrictions within the industry. Both locals and foreigners were instructed to work from home for approximately four months before approvals were granted by the Building and Construction Authority (BCA) to resume on-site works. However, not everyone was given the green light due to swab test schedules and dormitory stay-home notices. Apart from that, most companies were not able to recruit new workers from countries such as Bangladesh, China, India and Thailand due to border restrictions.
On a personal level, I was fortunate that the pandemic did not affect my role. However due to the new rules and regulations set by BCA, I was tasked to be a Safe Distancing Officer to ensure that the site complies with all Safe Management Measures practices.

(Photo was taken before the pandemic happened)
All smiles with my then fiancée (now wife) at the Graduation Ceremony in 2019

In your opinion, what are the advantages of the SIM-RMIT University Construction Management part-time programme?
As a working individual with an 8am to 5pm schedule, time management and work-rest balance were important to me. The SIM-RMIT University programme was perfect as it offers a part-time curriculum conducted over a 2.5 years duration. I liked that classes were usually held in the evening from 7pm to 10pm on weekdays and 3pm to 6pm on weekends. This allowed me ample time to have a quick bite before classes and head home comfortably before midnight. The learning materials provided were comprehensive as well.
The course lecturers were not only helpful, but they were also solid mentor figures who are rich in industry experience. Their sharing which ranges from lecture topics to personal experiences constantly inspired us to be more curious and hungry for knowledge.
Overall, how has it empowered you in your career journey?
The programme provided me with the fundamentals of project management and expanded my knowledge on the construction industry in Singapore and beyond. I now understand in greater depth on topics such as the development of urban cities, strategic planning for the construction of a building, sustainable construction, and stakeholder management just to list a few. In my area of work, there are unique challenges that stem from working with foreign workers, colleagues and superiors. Now, I'm able to adapt and tread through these situations with more confidence.
In addition, I have also met many professionals from other industries. Some of my past groupmates have even turned into great friends outside of school. I hold them dear as they constantly motivate me to learn and advance my skill sets.
All in all, the programme has enabled me to reach new heights in my career, especially in the area of Project Management!
Any words of advice to SIM FutureMakers who are carving a career path in their chosen fields?
For professionals who are seeking opportunities to advance in your careers, it helps to indicate and raise your interest to your employer. Demonstrate your capabilities as well as your hunger for knowledge and experience. If you truly want the opportunity, you will not give up so easily.
Keep yourself informed of the latest news and trends and constantly upgrade yourself as these will give you an edge in problem-solving, networking and career growth.
#SIM-RMITGraduate #FutureMaker
Click here to learn more about the programmes awarded by the RMIT University.
Posted online, 19 Feb 2021