Lo Kien Foh
Lo Kien Foh has come a long way since he first started his career as an electronic engineer. Working in different companies in areas such as product development and operations, he has built up a strong R&D engineering background. Besides having two engineering degrees - a bachelor's and a master's – Kien Foh also holds a master's degree in finance from SIM-RMIT University. Now, as the Country Head of Continental Automotive, Kien Foh works closely with his management team to drive business growth in Singapore.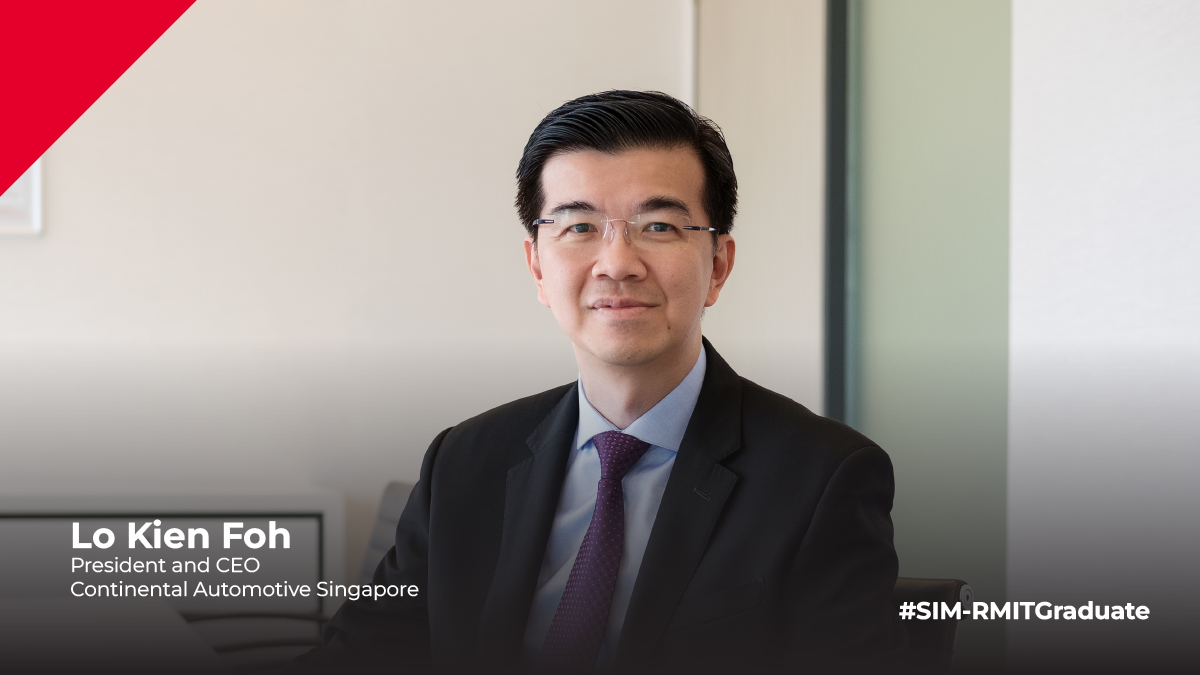 Briefly share with us what you do.
As the Country Head, I lead Continental's operations and business in Singapore.
One part of my job that I focus very much on is engaging with our people. As the CEO, it is important to take time to listen, engage, give assurance during challenging periods, and recognise the contributions of good staff. In Continental, we call this "People-centricity".
As an R&D centre, we also need to ensure timely project delivery to our customers, and this is one area which my team and I invest a lot of energy in, from project initiation to execution and launch. Another key part of the job is working with the respective business areas - to plan, develop and execute strategies that can generate more business for Continental.
What sparked your interest in engineering and automotive?
My curiosity on how things are engineered stemmed from my early years as a young boy. I was always intrigued by cars and different gadgets, and how they worked. This further developed into a strong interest in innovation and technology, which brought me to where I am today.
What fascinates me the most now is to see Continental's innovations being adopted and put to good use in the industry and market.
What was the main challenge you faced in your career and what did you do to overcome it?
I believe that in every challenge we face, there is always a solution, and that through adversity, we can evolve and emerge stronger.
Staying nimble is a constant challenge, both from a personal and organisational perspective. In recent years, digitalisation has had a huge impact on the automotive industry, rapidly changing the types of products and services that are sought after in the market. We have had to streamline and refine our processes, so that we are leaner and more competitive, and we can shorten the time it takes from research and development, to testing and eventually commercialisation.
It is about being agile, and sometimes, even taking decisions at an early stage, with the existing knowledge we have.
Can you share 1 to 2 success stories in your current job where you had to overcome a specific challenge?
It brings me great satisfaction to know that I have successfully built a strong and trusted leadership team, along with a capable and competent workforce in the company. There is an added level of satisfaction here because as we all know, there is no visible automotive industry in Singapore. However, our R&D centre in Singapore is now running international automotive R&D projects, working to deliver quality products to our customers globally.
A challenge I had to overcome was how to lead the company and its people to be more innovative.
To do this, we set out to implement and develop high standards of work culture among our employees. We encouraged teams to work more collaboratively and provided spaces for them to do so. There were opportunities for continuous professional training and development, and various work schemes like flexible mobile work. These initiatives allowed our teams to excel and create more breakthroughs, and at the same time, staff were able to better manage their personal and work commitments.
It is still an ongoing journey and every success – big or small - I also owe it to the talented people I have had the fortune to work alongside, and mentors who have guided me to be the leader I am today.
What do you enjoy most about your job?
In Continental, one of our core values is the "Freedom to Act". This means that staff are given the autonomy to do what is right. As such, there is no micromanagement, and staff are empowered to self-organise their work and assume responsibility for the results.
I enjoy and value this tremendously. I am also inspired when I see fellow colleagues making use of this freedom to be entrepreneurial and creative in their work.
Posted online 20 Jul 2022.
Learn more about the
programmes
offered by
RMIT University
at SIM today.