Leonard Lim
Armed with an economics and finance degree from SIM-University of London, Leonard Lim embarked on a career in the banking and financial sector in Malaysia. In just a few short years, after stints with Standard Chartered Bank and CIMB Bank, Leonard decided to venture out and start his own firm.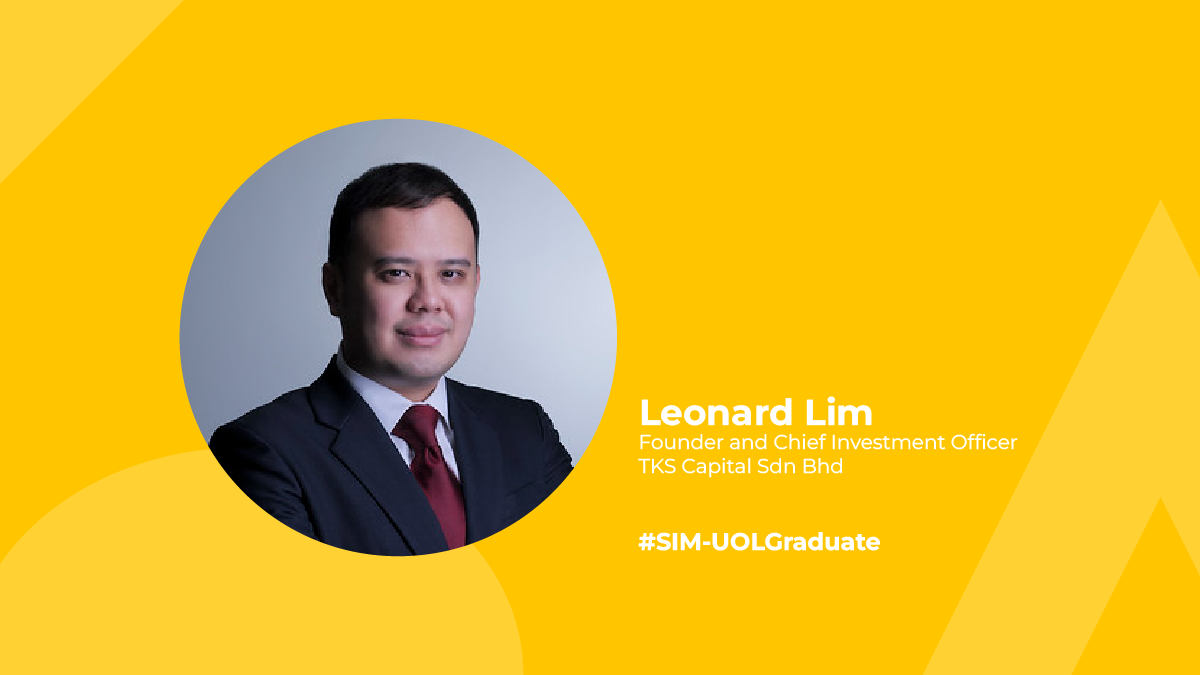 Briefly share with us your career path.
I started my first job as a Financial Analyst in Standard Chartered Bank, Malaysia in LOCO London gold trading after my graduation in 2012.
After about a year, I switched to CIMB Investment Bank to be an Equity Relationship Manager in charge of operating and opening new share trading accounts for retail customers. Within a year, I was promoted to Equity Specialist to serve high net worth individuals with my portfolio management skills. In 2017, I decided to start my own private equity firm in Malaysia.
Can you share more about your job?
I am currently managing funds for family offices and several clients. I do portfolio management to maximise investment returns to my shareholders and clients. So far, we have been delivering satisfying returns. In the coming years, I would like to expand my investment footprint globally.
I am also appointed as a consultant in several of the invested pre-listed companies. I provide business development consultations to the board of directors, leveraging my previous experiences and networks with banks to help them to grow.
Can you provide us with 1 to 2 success stories in your career?
It was the year after I started my firm. I made the decision to quit the Hong Kong market because I found it too risky but I received a lot of distrust from my clients due to this decision. Luckily, I made the right move as I managed to quit before it became a bear market. I was glad that I stood by my decision at that time.
Another story would be during my earlier days when I was promoted in CIMB Bank. As I was the youngest manager at that time, I had to put in a lot of efforts to persuade my co-workers and clients to believe and trust my strategies and portfolio allocation. I learnt a lot during that period which helped to develop my professional skills.
What do you enjoy most about your job?
The best thing in my job is to generate good returns to my shareholders and clients, whilst at the same time achieve happiness seeing good outcomes from the decisions that I made.
Besides that, I am a futurist who is interested in technology that can transform the environment and society that we live in. That is why, I am quite well known as a Greentech investor amongst my circle of friends. The exposure to leading edge technologies always makes me excited and gives me a sense of fulfilment when I bet on the right kind of technology investments.
How has the programme that you studied in SIM benefitted you?
The UOL course was very helpful because it was not solely on theory - the lecturers will use their industrial experience to enhance our understanding, which made the learning process practical, fun and useful at the same time.
The other thing I love about SIM was that there were many seminars, talks and co-curricular activities, where we learnt from industry experts on various topics according to our interests other than studies. I made a lot of friends and mentors from those activities. Today, we still maintain our good relationships, and are very helpful and support each other in our career.
Posted online 20 Jul 2022.
Learn more about the
programmes
offered by
University of London
at SIM today.