Kelly Ong
Coming from a background of media studies, Kelly Ong took the University of London's Economics and Politics degree at SIM to expand her worldview. A spirited individual, she volunteers actively to support the underserved young students in her quest to bridge today's equality gap.
Ask SIM #FutureMaker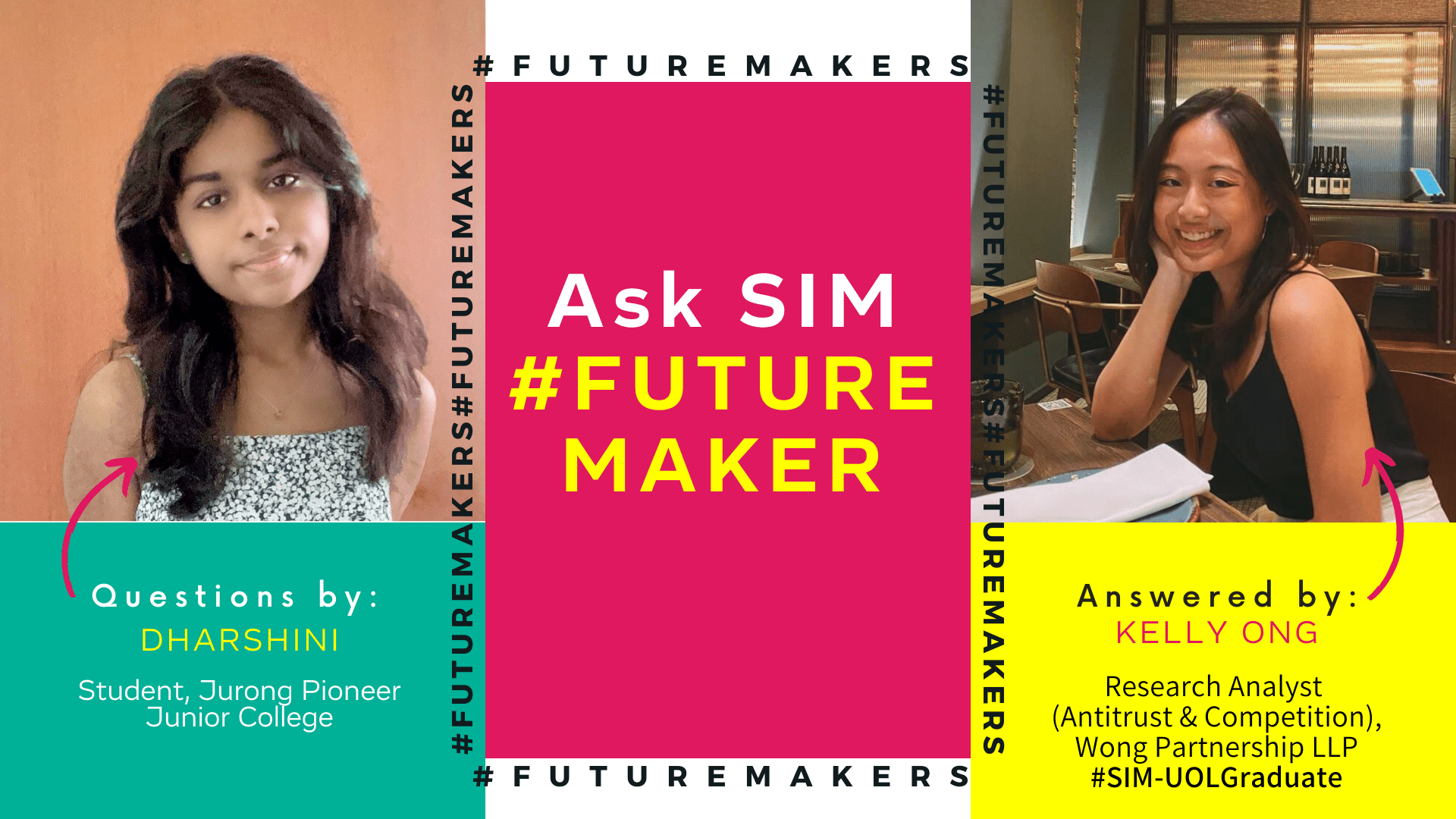 Here, Kelly answers a series of questions posed by a prospective learner; Dharshini, a current student of Jurong Pioneer Junior College.
Darshini (D): What do you do as a Research Analyst at a Law Firm?
Kelly (K): I assist lawyers in advising clients on various aspects of cross-border transactions (e.g. mergers/ acquisitions). My work varies every day – but typically, it involves running merger analysis and conducting in-depth research.
D: What was a typical day like for you as an SIM-UOL student?
K: On most days, lectures lasted at least half a day for me, and I would have the next half to participate in various activities e.g. revision, catching up on lectures, CCAs, part-time jobs, volunteering, etc.
D: What made you decide to volunteer outside of your busy schedule?
K: I generally have a passion for children as well as teenagers.
I have had the privilege of having very engaged parents who helped me with resume building, interview preparation, and career planning. At times, I found myself using their advice to help some of my friends.
It dawned on me one day that such information was never a common resource. Some students do not have the access to knowledge that could help them build career maturity. About the same time, I came across Access Community; and I thought it had such a meaningful mission that was aligned with my values.



D: What other useful skills have you learned during your University days?
K: Time management, ability to work fast and well and the importance of life-long learning. These may sound trivial, but for me, I believe that they are the bedrock of maintaining a healthy work-life balance.
A good bulk of what I studied remains relevant to my job as well! My knowledge of economics helped facilitate the transition to my current position. My research and writing skills honed through the political science modules also come in handy every now and then. It is satisfying to be able to apply the intersection of skills I picked up through my degree to my current role.
D: What was the most enjoyable experience you had while studying with SIM-UOL?
K: I had so many – but my experience at the IAS-Gazette (under SIM's International Affairs Society) was a significant one! I went through many milestones during my time at the Gazette. From learning to step out of my comfort zone when approaching people to meeting great friends along the way! The friendships and little wins made it such a memorable experience for me.
Create your own future. Be a #FutureMaker.
Posted online 10 Dec 2021.
Learn more about the programmes offered by the University of London at SIM today.