Jessica John
Jessica John Posko, SIM-University of Sydney alumna, is a senior staff nurse who wears plenty of hats. When she's not busy at the Major Operating Theatre at Singapore General Hospital, she volunteers as a nurse with Singapore Red Cross and immerses herself in her creative pursuits. Despite juggling multiple commitments, she emerged as the top student of the Nursing programme and has received the Gold Award by the University. With her achievements, she hopes to impact more lives through overseas medical missions.
Going the Distance in Nursing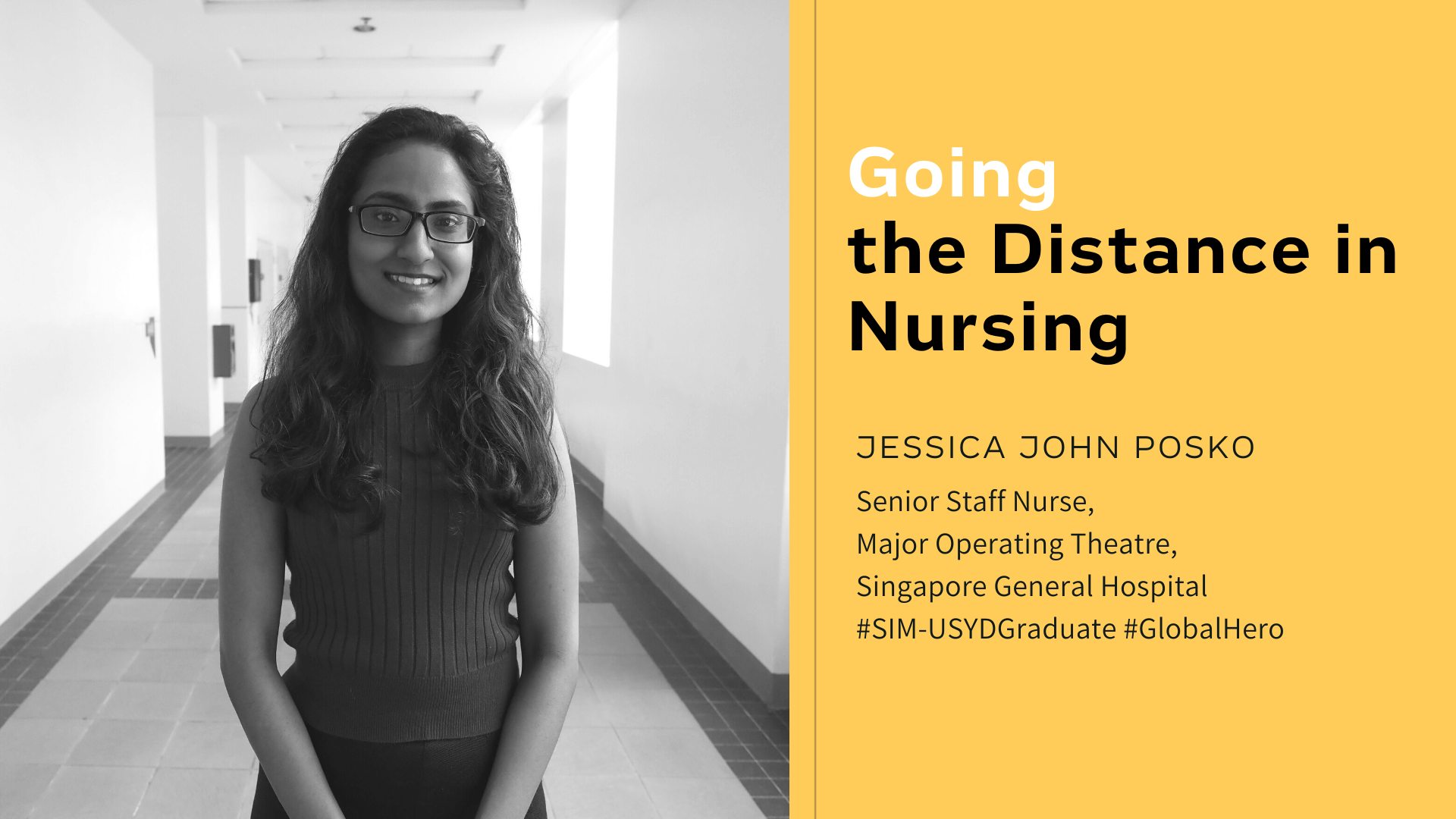 Tell us briefly about your nursing career.
After graduating from Nanyang Polytechnic's Diploma in Nursing programme, I started working as a full-time registered nurse at the Major Operating Theatre Department at Singapore General Hospital (SGH). This year would mark my sixth year as a senior staff nurse.
What does a day of work at the Major Operating Theatre looks like?
During my shifts, I not only assist the surgeons with the operation procedures, I help to provide the appropriate care for the patients throughout their surgery journey.
I am also responsible for maintaining the surgical services in accordance to the competency standards set by the Singapore Nursing Board Core Competencies for Registered Nurses.
With the emergence of advanced technologies, we have to keep ourselves updated to ensure a smooth workflow for the various surgeries that take place here. Thus, it is important for me to communicate constantly with the medical team.
What were the key factors for selecting the SIM-University of Sydney Bachelor of Nursing (Post-Registration) programme?
I had to first ensure that the programme is accredited by the Singapore Nursing Board.
While researching my options, I found the quality of education of the University to be the best due to its reputation for outstanding teaching.
Besides that, it is also a research intensive centre and is renowned for being a member of the Group of Eight Australia. These are some of the vital reasons why I had chosen the University.
Lastly, the location of SIM's campus also played a huge deciding factor. As I had to travel daily from SGH to campus and then back home, picking a school near where I lived saved a lot of time and energy, especially after a long shift.
How has the degree helped you in achieving your career and personal goals?
The degree has helped to hone my critical thinking, problem-solving and leadership skills. I've also gained a greater understanding of the role of nursing in global healthcare.
These skills coupled with my nursing experience has guided me as I go about my overseas medical missions as a volunteer nurse with Singapore Red Cross.
Recently, I've helped to set up the mobile medical clinic at Cox's Bazar, Bangladesh in light of the Rohingya refugee crisis. The skills I've picked up has enabled me to work effectively with my medical team.
The degree has also helped me to inch closer towards my goal of being on the nursing teaching and education track or alternatively, the health administration track. Whichever track I choose, I hope to make a difference on a more global scale.
You have received the Gold Award* by the University. What were the factors that were instrumental in helping you achieve this?
During the course of my studies, my lovely lecturers never failed to motivate and guide me through my assignments and projects.
However, most of the credit goes to my family, especially my mother. There came a point where I found it hard to give my best both at work and school. Being a supportive figure in my life, she spurred me on to continue working hard. I wanted to be a great example for my younger brother too.
How did you cope with juggling your studies and the demands of your work?
I overcome the stress by playing the violin and making time for my singing gigs with others who share a similar interest.
I immerse myself into poetry too. Writing has always been my sanctuary.
Can you share with us your hopes for all nurses?
I hope that our young nurses are courageous and mentally strong. Having the mental stamina is of utmost importance in the work we do.
Besides taking care of our health and well-being, I urge all nurses to put their knowledge, experiences and skills into volunteering with overseas medical missions. Doing so would expose us to an environment and challenges, different from that in our hospitals and country.
Who is your hero and why?
It has always been my mother. Being a nurse for forty years, she's strong, smart and knows how to balance her family and work demands equally. I truly believe that there is no one who is as capable as her.
In the words of Maya Angelou, a famous poet, "Every person is born with talent and people will forget what you said, people will forget what you did, but people will never forget how you made them feel".
These words have gotten me through some challenging times in life and gave me the courage to pursue my creative interests – whether it is writing poetry or music.
#SIM-USYDGraduate #GlobalHero
*The Gold award is awarded to the top performing graduate from the Bachelor of Nursing programme.
Click here to learn more about the programmes awarded by the University of Sydney.
Posted online, 04 May 2020