Jacky Yan
Originally from China, Jacky came to Singapore as an international student to pursue a banking and finance degree with SIM-University of London. After doing internal audit for a decade, she decided to venture out on her own. Jacky, who took up Singapore citizenship in 2012, is currently a partner of three businesses, the latest one being Trust Chain Partners.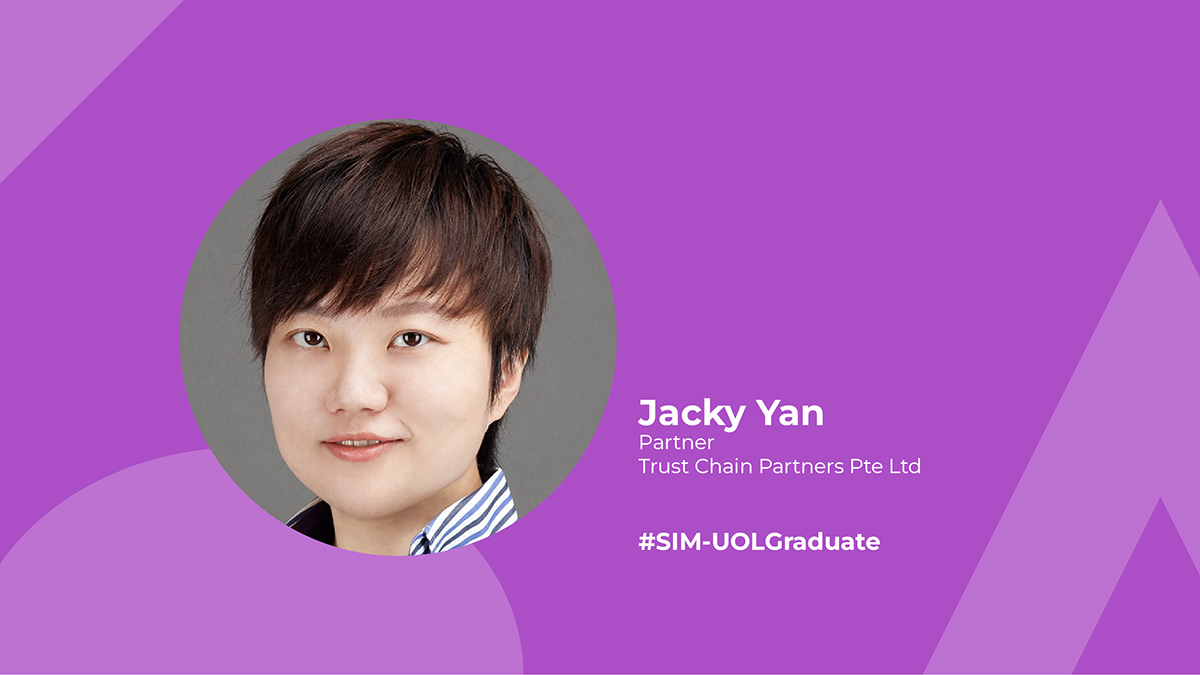 Briefly share your career path after graduation.
I worked as an internal auditor for 10 years and subsequently worked as a Trade Officer for two and a half years in the Embassy of Israel in Singapore. Thereafter, I started my first business, Yan & Associates Pte Ltd, followed by Belt & Road Consultancy Pte Ltd and Trust Chain Partners.
Tell us more about your businesses.
Yan & Associates is an accounting firm that I set up to assist clients with daily corporate routines such as accounting, auditing and taxation, etc.
Belt & Road Consultancy is an employment agency. I saw an opportunity when a number of our clients require foreign workers and professionals from different countries. However, for the past three years, this business faced difficulties due to the pandemic. We were unable to recruit foreign workers and talents as easily as before. However, I believe this is temporary and that everything will be back to normal eventually.
Can you tell us more about your current role?
I am a partner in Trust Chain Partners, a licensed fund management company. In a nutshell, my daily job includes the review and management of our business programmes and processes to ensure regulatory compliances both locally and regionally. I also perform ongoing due diligence of credit quality and client activities to support ongoing decision-making. Last but not least, I manage and engage our external stakeholders.
What do you enjoy most about your work?
Meeting different people from different backgrounds with different stories. I am someone who can do 'ice breaking' easily. Therefore, I enjoyed observing and interacting with people from different backgrounds with their interesting stories.
How would you describe your experiences in SIM?
As an international student, I have to learn to be very independent, as I did not have any local friends in the beginning. However, I received a lot of help from SIM staff and I participated in school activities such as the SIM Taekwondo Club.
One of my more memorable experiences was trying to get a scholarship from SIM. Though I was unsuccessful, the process of preparing and applying for the scholarship was a memorable experience for me.
Posted online 20 Oct 2022.
Learn more about the
programmes
offered by
University of London
at SIM today.