Hai Ho
A firm believer in doing things that have an impact on the community, Hai Ho is forever working on 'solutions'. The Vietnam-born, Singapore-based technopreneur graduated with a communication degree from SIM-University at Buffalo and is now the CEO of Triip, a blockchain travel platform.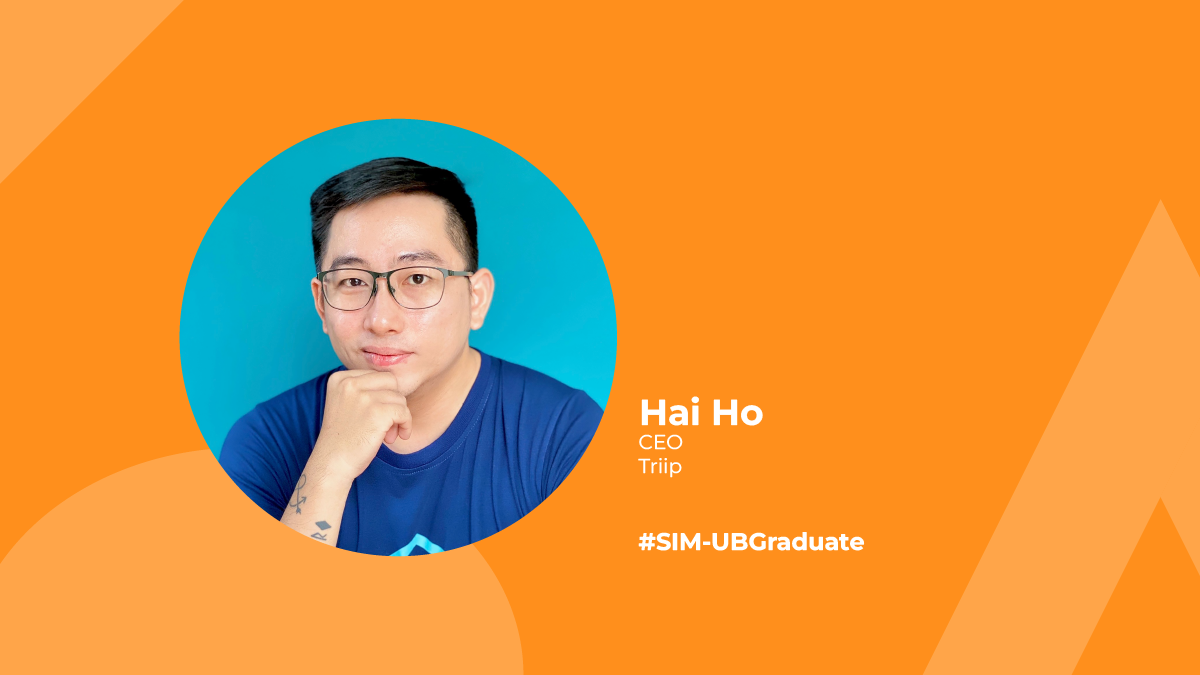 Briefly share your current job.
I am currently Head of Triip, a decentralized travel tech company incorporated in Singapore.
Our goal is to solve one of the biggest problems in the current travel economy: inefficient intermediaries while providing an incentive-driven and decentralized system. This breakthrough solution will enable never-before-possible exchanges of personalised data!
I spend most of my days as a newbie farmer while co-building Triip and a D.A.O (Decentralized Autonomous Organisation) called Sustainations focusing on Sustainable Development. Through all of my projects, I always adopt a sustainability-driven business philosophy: "To pioneer forward-looking business models advancing the vision of industry-wide transformation: sustainability for the world."
What inspired you to start your business?
I started my first Internet product when I was a sophomore at SIM. It grew from zero to 500,000 users within 1.5 years. I kept building product after product like payment gateway products, social networks, wearable hardware, community app, and eBook apps to name a few...in the last 16 years.
My experience in start-up creation and understanding of the global travel industry led me to create Triip in 2014.
Can you share 1 to 2 success stories in your current job where you had to overcome a specific challenge?
We ran out of cash many times since 2014. Somehow, as a leader, I managed to keep the company going.
The first example, like other travel start-ups, Triip was hit hard by the Covid-19 pandemic, and revenue dropped to zero for six months in 2020. A community of Triip's users (aka co-owners) managed to pull off a crowdfunding campaign for Triip in October 2021. The project raised USD100,000 and enabled Triip to list its token TriipMiles on one of the leading decentralized exchanges. We survived.
Not only we survive; Covid-19 opened another door for us: a digital one - the metaverse. Now, it is our way to thrive.
As Mark Zuckerberg describes the metaverse, it is a virtual world where we can socialize, work, and play. But the scary thing about it is that we might end up not moving at all in the real world.
We have a different vision. What if your physical activities can be used to conquer challenging expeditions in the metaverse? And what if your metaverse activities can accelerate forestation in the real world?
As the Covid-19 pandemic has put global travel worldwide to a screeching stop, we hope this hybrid approach will work in the new era. Web 3.0 is about building a spatial layer where the digital world interacts with the physical world. Our metaverse will leverage our vastness of 29 million rooms and 100,000 experiences in 192 countries in the physical world.
A destination in Sustainations can be sponsored by tourism boards, city governments, or travel businesses. In return, the sponsor can co-own this new world by auctioning exclusive vouchers in the form of NFTs to Sustainations explorers, earning royalty fees when users trade these NFTs on the marketplace. Explorers can potentially win free trips to destinations in real life.
We have been lucky enough to seal our first partnership with the Catalan Tourist Board, allowing travel enthusiasts across the world to visit places in Catalonia such as Barcelona city, the Pyrenees mountains, and the historic Gothic Quarter in the metaverse of Sustainations.
What do you find most meaningful about your job?
I have done various products in different industries. However, what they all have in common is the impact on the community. As long as I can see a way to create a huge impact for others, especially the underprivileged community, I will just do it without thinking much.
What impact do you hope to have on society as an individual?
Currently, I am building a D.A.O for Sustainability. It is like a Foundation but fully automated without any leaders. The organisation can continue to execute its mission to accelerate sustainable development in our world (I hope) even when I am not around anymore. If I can build this D.A.O successfully, I think this will be my contribution to the society.
Posted online 20 Jul 2022.
Learn more about the
programmes
offered by
University At Buffalo
at SIM today.