Gwen Chin
Grit: Passion and perseverance for long-term goals is potentially that thing that leads to success. Gwen Chin has it in her possession. A Latin & Ballroom dancer since young, Gwen enjoyed the progressive learning environment at SIM-University at Buffalo. Today, Gwen is a Digital Director at a boutique headhunting firm where she derived job fulfilment from working with candidates to find their dream jobs.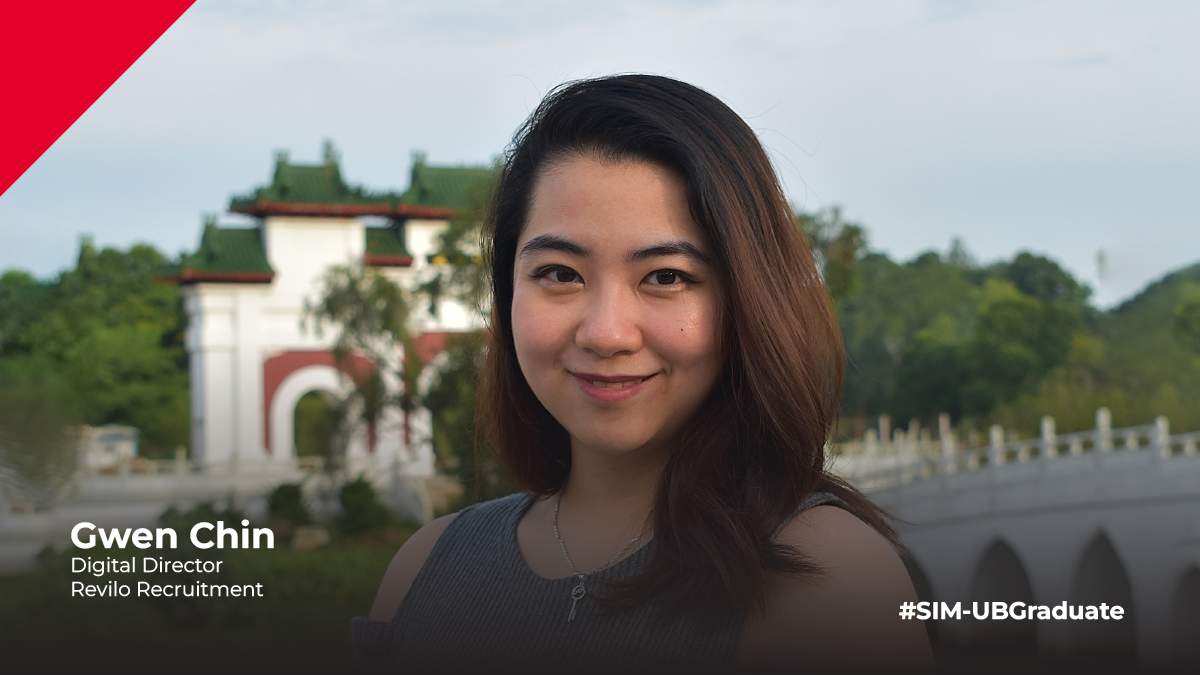 Share with us your career journey.
I worked part-time as an intern with Content & Systems while I was still a third year student at University at Buffalo (UB), juggling a full semester load and work commitments. My first full-time job after graduating from UB was as an Account Executive at Black Marketing.
Job searching during the thick of the pandemic was not easy, as there were not many job openings at all. I was having a terrible time at my previous job, so I had to find something new that fit my skill set better.
I got my current job position after consistently applying for jobs on LinkedIn for about six months.
Tell us more about your current job.
I currently work at a boutique headhunting agency as a Digital Director, where I am responsible for the company's digital presence and social media channels. I run the company's digital ads on social media channels and come up with the creative content that goes out on our social pages daily.
I also connect with businesses to offer our company's services, help my team screen through job candidates and prepare them for upcoming interviews.
What do you enjoy most about your job?
I really love the fact that I can help change someone's life. Being able to help candidates find their dream job and guide them on their journey has been really fulfilling. I know what it is like to have someone extend a helping hand when I needed it. So in a way, I am paying it forward by helping others through my work.
What made you decide to leave Malaysia to study in Singapore?
I am actually a Singaporean, but I was born and raised in Malaysia. I decided to move back to Singapore for university studies and spread my wings a little bit. I wanted to experience new things, learn to be independent, and be outside of my comfort zone.
I chose SIM as it offered a bit more variety compared to other private education institutes. I decided on the UB communication and psychology programme because the depth and breadth of the curriculum was not offered anywhere else. I knew I would be exposed to areas of study that I would not normally get in a more traditional university programme.
You are a Latin & Ballroom dancer and coach since student days. Tell us more.
I have been dancing since I was three years old. I got into the Latin and Ballroom genre at 12 years old and have been dancing since then!
At SIM, I found my way to the SIM Dancesport Club through a fellow UB student. I have been with the club ever since. It turned out that our coach is a close friend of my teacher back in Malaysia, so I felt right at home. I participated in competition and a few showcases when I was an SIM-UB student. Now, I still join the club in its annual dance concert as an alumna.
What important skills have you picked up while studying here?
Studying at SIM-UB allowed me to develop my skills further in teamwork and leadership, as it was imperative that we work in groups across all available classes. I would meet a variety of people from all areas of life, so I had to be adaptive when working with different people and unfamiliar cultures.
I also learned to be a lot more inquisitive and open to discovering things that add to knowledge. The professors at the UB programme always created an environment where students are encouraged to explore outside of their comfort zone, in order to become better learners as well as better people beyond the classroom.
How have your experiences as an SIM student shaped you?
My experiences as a student at SIM have definitely shaped me for the better. Being exposed to a different educational and social ecosystem has made me see the world in a way I did not think I could before. I have become a lot more resilient, independent, and headstrong – skills that I carry in life as well as at the workplace.
Posted online 20 Oct 2022.
Learn more about the
programmes
offered by
University At Buffalo
at SIM today.