Gary Shen
A banking career was not what Gary envisioned when he pursued a management degree from the University of London. He was more interested in human resources or administration. But life has other plans for him. Gary rose through the ranks steadily in the banking sector armed with solid industry experience, a steadfast attitude and strong networking skills. He is currently the Deputy Head of Corporate Banking with ICBC and an advocate of wellness post-pandemic.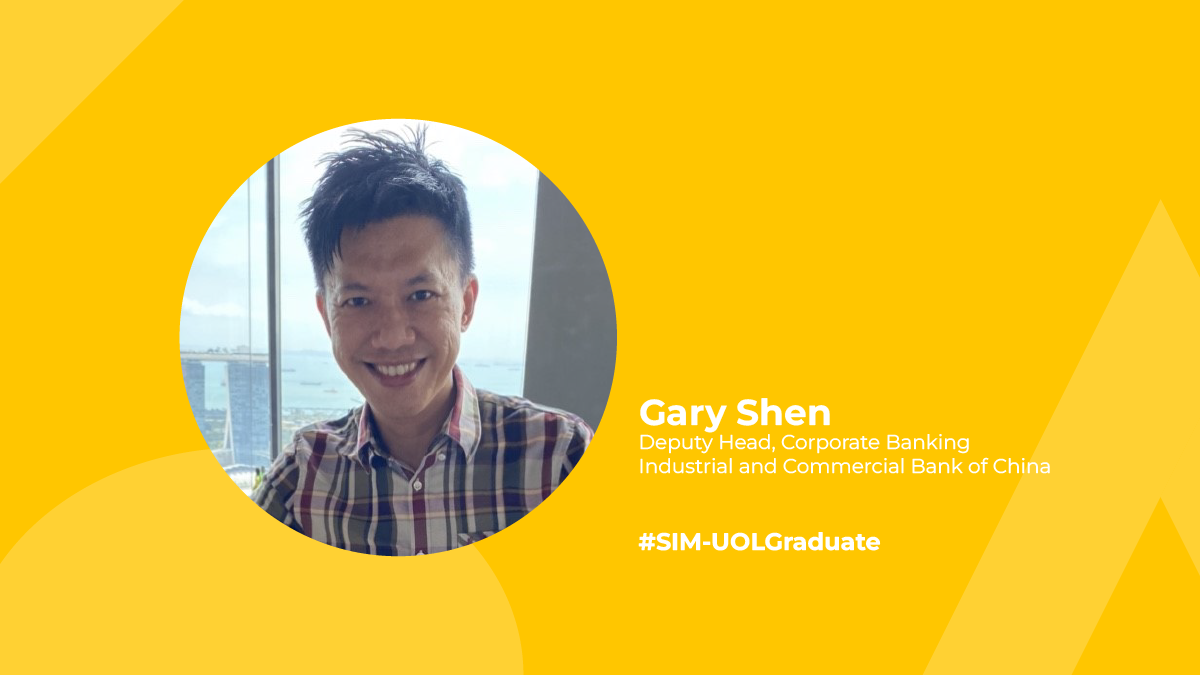 Please tell us about yourself and your career path after graduating.
I remembered I started working one week after my last examination paper in my final year, joining the Hong Leong Finance's Management Associate Programme in 2007. In that role, I had the opportunity to undergo structured training and departmental rotations. The 12-month programme allowed me to be exposed to different departments and managers as well as received formal training in the fundamentals of banking and finance. After completion of the programme, I was offered a role as a Relationship Manager (RM) in a newly created SME Team. We built a customer portfolio from ground zero to 40 accounts specialising in Real Estate, F&B and Manufacturing.
In 2010, I decided to move from a financial institution to a reputable local bank for a highly stable career. I joined UOB as an Assistant Manager in the Commercial Banking. It was a RM role and I managed an assigned portfolio of close to 60 accounts, within the Medium Enterprise segments in the Real Estate, Healthcare and Commodities sectors. Throughout my career, I am fortunate to have great mentors who are willing to take a bet on me and provide meaningful opportunities for me to grow and develop. I believe the banking industry is an exciting field where, if I persevere and stay engaged, I can certainly fulfil my career aspirations.
Can you tell us about your current job role?
I am currently working as a Deputy Head of Corporate Banking with Industrial and Commercial Bank of China. I am accountable to help manage a team of RMs and Assistant RMs. I grow and manage a portfolio of 15 accounts by offering banking solutions to multinational companies, sovereign funds, government-linked companies and local conglomerates.
Is what you are doing currently something you envisioned doing back when you were taking your bachelor's degree in SIM?
A career in banking is something that I did not envision. During my course of studies in SIM, many of my peers selected modules that are banking and finance related. At that time, my area of interest is more on how organisations function and how people interact. I wanted to work as a business administrator or in Human Resource Training and Development. Banking has never crossed my mind and that was why I chose more qualitative modules such as Organisation Theory where research was deemed "a bit boring".
What was the main challenge you faced climbing up the career ladder?
Corporate ladders are like pyramids. It will get narrower as you climb higher. There will be lesser opportunities for you to climb higher. In many ways, this has to happen, as you cannot promote everyone all the time. When you have an upside down pyramid, you have a large proliferation of middle management layer that eventually slow down the organisation.
Personally, I strive to do my best in whatever tasks I am assigned and be productive. Besides working on tasks, I aim to be a good team player and work on my relationship with my colleagues. Lastly, networking is important as the more people you know, the more opportunities you will encounter.
Can you provide us with 1 to 2 examples where you had to overcome challenges?
The COVID-19 pandemic has brought significant changes to the workplace around the world. Due to the implementation of Safe Management Measures, my department was split into two teams and both operated at different floors of our office building. I was assigned to manage a team while my boss took care of another team. When Singapore announced the circuit breaker in April 2020, financial services remain as one of the essential services. I still need to go to office for a few days a week to manage the team and daily operations for our customers. As the childcare centre was closed during that period, my parents and my parents-in-law who would usually take care of my young children during the pre-COVID times were unable to come to my house. It was a challenging time for both my wife and me, as we would need to manage both work and family. The continued COVID-19 outbreaks and the uncertainty of lockdowns took a relatively heavy mental and emotional toll. There was a period of time when my mental health was affected. Luckily, I managed to overcome it and build my own resilience. The pandemic has led to greater awareness of mental health issues. A focus to improve wellness will be important if we want to emerge from this pandemic stronger.
Posted online 19 Oct 2022.
Learn more about the
programmes
offered by
University of London
at SIM today.