Daniel Oon
Daniel Oon was still an economics undergraduate when he founded Cryptoeconomics Asia - an independent blockchain research firm focused on governance models based on economic modelling. After graduating from the University at Buffalo in 2017, Daniel continued to work and hone his craft in the blockchain field. He is now working as the Head of DeFi at Algorand Foundation.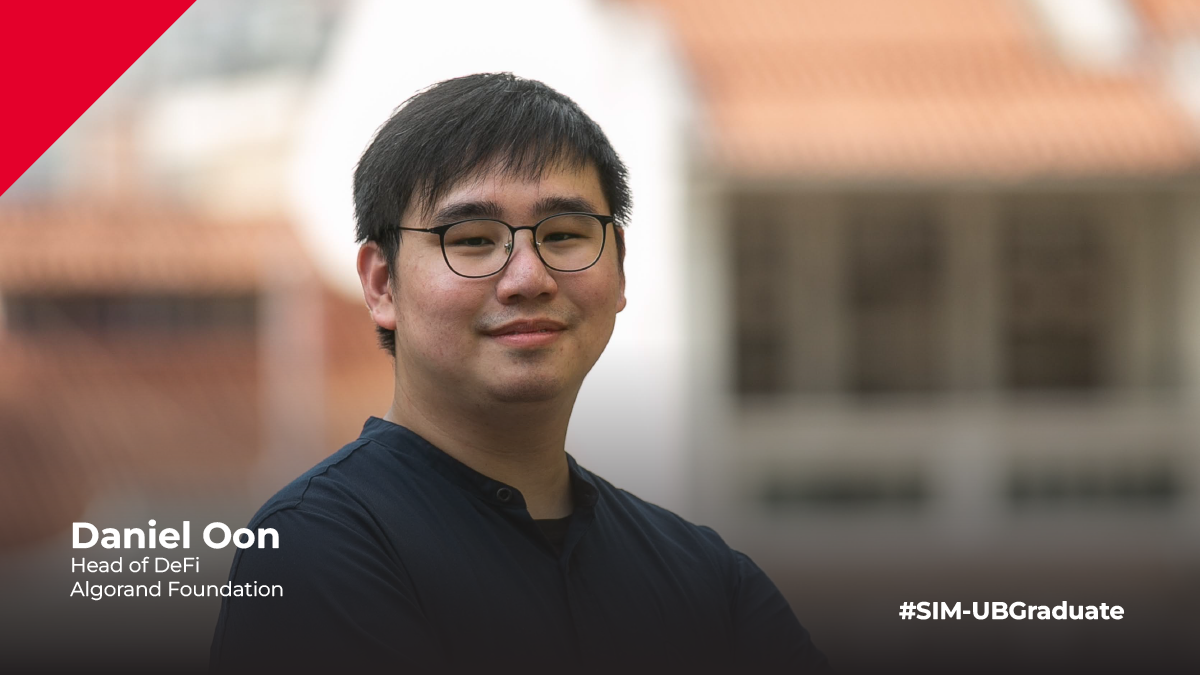 Briefly share with us what you do.
I am the Head of DeFi at Algorand Foundation. Currently, I create strategies and incubate start-ups building on the Algorand blockchain to grow the decentralized finance (DeFi) vertical for our users.
Some background about the Algorand blockchain: Designed by MIT professor and Turing Award winning cryptographer Silvio Micali – it is uniquely capable of delivering on the promise of a borderless global economy. It achieves transaction throughputs at the speed of traditional finance, but with immediate finality, near zero transaction costs, and on a 24/7 basis. The Algorand Foundation is dedicated to helping fulfil the global promise of the Algorand blockchain by taking responsibility for its sound monetary supply economics, decentralised governance, and healthy and prosperous open-source ecosystem.
What sparked your interest in this field of work?
The blockchain space is an emerging industry. It is a combination of innovation within technology and finance. In this field of work, innovation is highly encouraged. Like many others working in this field of work, this is a primary reason why I joined.
Additionally, work in blockchain is highly objective driven; you do not have to sit at a desk from 9am to 6pm every day.
Is what you are doing currently something you envisioned doing back when you were taking your bachelor's degree in SIM?
When I was at SIM-University at Buffalo, I wanted to apply economics actively, which I have picked up throughout my study. But there were not that many opportunities in current mature industries i.e. banking. Economics took a backseat when compared to financial engineering or analysis.
In the field of blockchain, 2017 was a time when there was a very strong demand in applied economics. So, I went in headfirst. I would say yes, it is exactly what I wanted to do.
What was the main challenge you faced in climbing up the career ladder?
The blockchain industry is a nascent industry. When I joined in 2017, there were not many formal job positions and there were more start-ups than established companies. So, there was no "ladder" to climb, it was about the hustle and all start-ups were collaborating and growing together as an industry. Over time, the industry started to mature, and we have a couple of competitive companies now. An example would be Coinbase, a cryptocurrency exchange listed on the NASDAQ.
A word of advice, it is always a great idea to be part of the formation of an emerging industry. But you have to be able to stomach the risks, as it is not for everyone.
Can you provide us with 1 to 2 success stories in your current job where you had to overcome a specific challenge?
Working in this nascent industry, you have no reference textbooks or 'special tools' to use. It is more about adopting an open mindset.
On the Algorand blockchain, our DeFi market is approximately 200 million USD in total value locked. This amount will fluctuate as users are adding or removing their funds as they interact with applications on the Algorand blockchain. My consistent challenge is to provide a smooth user experience for all our users. And I achieve that by working with all the DeFi projects and businesses operating on the Algorand blockchain.
How has the programme that you studied in SIM benefitted you?
My time at the University at Buffalo programme taught me two very important nuances.
1) Being able to work with others towards a goal is more important than the task itself
2) The ability to make correct assumptions and owning those results regardless of the consequences
Posted online 20 Jul 2022.
Learn more about the
programmes
offered by
University At Buffalo
at SIM today.