Damian Ngiam
From Airbnb to Facebook to TikTok, Damian Ngiam's career journey is surely the envy of many young graduates. With a business management bachelor's degree from RMIT University, Damian landed his first full-time job in Airbnb as a Fraud & Risk Analyst. Now, as a Trust & Safety Global Policy & Implementation Manager in TikTok, Damian leads a team in the development of policies, procedures and implementation of programmes for safety issues.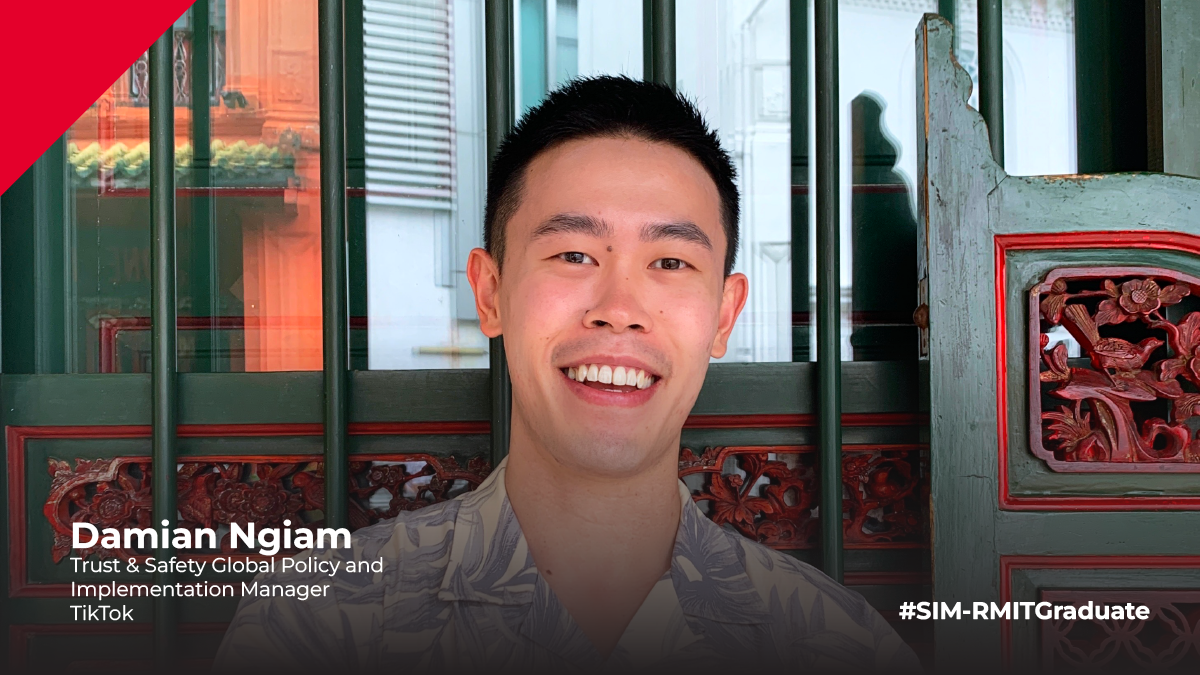 Can you share what you do on a daily basis?
On a daily basis, my team works cross-functionally with operations, program managers, data analysts, quality insights, legal and other Trust & Safety peers to ensure users using the TikTok platform are kept safe both on and off the platform. My work usually involves a range of meetings to align on safety strategies, developing policies and alignment on how to implement them.
What sparked your interest in this field of work?
I wanted to join the Singapore Armed Forces but that did not work out. I have this desire to ensure people are prevented from potentially dangerous situations. For me, my interest stemmed from my sense of passion to ensure people around me such as my friends and the community are kept safe.
That led me to Trust & Safety in the tech industry as one resonated with the other - keeping our users and communities safe when using the platform and off the platform.
What was the main challenge you faced in your job?
Navigating cross culture communication in a global team was indeed challenging due to a diversity of cultures and languages. I took the opportunities to forge strong bonds with my global teammates by understanding them as more than colleagues outside the work context. That helped to create psychological safety and allowed us to conduct better internal communications.
Can you provide us a specific challenge that you had to overcome in your current job?
Navigating different regional nuances and legal requirements to develop guidelines for law enforcement agencies across the globe to submit legal request to TikTok.
You came back as a mentor to our current SIM-RMIT students. Can you share what motivates you to mentor the youths, and your experiences thus far?
The motivational factor is to be a pillar of support for the youths in this trying time where we live in a new world with many uncertainties. The least I could do is to look out for their blind spots, be an over-arching guiding light stick to help navigate their career aspirations.
My experience has been great, the youths are very clear on what they want to do and achieve, there is a baseline understanding of their strengths and weaknesses. Lastly, they are very motivated and open to learning.
Posted online 20 Oct 2022.
Learn more about the
programmes
offered by
RMIT University
at SIM today.