Benson Wong
When COVID-19 hit our shores, Benson Wong, who had just embarked on the BSc (Hons) Business Management programme, struggled to cope with the shift in online classes along with the personal challenges that his family was going through. Despite the challenges, the SIM-University of Birmingham student emerged with grit and discipline – skills that will lay the foundation for a resilient future.
Developing Soft Skills for a Resilient Future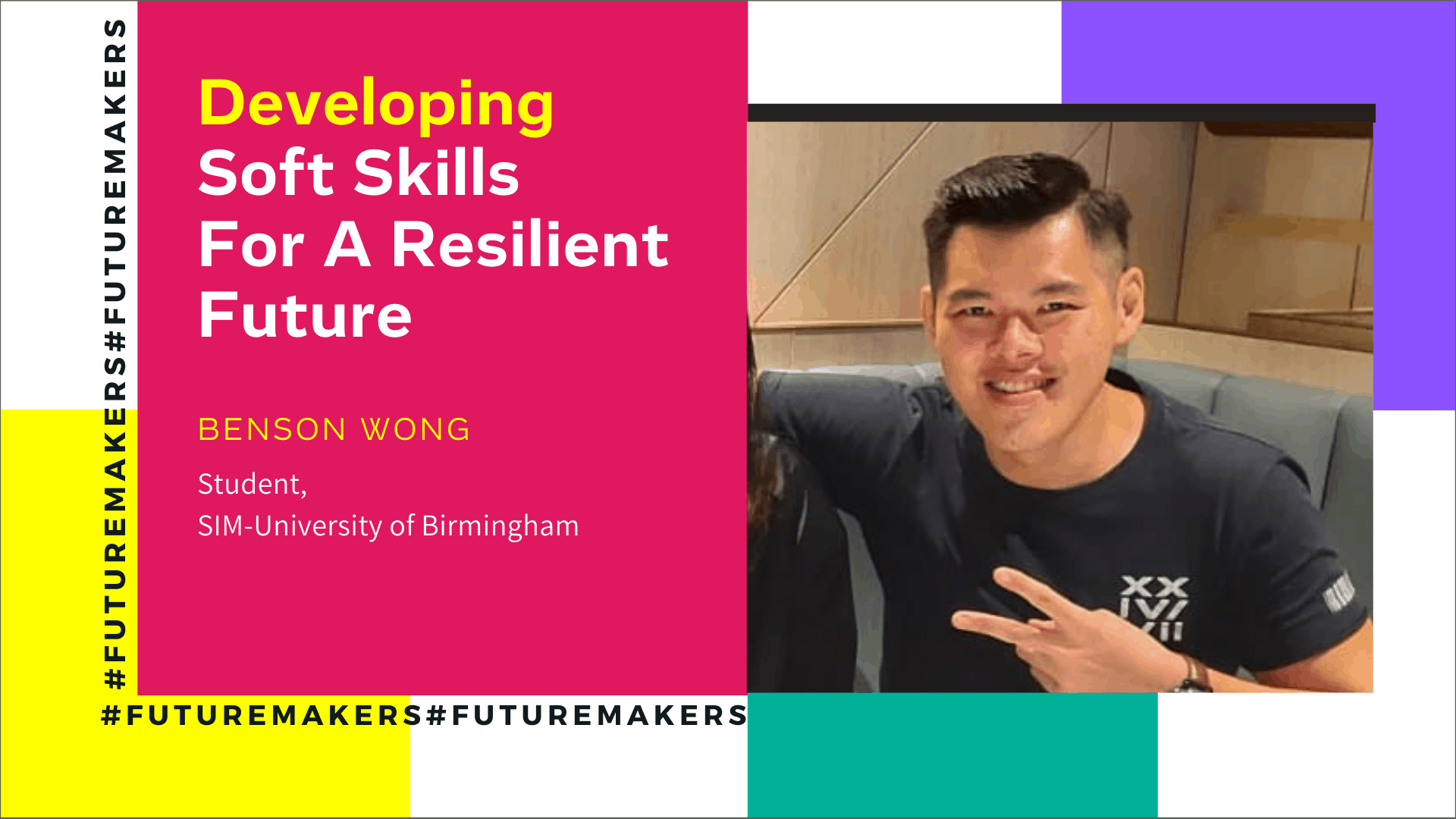 Having completed your 'A' Levels, what led you to pursue the SIM Diploma in Management Studies (DMS) programme?
Coming out of an abysmal 'A' Levels showing, I wasn't exactly sure of which path to take. Then, a friend introduced the 15-month diploma programmes in SIM to me and I was thrilled to discover that I could receive further exemptions.
While I was comparing the various programmes available, I found that the DMS programme would allow me to explore the different aspects of businesses. Hence, I did not hesitate to apply for it.
What did you enjoy about it?
The DMS programme has enabled me to develop and be confident of my technical skills in accounting and academic-writing. I've also picked up various business theories. This led to an appreciation for the intricacies of businesses and how the departments are intertwined. I've also found my interest in Finance and Accounting.
Secondly, having worked with classmates of different backgrounds, I've gained communication skills and learned to be empathetic during the course of our projects. These skills are highly touted soft skills, which I believe would make one a desirable job candidate in the future.
How has the DMS programme prepared you for the SIM-University of Birmingham BSc (Hons) in Business Management (Top-up) programme?
It was really helpful in laying the foundation in my research skills. The assignments for the SIM-UOB programme requires us to cite academic literature as references for our essays. I am grateful that my DMS lecturers have pushed us to use more academic sources in our reports back then. The familiarity enabled me to do well in my assignments.
Between the two programmes, there are also plenty of common modules that reinforce my understanding of the subject matters.
Has the pandemic altered your student experience in SIM?
The pandemic has resulted in online lectures. Being an extrovert, it was challenging to be present for every lesson, meetings and catch-ups. It took a while to adjust to the shift but I've found different ways to cope with the changes.
Instead of discussing the lessons with my classmates in person, I had to be disciplined in reading and understanding them on my own. I also read my notes aloud as I learn best through auditory learning. Last but not least, simply chatting with my classmates for a short while after the lesson helped tremendously in my learning too.

Making time for activities I enjoy despite the challenges faced

What other challenges did you face?
One other challenge I faced was being the sole breadwinner for my family during the circuit breaker period while juggling my studies. My mother was unable to work due to health reasons and my father had unfortunately lost his income as a private-hire vehicle driver. As such, I did food deliveries with Foodpanda to help my family tide through the trying period.
However, the experience has helped me in more ways than one. I find that I'm now able to allocate my time better and have become more disciplined. Being strict with my schedule has allowed me to remain steadfast in juggling various responsibilities.
(Photos were taken before the COVID-19 pandemic)
Forging friendships while pursuing his diploma made Benson's student life experience more enriching

Can you share with us some highlights of your student life experience so far?
The first is being a guest speaker for SIM's Journeying Beyond 'O' Level event in 2019. It was an exciting experience that helped to bolster my confidence in public speaking.
I'm also grateful that I've forged solid friendships through my involvement as an SIM Student Ambassador and an Honorary Treasurer in SIM SCF (Students' Christian Fellowship). Having friends to confide in and celebrate tiny victories with, helped to enrich my experience in SIM.
With the experiences and skills that you have gained, what are your goals and aspirations?
I hope to be able to secure a well-paying job that I'm passionate about! I aspire to take on an Operations or Finance-related role and hope to support my parents' living expenses as a way of gratitude for their sacrifices.
I also hope to effect positive change in the lives of people around me through my efforts and actions. It is my personal belief that life's more meaningful through purposeful work.
Any advice on how to make the most of your University years?
For this, I'd like to quote an American author, Og Mandino, "Always do your best. What you plant now, you will harvest later."
As young adults, this is the best time to explore our life purpose so that we won't end up with lots of 'what ifs' later on in our lives. Listen in class, take notes, discuss, and learn with your classmates. Join a CCA, do volunteer work, or pioneer an initiative. Do anything with everything you've got, for it will be what you sow in time.
#FutureMaker
Click here to learn more about the programmes awarded by the Singapore Institute of Management.
Click here to learn more about the programmes awarded by the University of Birmingham.
Posted online, 26 Jan 2021