Ashmita Bid
During her undergraduate days, Ashmita Bid co-founded the SIM Writers' Society while pursuing a degree with the University of London in Management and Digital Innovation. These valuable experiences have led her to roles in the e-commerce and banking sectors, where she developed an appreciation for the technology involved in creating digital payment systems like DBS PayLah!. Excited about the possibilities of FinTech, she decided to further her studies by pursuing the SIM-University of London's MSc in Data Science and Financial Technology to chart a career in this specialised field.
Pursuing a Future in FinTech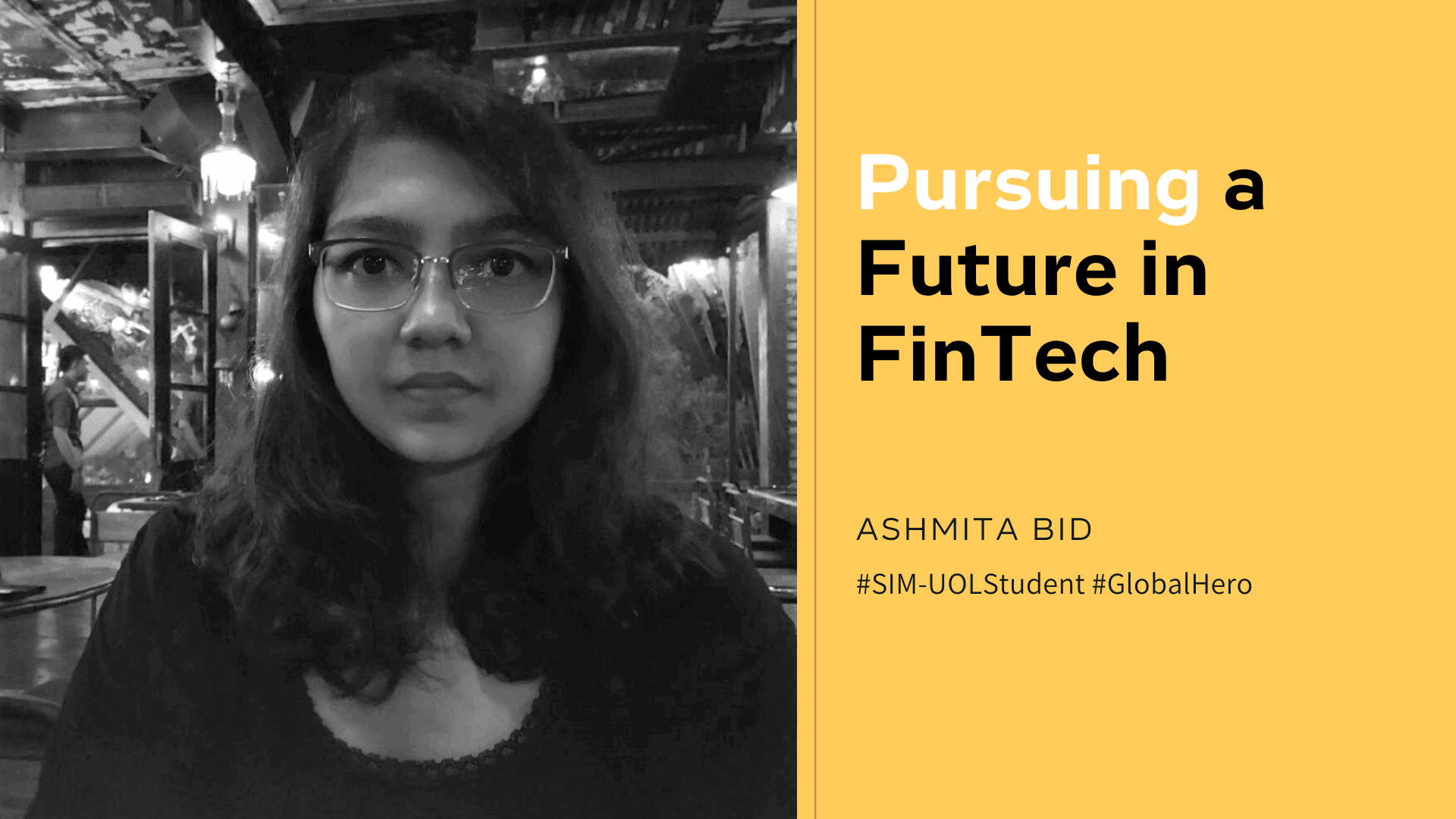 What did you enjoy about the BSc (Hons) in Management and Digital Innovation (MDI) programme offered by SIM-University of London?
The programme has taught me to stay relevant in an ever-changing world. The topics and industry-related skills have helped me to understand how organisations work with the prevalence of technological products and services.
With the guidance of both SIM lecturers and the UK faculty, we were also able to delve deeper into both disciplines and appreciate how they complement each other.
Tell us about your student life experience in SIM.
During my undergraduate days, I co-founded the SIM Writers' Society (SWS); a club which brings together a group of students who share the same passion for writing. Together, we were able to create different avenues such as workshops or member meetings for students to share their writing. Over the years, we have also organised fun events like Halloween Night and Cascade, which have since turned into our annual flagship events. I eventually became the President of SWS and picked up leadership, organisation, team and event management skills, along the way.
How have these experiences prepared you as a Digital Content Creator at the e-commerce company, Giftano?
Even though my area of study is in Business Management and Digital Innovation, being a Content Creator exposes me to e-commerce which is an industry that I may not have considered in my early years of adulthood. The MDI programme has provided me with the foundation to understand e-commerce better.
I'm also able to pursue my love for writing and apply the soft skills that I have picked up from my SWS experience!
What are your future plans?
I'm currently pursuing the MSc Data Science and Financial Technology part-time programme with SIM-University of London. Before Giftano, I had the opportunity to work at DBS where I saw first-hand how DBS PayLah's digital payment system works. Since then, I gained a newfound appreciation and growing interest in digital payments and the complexities of the technologies involved.
With some persuasion from a colleague, I pursued a postgraduate degree in this specialised area in hopes of understanding the nuances of the process better. I hope to be able to use my knowledge and skills accumulated from the programme and my working experiences to contribute to an industry that will define the management of payments in the future.
Who's your hero and why?
I don't have a specific hero as I was always taught to pick up and learn the qualities of what makes an individual successful in their respective fields.
Growing up in an Indian household, most of my childhood was influenced by leaders of our origin such as Indra Nooyi, A. P. J. Abdul Kalam, Ratan Tata, just to name a few. I admire how all of them have carved out a successful life for themselves despite their humble beginnings.
As the years progressed, I found myself being inspired by exceptional leaders who constantly innovate in today's rapidly changing world. A few notable individuals would be Bill Gates, Ariana Huffington and Melinda Gates amongst others. Seeing their accomplishments serve as a reminder that pursuing interests that you are passionate about will take you to greater heights.
Click here to learn more about the programmes awarded by the University of London.
Posted online, 27 Oct 2020