SIM Launches COVID-19 Support Fund and Resilience Package to Help Students and Graduates
SIM Launches COVID-19 Support Fund and Resilience Package to Help Students and Graduates
Mr Seah Chin Siong, President and Chief Executive Officer (PCEO), SIM, announced today at a special live Facebook 'SIM for Hope' event a series of measures to provide our students with financial support as well as to boost the employability of our fresh graduates.
special live Facebook 'SIM for Hope'
event a series of measures to provide our students with financial support as well as to boost the employability of our fresh graduates.
These measures fall under two schemes. The SIM COVID-19 Support Fund aims at easing the financial burden of our students so that they can focus on completing their studies, while the SIM Resilience Package enables our new graduates to be equipped with new skills to seize job opportunities when the economy rebounds.
Under the SIM COVID-19 Support Fund, SIM will be setting aside an additional $100,000 to top up our bursary award from the current $2,000 to $2,400 per eligible student. This will also enable SIM to increase the number of bursaries to help more students who are financially distressed.
The SIM Resilience Package offers a range of continuing education and training opportunities for our 2020 graduating cohort to upgrade their knowledge and skills. These include a suite of SIM's post-graduate diploma and certificate programmes, employer-recognised micro-credentialed short courses, webinars as well as online courses. These are offered either free, heavily subsidised or with a grant from SIM. All these training will be in areas that prepare graduates for the future of work, such as in artificial Intelligence, blockchain, design thinking and transformational leadership.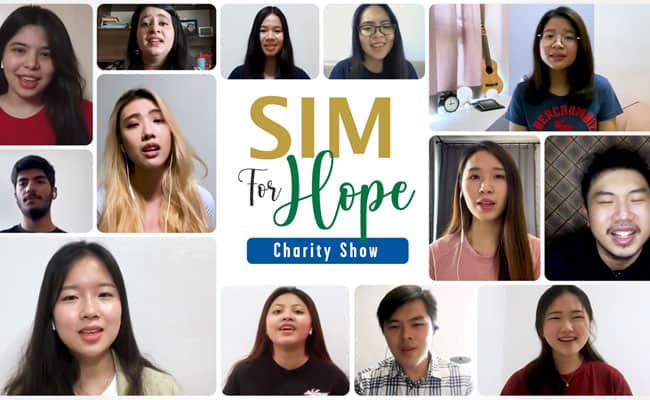 The 'SIM for Hope' show started with the rousing 'Fight Song' by Rachel Platten.
About 50 students and SIM staff members came together to put up performances for the half-hour charity show.
In addition, SIM is participating as a Host Company in the Workforce Singapore's SGUnited Traineeships Programme to offer a number of traineeship positions that will last up to 12 months. Graduates of SIM as well as institutes of higher learning who undertake the paid traineeships with SIM will be able to gain work experience and develop industry-relevant skills. This initiative co-funded by WSG is a nationwide effort to create 21,000 such opportunities for graduates of 2019/2020.
Students and graduates who are interested in the above schemes are encouraged to keep a lookout for details on their respective portals. For enquiries, they can write to:
students@sim.edu.sg
Speaking at the 'SIM for Hope', Mr Seah said, "The current situation is a difficult time for us…But it is also a time when we see the caring side of our fellow Singaporeans and residents. In times like this, it is the care and concern that we show, the connections we make, and the bonds we forge that give us the strength to triumph over our circumstances".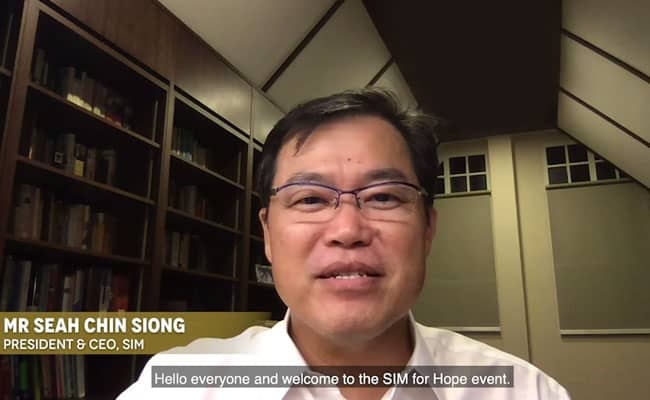 Mr Seah Chin Siong, PCEO, SIM, encouraged online viewers to keep their spirits up and know that they are not alone in weathering COVID-19.
Featuring performances by SIM students, the 'SIM for Hope' event aimed to uplift the spirits of our students, graduates and members of public who tuned in to the healing power of music and a community standing together in the crisis. The event also aims to raise funds for the Community Chest Invictus Fund which helps social service agencies to continue delivering critical services to the vulnerable during COVID-19. Viewers have till the end of June to donate to the cause by visiting
bit.ly/simforhope
. Leading by example, SIM is pledging $10,000 to the fund, giving $5 for every viewer to the show. At the event, Mr Seah also gave a shout-out to the SIM-University of Sydney nursing students and alumni, and thanked them for their dedication and hard work as healthcare workers during this very demanding period.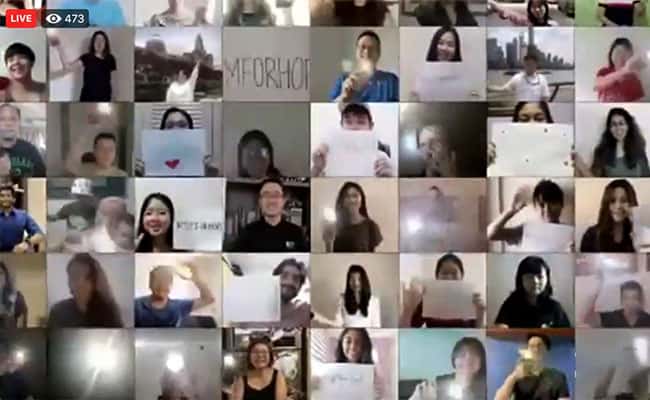 SIM students and staff showing their solidarity as they fight the pandemic as one united community.
Article extracted from sim.edu.sg, 29 May 2020
Mr Seah Chin Siong, President and Chief Executive Officer (PCEO), SIM, announced today at a