Things That I Enjoy Most About Being A Behaviour Consultant
Things That I Enjoy Most About Being A Behaviour Consultant
While some are content to go through the motions of the 9 to 5 daily grind just for that paycheck, others strive to find a greater sense of fulfilment in their jobs. Jeannie Yong, an SIM-University at Buffalo alumni is the latter.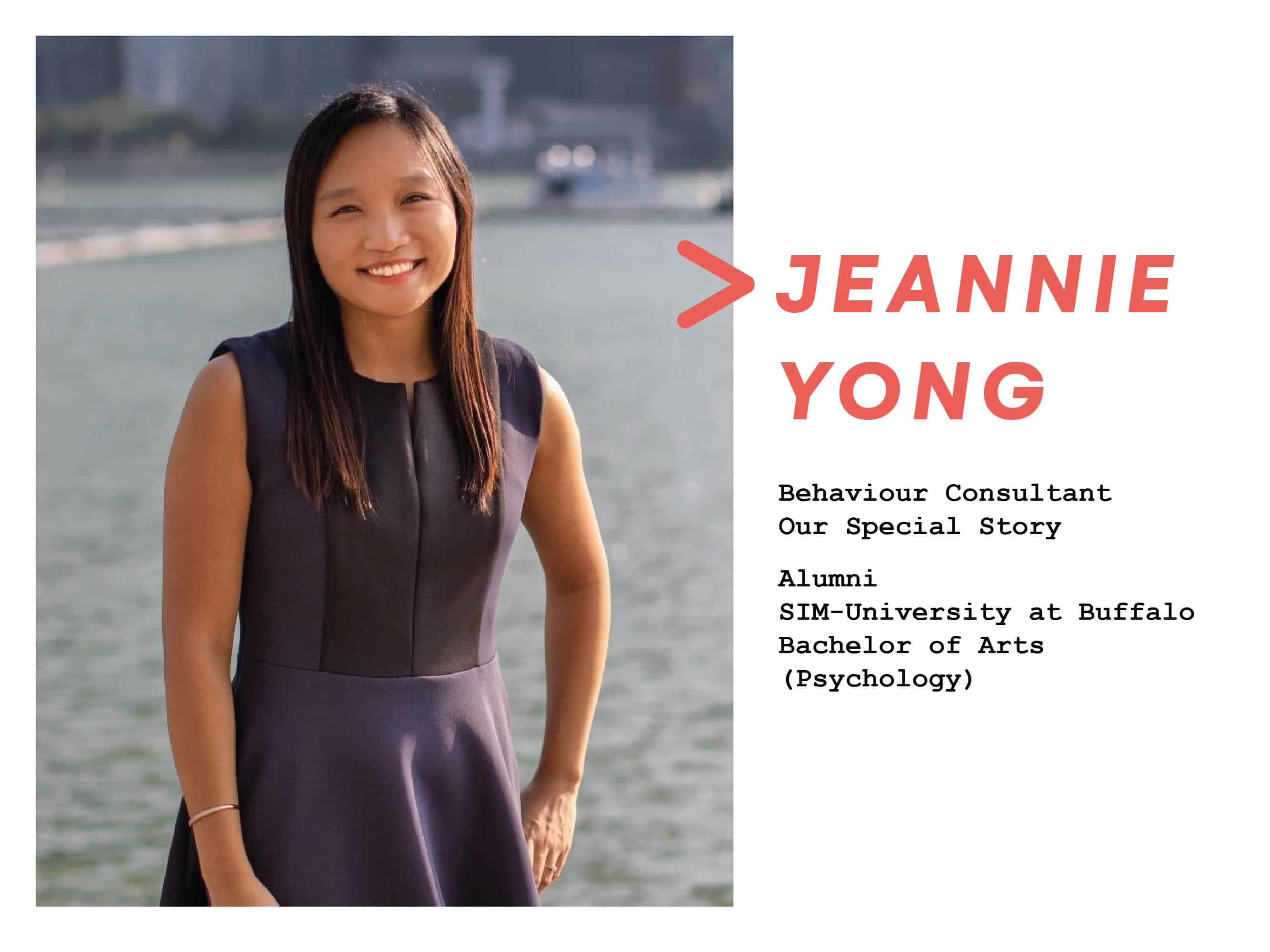 By Joshua Joseph
Driven by a passion to care for others, she took up a psychology degree which eventually paved the way for her to become a Behaviour Consultant at Our Special Story- an organisation that cares for children with autism and special needs. Jeannie's tasks involve providing care for children, and planning programmes to cater to their needs. She also conducts consultation sessions with the children's parents.
Jeannie tells us what sparks her joy at work.
#Getting To Work With Children
Since my schooling days, I have always had a passion for working with young children. I love their innocence and their innate joyfulness. Working with children with special needs may require more energy and effort as compared to a desk-bound job but this opportunity of watching them progress and becoming independent is invaluable. When working with children, it is also important to be creative and flexible. With many years of practice, I have learned to be more innovative by coming up with many ways of playing with one toy. I also enjoy keeping myself up to date on the latest cartoons, games or movies to continue meaningful conversations with my students. It is a very rewarding and meaningful job.
#Going Miles For A Smile
From teaching a child to wave and say 'hi', to answering questions and teaching them how to pay at the supermarket- there is always a new skill to be taught to students. No words can describe that sense of joy and achievement when I know that I have done my part to help a child to learn a difficult concept after repeated trials. I remember spending many sessions teaching a boy how to buy food at his school canteen. It may seem like a simple task to most people, but it actually involves multiple steps and it may be a struggle for some children with special needs. I recall guiding him through the entire process of buying food. From identifying notes and coins to learning the social etiquettes when standing in a queue to paying for food and receiving change- it was really amazing to see him eventually buying food independently at school! I believe that my job helps kids to achieve their full potential and that brings a huge smile to my face.
#New Day, New Experiences
Every day is different as a Behaviour Consultant. Using Applied Behaviour Analysis (ABA) principles and techniques, I could be teaching each child different things such as sequencing things, toilet training or dealing with them throwing tantrums from not getting what they wanted.
If they can't learn the way we teach, we teach the way they learn. Working with children with autism has taught me the importance of being creative with how we teach as every child has different learning styles and abilities. My job has also taught me not to take things for granted. A task that may seem simple to us may require a lot more effort for a child with special needs to grasp but we should always show encouragement and reinforce their determination.
Keen on pursuing a career in the Psychology field like Jeannie? Click here to find out more about the SIM-University at Buffalo programme.