Ong Chin Beng
With increasing attacks resulting from accelerated digital transformation across the globe, Ong Chin Beng, Senior Assistant Director (Cybersecurity Section) at the Ministry of Transport (MOT) looked to upskilling by pursuing the SIM-The University of Warwick's MSc Cybersecurity and Management programme. His intent is to strengthen cyber security capabilities, to ensure public safety and national security.
Building Resilient Info Infrastructure and Improving Transport Connectivity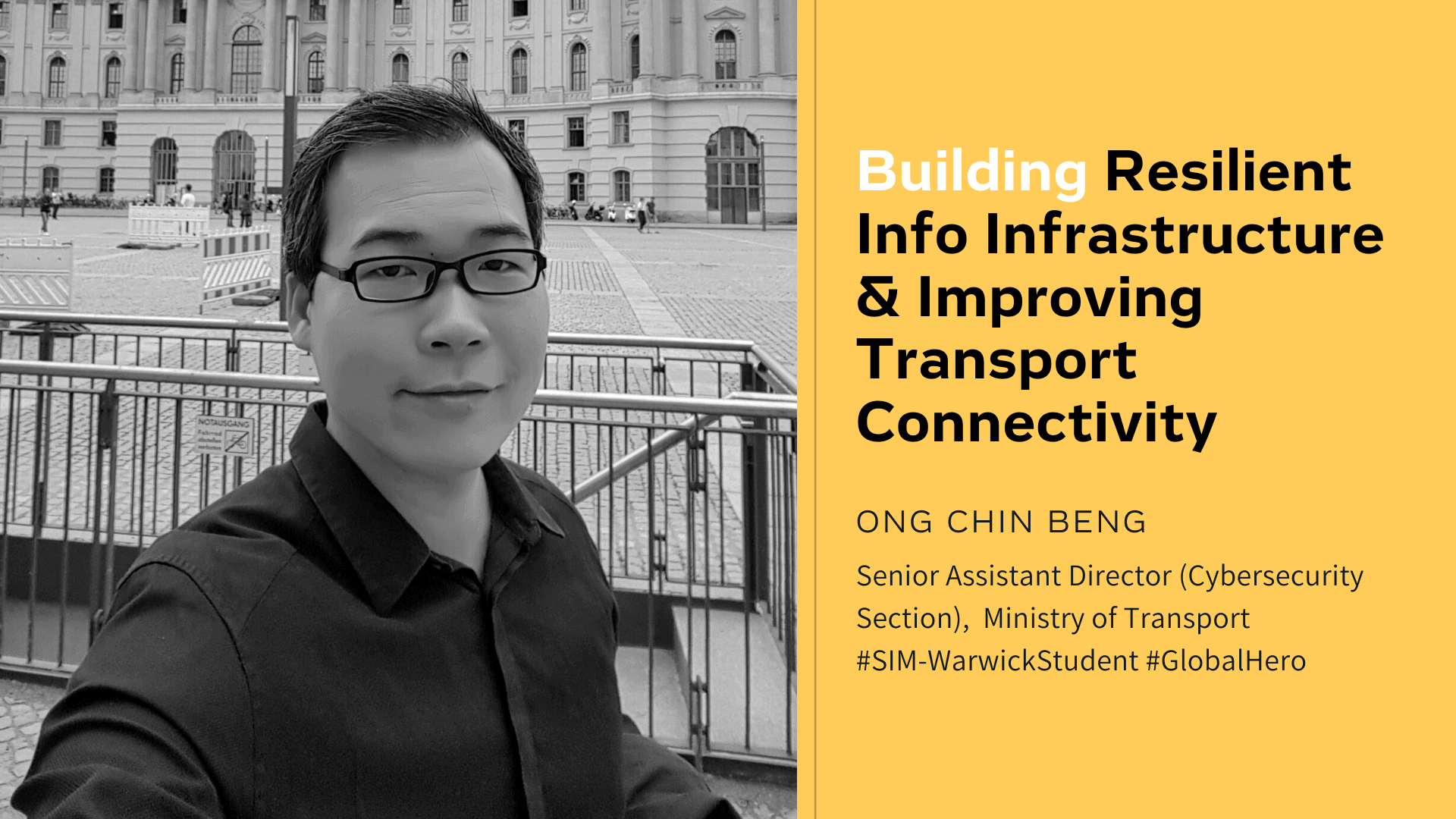 Tell us more about your role at MOT.
Broadly, my work requires me to collaborate closely with my cybersecurity colleagues from MOT Family Agencies and key industry partners to defend and ensure the resilience of our transport information infrastructures. We initiate and develop programmes to build and strengthen our cybersecurity capabilities in both people and technology within the transport ecosystem.
What do you enjoy about being in the transport industry?
The transport industry is an enabler for trade and connectivity. It physically connects lives from diverse geographical locations and facilitates the movement of goods and services. In the course of my work, I get to meet folks from different regions with diverse levels of expertise in various areas for engaging conversations. This energises me as I learn new ideas, strategies and best practices to bring back to my organisation.
What motivated you to pursue the MSc Cybersecurity and Management programme with SIM-The University of Warwick?
Cyber threats are evolving fast and reaching out to every aspect of our digital lives. As we move into Industry 4.0, workplaces and homes will be increasingly connected digitally. This presents an opportunity to improve our lives but also expands the attack surfaces that hackers can prey on at the same time. It is important for me to upskill and equip myself well with cybersecurity knowledge and skillsets so that the right strategic focus can be set out with the team and stakeholders. Programmes can also be implemented as intended to strengthen the cybersecurity ecosystem in the transport domain.
How has the postgraduate programme been beneficial for your career?
The programme covers both technical and management components. The technical portion upskills my cybersecurity capabilities so that I can be more effective in the functional aspects of my current portfolio at work.
Besides that, the skills acquired from the elective modules will equip me well in managing the organisational changes brought about by digital transformation and disruptions from black swan events.
What are your plans upon completion of the programme?
I believe the new skills will enhance both my technical and management competencies; putting me in a better position to contribute to my work in cybersecurity in the public sector.
Who's your hero and why?
Due to my faith, a central figure of my life is Jesus Christ, whom I look to for strength, wisdom and peace in my endeavours. I am also blessed that I have had role models such as the late Mr Foo Sek Min, who is the previous Executive Vice President of the Changi Airport Group and Mr Calvin Phua, former Deputy Secretary of MOT and current Deputy Secretary of Ministry of Law. These individuals have inspired and taught me important lessons throughout my career.
Click here to learn more about the programmes awarded by the University of Warwick.
Posted online, 02 Nov 2020