Nicholas Alexander Lim
Having fared below his expectations at polytechnic, Nicholas Lim resolved to make the best out of the next opportunity that would come along in his education journey. That opportunity came at SIM-University of Wollongong (UOW) where he was able to soar to greater heights. He graduated with a computer science degree that led him to eventually landing a job at NCS, a multinational information technology and communications engineering company.
A Second Wind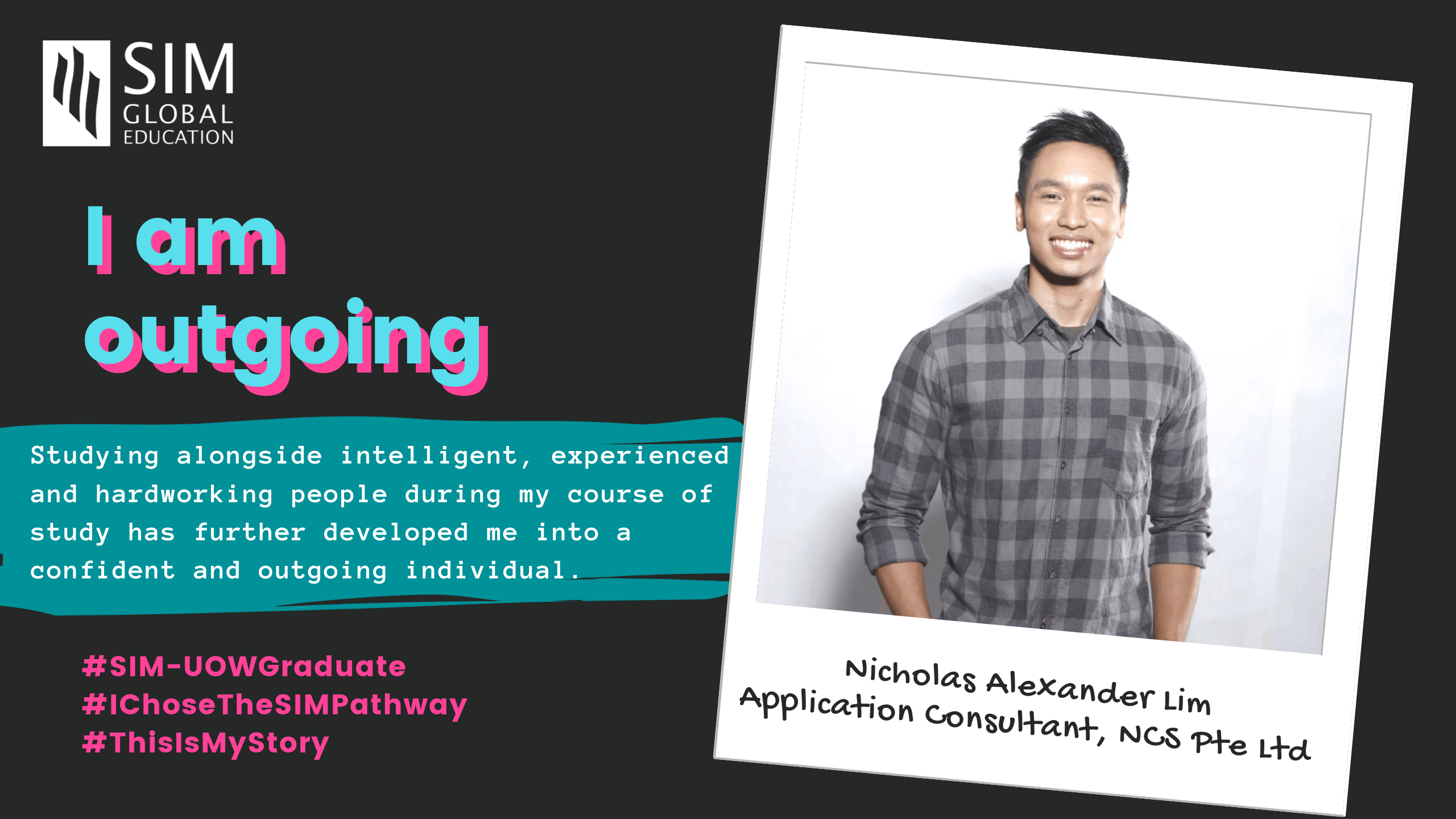 Fill in the blank with the adjective that describes yourself best: I am outgoing
Please do elaborate on why you chose the adjective above.
Studying alongside intelligent, experienced and hardworking people during my course of study has further developed me into a confident and outgoing individual. I believe this is truly one of the main reasons why I was able to excel in university.
What made you choose to study at SIM GE?
SIM GE adopts a holistic approach to education with high emphasis on career development and student care. The students here are offered career guidance alongside counselling and peer mentoring. This was important to me as I believe that apart from excelling academically, developing the soft skills and mental well-being of students are equally important as well.
Why did you choose to study the SIM-UOW Bachelor of Computer Science (Digital Systems Security) programme?
My generation has seen technology evolve at an astonishing pace. In 2008, the three largest companies in the world were PetroChina, Exxon, and General Electric. They have since been replaced by Apple, Google, and Microsoft. I'm no visionary but I could tell that the tech industry is where I want to be.
Tell us about a memorable experience that you had at SIM GE.
I didn't have any coding or computer science background. I studied molecular biotechnology while I was in polytechnic. I recall writing something along the lines of "I have never touched coding before and have no idea what I'm doing. Please be patient with me." My lecturer Dr Heng marked the assignment and commented: "It doesn't matter, just follow through the course and you'll be fine." I did my best to follow his advice and focused on the things he taught. Dr Heng also stayed back after classes to answer our questions and helped us understand things in detail. I eventually managed to score a high distinction for the module.
How did the programme that you studied equip you for your role as an Application Consultant?
As an Application Consultant, I'm expected to produce quality work under tight deadlines. The rigorous curriculum at SIM-University of Wollongong has sharpened my ability to manage my time which is a valuable skill set that I've brought to the workforce. The intensive coursework back in school helped me put the knowledge I've learned in class into practice, and this has prepared me extensively for my current role at NCS.
What do you think has been the key to your achievements?
I graduated from polytechnic with a less than ideal grade. At that time, I was content with just passing and went to class only to get my attendance marked. I was at a loss when thinking about the future after receiving my results. When I entered SIM GE, I was determined to get my act together.
I worked hard to juggle everything that mattered to me, and it turned out very well. I graduated with distinction as the gold award recipient of the Centre for Strategic Infocomm Technologies (CSIT) Top Student Awards [1] . I'm fitter than I've ever been and I've made great friends who I'm sure will stay by my side for a very long time.
Would you have any advice for prospective students?
I'd advise someone leaving poly or junior college to just think about what he or she really wants in life and don't be afraid to pursue their dreams even if it's a path less travelled. I, for one, wouldn't trade all the amazing memories, experiences and friendships forged in the past three years at SIM GE for anything.
#IChoseTheSIMPathway #ThisIsMyStory
Click here to learn more about the programmes awarded by the University of Wollongong.
Posted online, 30 Jul 2019
[1] The CSIT Top Student Awards are sponsored by the Centre for Strategic Infocomm Technologies (CSIT), and presented to the overall top three students who have achieved outstanding academic performance in the University of Wollongong's Bachelor of Computer Science (Digital Systems Security) programme.