Kiki Yuen
During the course of her work, Kiki Yuen, General Manager at Blue Monkey, a digital transformation and innovation agency, observed a worrying trend in the adoption of automation and technologies for business growth with little attention paid to cybersecurity. Having completed the Digital Systems Security part-time programme, the SIM-University of Wollongong alumna is now better equipped with specialised knowledge in protecting information network and systems. In turn, she's able to inspire consumer confidence with her agency's digital solutions.
Inspiring Consumer Confidence With Secure Digital Solutions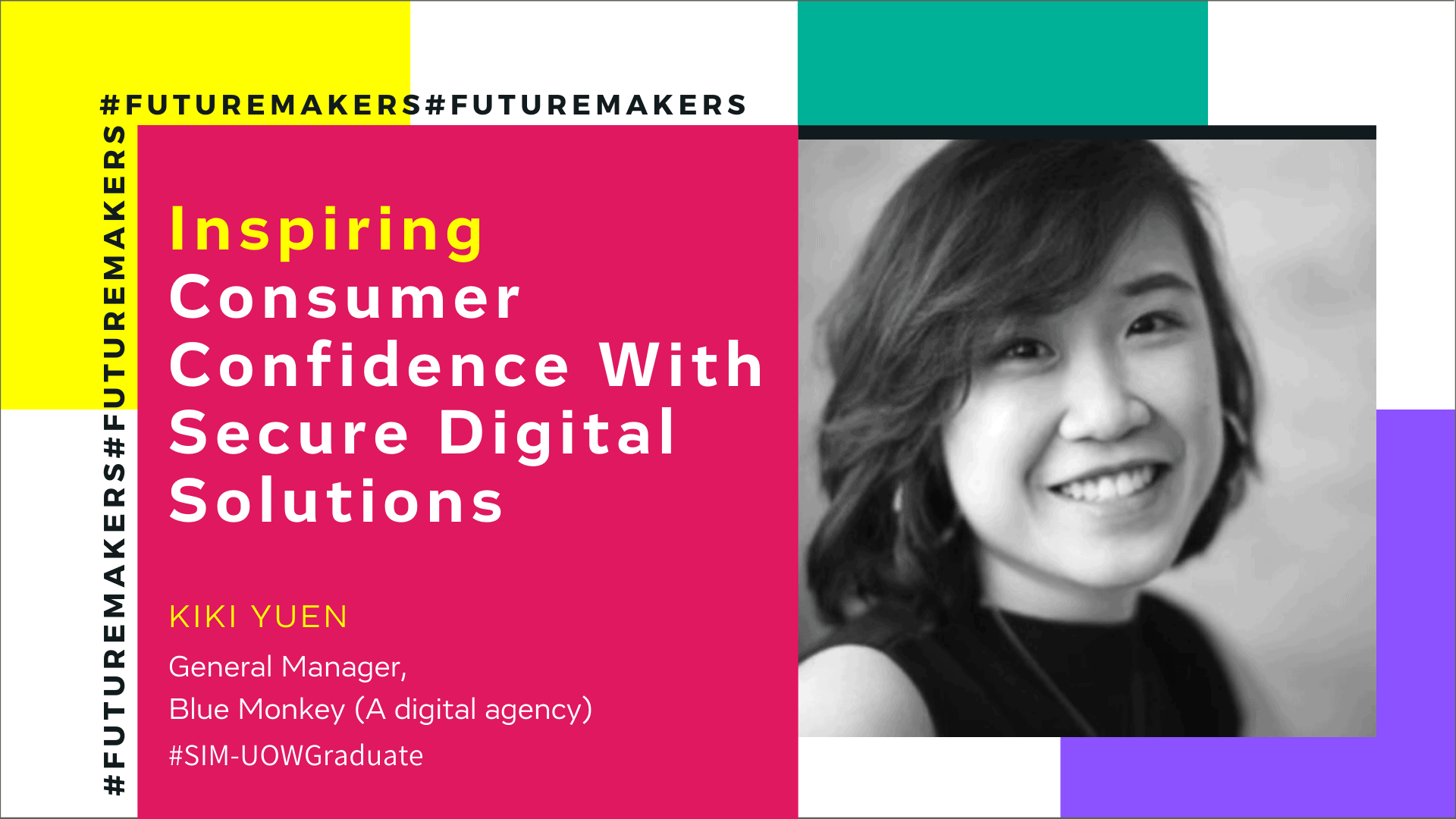 Tell us about your role as a General Manager at Blue Monkey.
As a General Manager at Blue Monkey, I am involved in almost every aspect of the business from strategic planning to daily operations, administrative tasks and finances.
Through our efforts, we hope to be the go-to digital solutions provider for businesses that want to scale, curtail manual processes and stay relevant in this new digital age with Artificial Intelligence and Machine Learning technologies.
What is most rewarding about a career in this industry?
I really enjoy helping businesses stay relevant by helping them realise the available tools that they can leverage to improve and streamline their processes. Gone were the days of performing repetitive laborious tasks or switching between several digital platforms to perform a single business transaction. It's really gratifying when I'm able to shift their focus on things that truly matter like governance, planning and relationship management by taking care of their digital set-up.
How has the pandemic impacted your industry?
The pandemic has accelerated the adoption of digital transformation in organisations as they are forced to operate remotely for the foreseeable future. Now, digital transformation is no longer an option for businesses seeking to function smoothly in the new normal. It has become a necessity.
Why did you choose to pursue the Bachelor of Computer Science (Digital Systems Security) programme with SIM-University of Wollongong?
I've chosen to pursue the part-time programme having observed a worrying trend in businesses adopting automation and technologies for growth but paying little attention to cybersecurity. With knowledge and expertise gained in protecting information network and systems, it gives me the confidence in building secure and reliable products for my users.
In your opinion, how has the programme and your SIM experience empowered you in your career journey?
Being in an industry where it's all about technology and going digital, it is important for one to be aware and educated about the inherent security risks and threats. The programme has allowed me to gain a deeper understanding of the dangers lurking the networks and machines that we are connected to and the ways we can be better prepared against them.
With this newfound understanding, I pay closer attention to the security of products that we implement for our customers. Product development is no longer a case of simply building and delivering features that the client wants but rather, it is now done in a more holistic manner.
You've completed your degree with distinction and have received the Centre for Strategic Infocomm Technologies (CSIT) Silver Award. Do you have tips for SIM Futuremakers on how to excel and prepare for a career in this industry?
Enjoy the process, constantly challenge yourself and always think out of the box — especially when building secure systems! It helps to think like a hacker when you build systems that will encourage you to learn more and build controls around certain attacks that you never knew about.
#SIM-UOWGraduate #FutureMaker
Click here to learn more about the programmes awarded by the University of Wollongong.
Posted online, 17 Feb 2021