Kenneth Chang
Kenneth has always had a heart for sports and people. With an SIM GE scholarship, he pursued the Sports Studies and Marketing programme which enabled him to make a difference as an exercise specialist with the National Kidney Foundation (NKF). Today, he's currently pursuing another degree in physiotherapy with the hopes of making an impact on more individuals.
Making a Difference Through Heart Work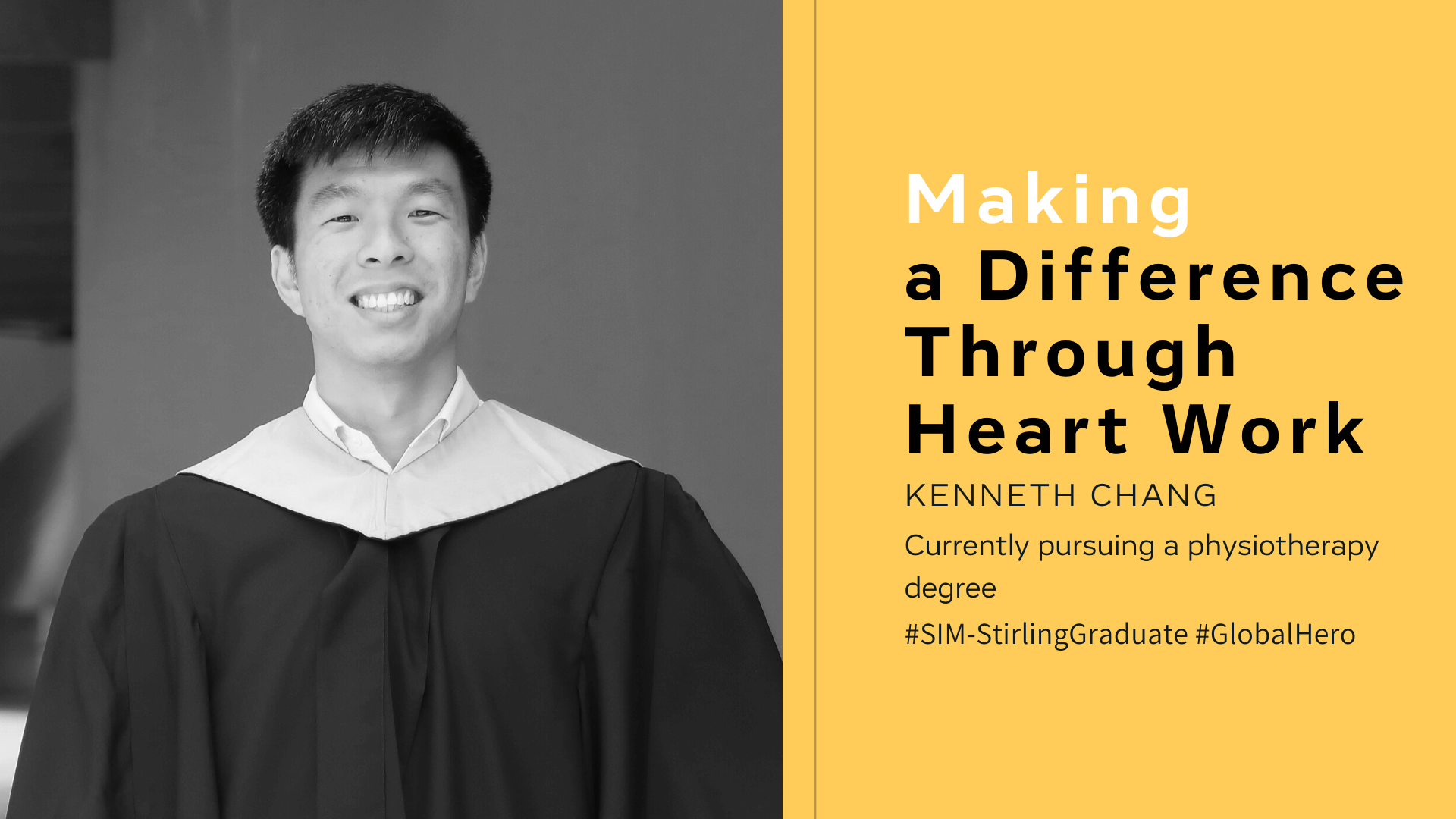 Why did you choose to pursue a sports-related degree?
Sports have always been a big part of my life since young. I started playing football competitively since 11 and attended Singapore Sports School. Hence, I wanted to pursue a sports-related degree as it allows me to be involved and stay relevant in this field even after I stop playing competitively.
Pursuing a sports-related degree also allows me to have an all-rounded view of the industry and understand that sports can influence someone's life in both a direct and indirect manner.
To be studying and working in an area where I am passionate about gives me an immense sense of satisfaction.
What are the advantages of the SIM-University of Stirling BA (Hons) in Sports Studies & Marketing programme?
The programme has helped me understand the management and business aspects of it. It gave me an insight into how organisations are governed; the reasons behind the policies in place and the psychological behavior of individuals.
For marketing professionals, having this knowledge is essential when coming up with marketing strategies targeted at consumers of the brand or organisation.
You were also an SIM GE scholar for Sports and Artistic Talents. How has the scholarship empowered you in your education?
The scholarship made me realised how fortunate I was. It was a motivation for me to excel in my studies and give my best efforts in University. Doing so essentially enriched my overall learning experience in SIM.
What did you enjoy most out of your time in SIM GE?
It was enriching and filled with many meaningful memories. I was in the men's soccer team and always looked forward to training and games after a long day in school. Becoming captain and representing the institution was an honour for me.
I made many new friends during my course of study as well and I do keep in contact with some of them to date. These experiences made me grow as a student, and more importantly, as a person.
How did these experiences prepare you for your first job as an exercise specialist with NKF?
It was important for me to juggle studies, football and part-time work during my time in SIM. These helped in developing my time management skills, self-discipline and a sense of responsibility. Transiting into the working life, the importance of these traits became more apparent as I had to apply them to my daily work.
Is there an experience that you would like to highlight while you were working in NKF?
Once, a patient was only able to walk with the aid of a walking frame for no longer than three minutes. Determined to get better, she continued attending our exercise classes. Before long, she managed to walk for at least five minutes.
Who is your hero and why?
My parents. They have been great role models for me while growing up and have been supportive of my decision to pursue the physiotherapy course while I put my career on hold.
They also instilled important life values which have shaped me as an individual today. Without them, I wouldn't be able to overcome many of life's hurdles. Without a doubt, they are my heroes.
#SIM-StirlingGraduate #GlobalHero
Click here to learn more about the programmes awarded by University of Stirling.
Posted online, 17 Apr 2020