Joyce Teoh
Having gained a strong foundation in psychology at SIM-University of Wollongong, Joyce Teoh is currently flourishing in a meaningful career as a caseworker at the Alzheimer's Disease Association (ADA).
Caring with Compassion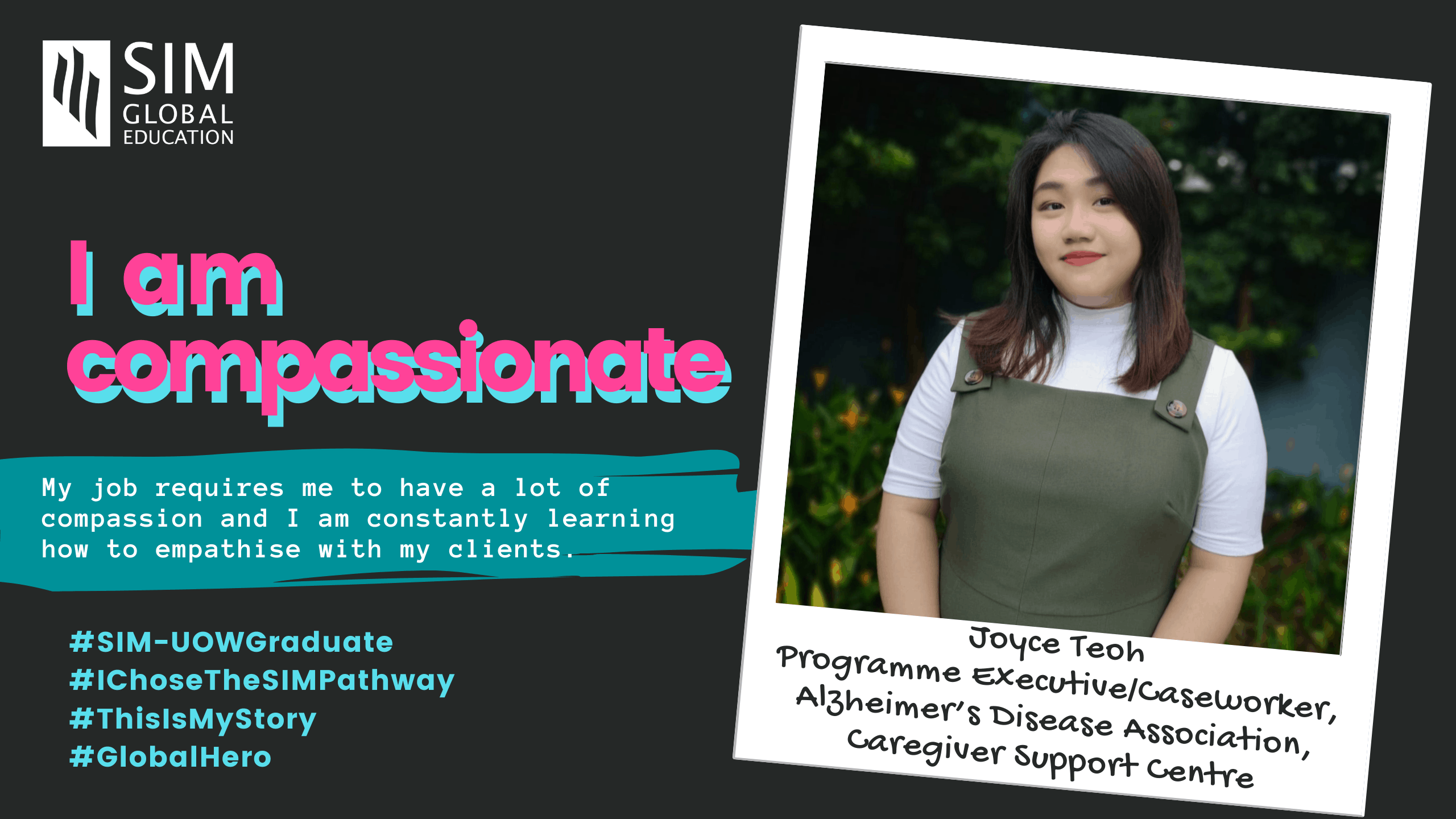 Fill in the blank with an adjective that describes yourself best: I am compassionate
Please do elaborate on why you chose the adjective above.
My role as a caseworker is to provide support for my clients with dementia, as well as their loved ones during the initial phase when the diagnosis is given. My job requires me to have a lot of compassion, and I am constantly learning how to empathise with my clients. Each one of my clients is unique and deals with his/her diagnosis differently. There is no one-size-fits-all when it comes to working with them and building the rapport.

What do you think are the key traits that one should possess as a caseworker?
A caseworker provides emotional support for the person diagnosed with dementia, their caregivers and family. Some key traits are the abilities to empathise with their challenges and listen to their needs.

What made you choose to study the Psychological Science programme at SIM-University of Wollongong (UOW)?
The rigorous research and cognitive curriculum offered in the Psychological Science programme are aligned with my interest in exploring the science of body and mind. The structure of the course equipped me with the skills to excel in related fields such as working in the social service sector and it gives me the opportunity to further my studies in the future.

What was most memorable about your time in SIM GE?
I had the opportunity to work with the Student Learning Development Department in the Peer-Assisted Learning (PAL) programme. The PAL programme opened up a new area of interest for me. I honed my leadership skills by facilitating group studies for fellow schoolmates and took on the role of a senior leader in guiding fellow PAL leaders. Through this programme, I forged friendships with like-minded people. Until today, we are still in close contact and we render support to each other when work gets a little rough.

What sparked your interest in working as a caseworker at the support centre?
The SIM-UOW programme spurred me towards my passion for working in the area of mental health. The course nurtured my knowledge in this field and gave me an understanding of practical application.
Working at the ADA has given me new perspectives and knowledge about dementia. My role at work has been extremely meaningful and it has given me a new purpose to propel myself forward each day.

What is the most rewarding thing about your job?
Receiving the diagnosis at the initial stage can be very nerve-racking and emotionally draining for my clients. Being able to provide comfort and guidance to them and their caregivers really keeps me going. We aim to journey through with them as much as we can. As one of my colleagues always says, "Prepare for the worst, but hope for the best"

#IChoseTheSIMPathway #ThisIsMyStory #GlobalHero
Click here to learn more about the programmes awarded by the University of Wollongong.
Posted online, 07 Nov 2019