Jillian Terese Teo
Jillian Terese Teo developed an interest in psychology after her 'A' levels, when she started volunteering and assisting children with developmental conditions. Awarded an SIM GE scholarship for her artistic talent (in dance), Jillian took her psychology degree with the University of Wollongong. She then did her Honours year in Australia. Now, Jillian is pursuing her doctoral degree and working as an Assistant Manager & Donor Coordinator at the Brain Bank Singapore.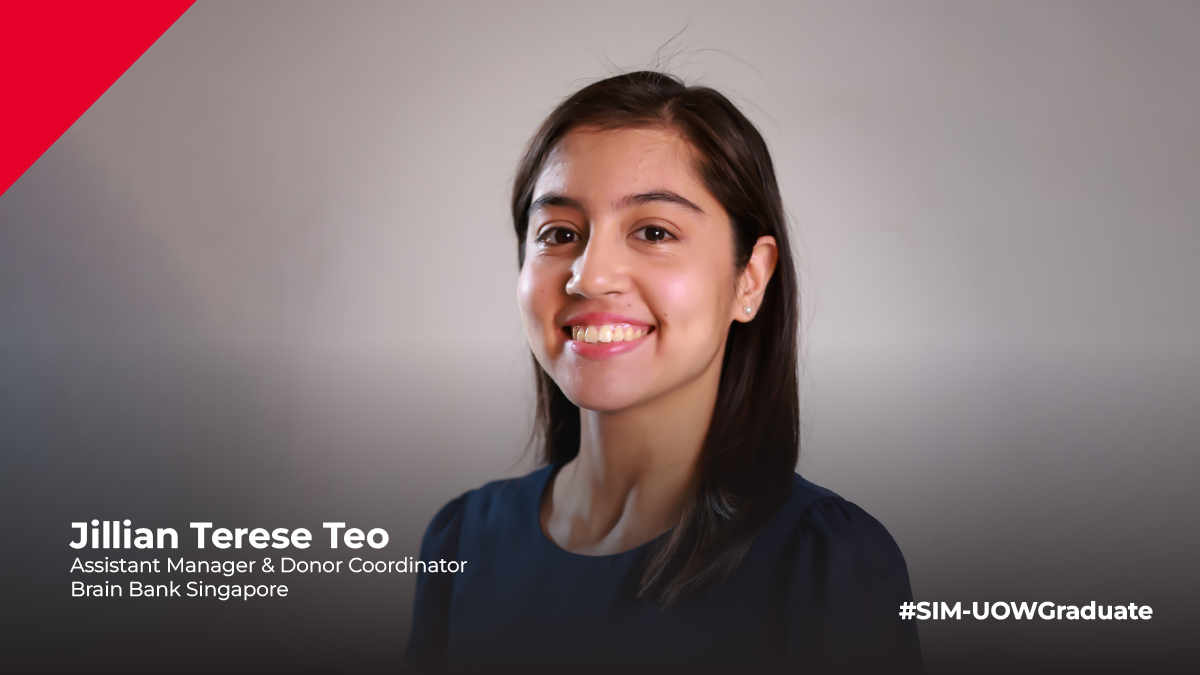 Please share your pathway after graduating from SIM-University of Wollongong (UOW).
Upon my graduation in 2015, I continued my studies to complete my Honours Year at UOW in Australia in 2016. After that, I returned to Singapore to work in hospital settings. I took up the role as a Clinical Research Coordinator for the KIDS 0-3 programme at KK Women's and Children's Hospital (KKH). At KKH, I worked within a multidisciplinary team of doctors, social workers, and allied health professionals to support the home visitation programme that aimed to optimise the developmental potential of young children from vulnerable families. I oversaw research related matters such as research ethics, statistical analyses, conference posters, and presentations. I also conducted developmental assessments for children between two to four years of age with the team psychologist.
After two years at KKH, I joined Brain Bank Singapore (BBS), which is a national brain tissue bank that has been set up to provide a national resource of post-mortem brain and spinal cord tissues for vital research into disorders affecting the human brain. At BBS, I work closely with patients with neurological or psychiatric conditions.
Last year, I began my studies in the Doctor of Philosophy (Clinical Psychology) programme.
What inspired you to further your studies and what sparked your interest in this field?
My interest in this field of study started in 2012 when I began volunteering at the Riding for the Disabled Association (RDA) Singapore. At RDA, I volunteered as a Sidewalker to facilitate equine-assisted activities for children with various developmental conditions. I was interested in the conditions that they had and the way in which the activities were designed to cater to their interests and needs to achieve learning goals and to have fun in the process.
I knew that I had to embark on postgraduate studies to progress further in my career. I also began to realise that my interests and strengths were in both clinical practice and research. I applied for the Doctor of Philosophy (Clinical Psychology) programme as it encompasses both research and clinical training.
My journey was most definitely not a smooth one. It was one filled with uncertainty and doubt. I applied for this programme five times, and even declined acceptance into another programme that only has research training. Between the years of waiting to get acceptance into the clinical programme, I continued working and looking for opportunities along the way to strengthen my application. My first PhD study is a paper titled Psychophysiological Mechanisms Underlying the Potential Health Benefits of Human-dog Interactions: A Systematic Literature Review, which is currently pending publication in the International Journal of Psychophysiology.
Can you share more about your current job and how does your PhD studies align with what you are doing now?
There are many aspects to my current role – I conduct educational talks on brain conditions such as Stroke, Parkinson's Disease, and Dementia to the general community and to patient support groups. Other times, I am in various hospitals or clinics meeting with patients to explain about brain donation after death for scientific research. I also support the operations of the national brain tissue bank and facilitate the procedure for the brain donation of a registered brain donor with the family members, after their loved one has passed away.
Since joining BBS, I have learnt much about the science behind various brain disorders, basic neuroanatomy, and how these changes in the brain relate to clinical symptoms. Working within the hospital setting has also allowed me to meet so many patients with different medical histories and backgrounds. It has also given me insight into the different aspects of healthcare in Singapore, and the type of work that I hope to do as a Clinical Psychology PhD graduate in the future.
How have your experiences as a student in SIM shaped you?
As an SIM-UOW student, I was very busy with lectures and assignments in the day, and dance rehearsals in the evenings. I enjoyed my university life, which was not just solely focused on examinations and essays. I also embraced opportunities to ask questions and participate in activities beyond the classroom. The journey was important for me to learn more about myself in terms of what was interesting to me, what was not, and other things that I enjoy beyond work and studies.
You have been volunteering with the RDA since 2012. Can you share a memorable experience that you have encountered while volunteering?
I remember that during my very first session at RDA, the child whom I was assigned to refused to put on the helmet for the session. For safety reasons, children are only allowed to ride the horse if a helmet is worn. While I knew that the child had autism spectrum disorder (ASD) and his parents had mentioned that he really did not like his head being touched, I struggled to manage his behaviour and keep him calm. The struggle to put his helmet on lasted for one hour and it happened again the following week for another hour. The volunteers and I then played some simple activities with him, built rapport, and distracted him such that we managed to get his helmet on during the session on Week 3! Once his helmet was on, he was calm and happy to participate in the equine-assisted activities.
This felt like a huge achievement, for the child, his parents and us, as he was then able to participate in the session with his peers and have fun riding a horse. When I spoke to his parents, I found out more about the child's routines, daily challenges, and concerns that his parents had. Over time, I learnt more skills and picked up tips from other volunteers during each debrief session.
What impact do you hope to have on society as an individual?
I hope that my research contributes to the advancement of the field of human-animal interactions in terms of research and clinical practice. I also hope to work as a healthcare professional who can support patients and their family members in their journey through various neurological and psychiatric conditions.
Posted online 20 Jul 2022.
Learn more about the
programmes
offered by
University of Wollongong
at SIM today.