How to Choose the Right Course After 'O' Levels
How to Choose the Right Course After 'O' Levels
Choosing an ideal pathway after 'O' Levels can be a stress-free process with these three tips.
This milestone towards adulthood and building one's career begins with the question "What do you want to be in the future?"
While an answer is not always evident at the beginning, it does not mean that your higher education journey cannot commence. With a good sense of one's passions and the right environment, one can begin on a fulfilling journey towards their aspirations after 'O' Levels.
Consider Your Long-Term Goals
Completing one's 'O' Levels is a triumphant moment. It is a clean slate for individuals to start their journey towards their passions and long-term goals whether it is to step into the working world or to pursue a postgraduate degree upon completing their higher education.
To aid this endeavor, a global university education can greatly benefit undergrads who wish to work abroad or locally. SIM Global Education (SIM GE) adopts a holistic learning approach with university partners from Australia, the United Kingdom, the United States, and Europe. Both local and international students are given opportunities to establish careers with a distinct world view imbued in their higher education experience.
For students who are looking ahead beyond a bachelor's degree, pursuing a postgraduate programme is a fitting long-term goal in mastering a chosen field. Students of SIM GE can further their studies in various disciplines such as Accounting, Business, Cyber Security and Management, Economics, Engineering, and more.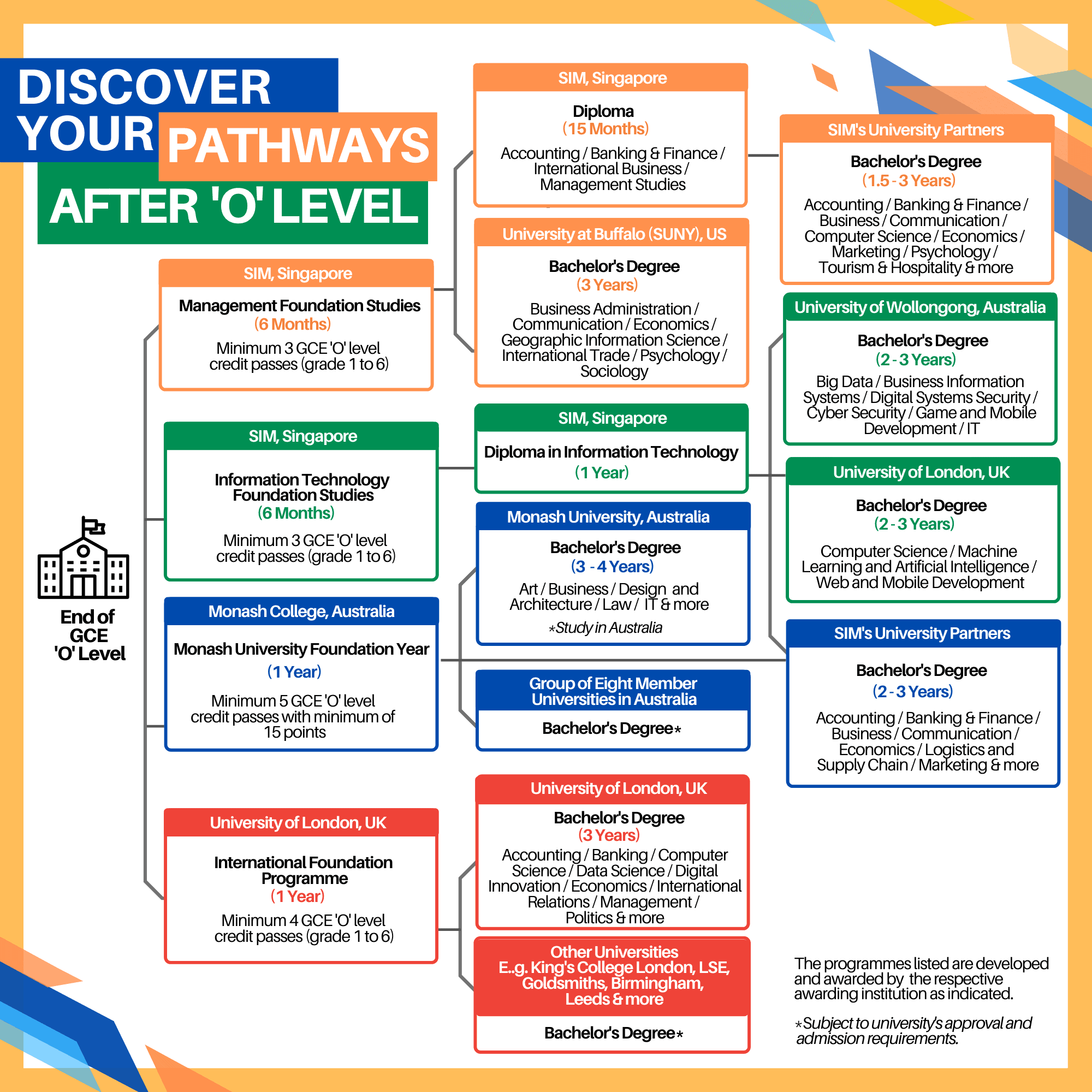 Pathways available at SIM Global Education for 'O' Level holders.
Focus on a Subject That Piques Your Interest
Following one's passions and interests can be carried over towards a defining career path. At SIM GE, various disciplines such as Arts & Social Sciences, IT & Computer Science and Business and Specialty & Nursing are offered to students, enabling each individual to find a programme that fits their liking and aspirations. For example, students who pursue a programme under the Arts & Social Sciences discipline can look forward to careers in Media, Public Relations or even Urban Planning.
Find an Environment That Challenges You
Fine-tune your skillset by choosing a programme not for its ease and level of comfortability, but for its ability to challenge you and harness your overall growth.
At SIM GE, there are over 10 reputable
university partners
. Every university partner has a different teaching pedagogy and assignment modes. Students can be at ease to find one that suits their ideal learning style & personality best.
Conclusion
There is a multitude of pathways and options at SIM GE for 'O' Level graduates that gears its students for their aspirations. Join us at Future Beyond 'O's on 30 January, Saturday, 10am to learn more.
Finding the ideal pathway to pursue your undergraduate studies is certainly no walk in the park. With many courses, institutions and junior colleges to choose from, fresh 'O' Level graduates are left inundated with endless choices.