Ho Jia Xi
As a System Analyst* at NCS Pte Ltd, Jia Xi works closely with stakeholders to improvise systems. With the industry-relevant knowledge and skills she has gained from the SIM-University of Wollongong programme, she hopes to progress further in the IT sector.
Making Strides in the IT Industry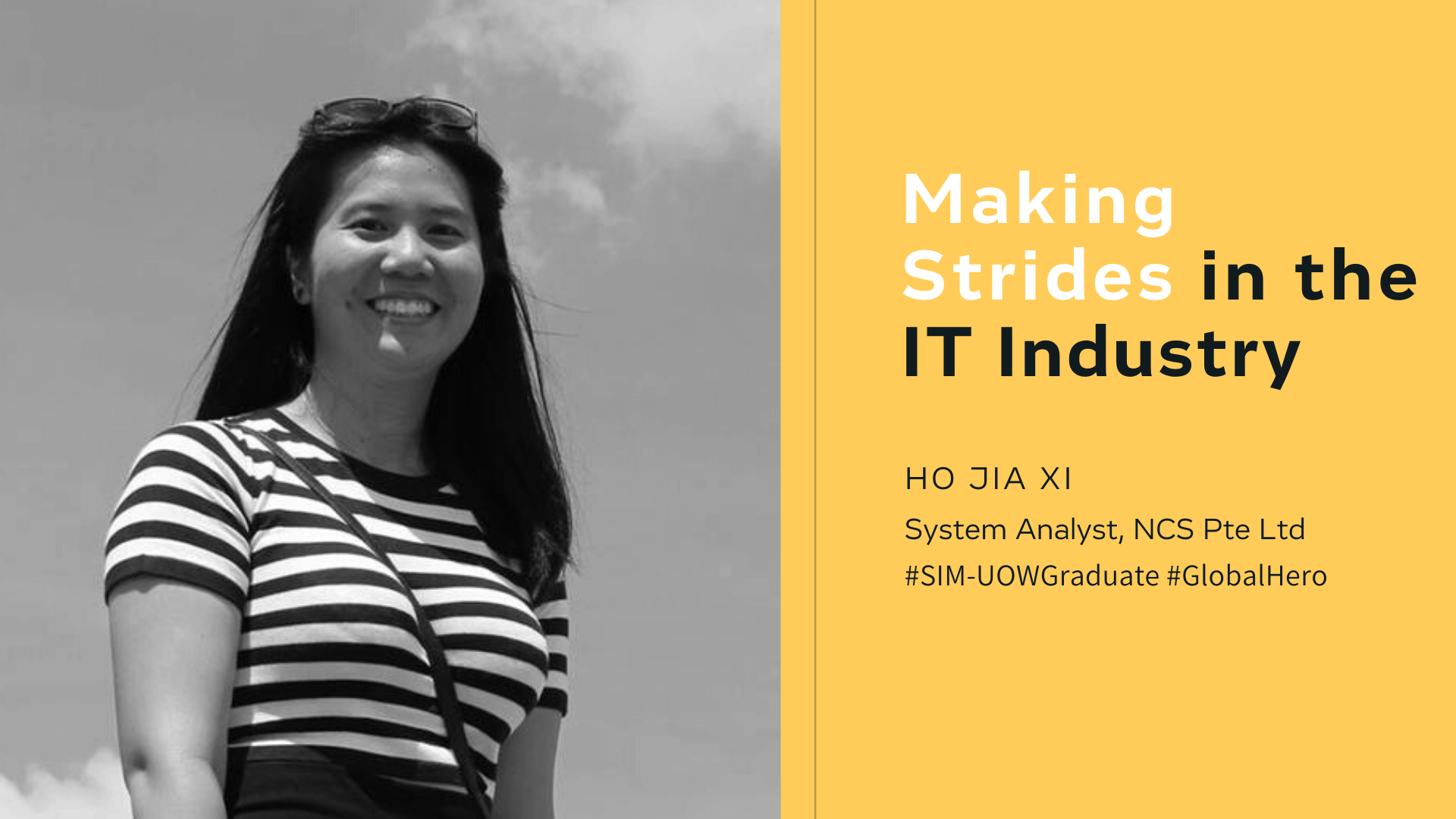 How did you first get into the IT industry?
I chose to enrol into the Republic Polytechnic's Diploma in Business Information Systems (DBIS) programme shortly after my 'O' Levels as the mixture of disciplines didn't intimidate me.
During my internship at SingTel, I extended my stint with the payroll department as I was familiar with the system they utilised, having picked it up in school. I was then offered a temporary position with NCS Pte Ltd's Human Resource department upon graduation.
Before the end of my contract, my colleagues encouraged me to make full use of my Diploma and to give one of their IT-related positions a try. So here I am!
What do you enjoy most about being a System Analyst?
I like that I'm not desk-bound. I enjoy interacting with stakeholders to gather their requirements for the development and design of the systems. After which, I would follow up with the respective users to understand and resolve any issues that arise.
Why did you choose to pursue the Bachelor of Information Technology programme with SIM-University of Wollongong, Australia?
I learned about the University while I was working in NCS Pte Ltd as a temporary staff. I noticed a lot of new hires had IT qualifications by the University. I did some research and learned that it had an outstanding reputation for IT programmes.
When I first looked at the programme requirements, there were no exemptions for me. However, after looking at the requirements again the following year, I discovered that I was eligible to receive exemptions. I decided to go for it as the University offered practical modules which I found to be beneficial.
What inspired or motivated you to study part-time?
My elder brother inspired me to pursue my studies further. He once told me that one of the ways to improve our circumstances is through education and hard work. My former boss encouraged me to register for the programme too.
How has the programme helped you to overcome the challenges in your role?
The programme improved my technical skills in Structured Query Language (SQL) and Java. This helps me to better understand the existing system codes which then allows me to be faster and efficient at making enhancements.
During the process of requirements gathering, I'm also more adept at advising the feasibility of a user's requirement and the man-days needed to complete it.
What's next for you having completed the programme?
The IT industry is huge with plenty of job opportunities available. I would like to explore different roles in this industry while I'm still young to find out where my interest truly lies.
Who is your hero and why?
My mom! Knowing that I was concerned over my financial obligations, she eased it by reassuring me that I need not worry about their monthly allowance while studying. Additionally, she would prepare food for me when I was hungry after my classes. She also kept me company and would sometimes doze off in the living room while I rushed through my assignments till the wee hours of the morning.
#SIM-UOWGraduate #GlobalHero
Click here to learn more about the programmes awarded by the University of Wollongong.