Flying The SIM Flag High
Issues debated this year ranged from countering terrorist networks to the rights of linguistic minorities, and even nuclear disaster prevention and response.
Written by Dianne Ignacio, Johan Ruslan and Jonah Foong, SIM International Affairs Society members
SIM supported a team of 11 to attend Harvard National Model United Nations (HNMUN), held from 15 to 18 February 2018 in Boston, Massachusetts. Into its 64th edition this year, HNMUN is the world's oldest and largest college MUN simulation of its kind, attracting over 3,000 students each year from over 70 countries and some of the world's best universities, including the Ivy League schools. MUN is a largely popular academic activity worldwide that aims to simulate the workings of the United Nations. Students role-play as delegates and represent a given country on global issues in a mock United Nations setting with the ultimate goal of garnering enough votes to pass a document known as the Draft Resolution.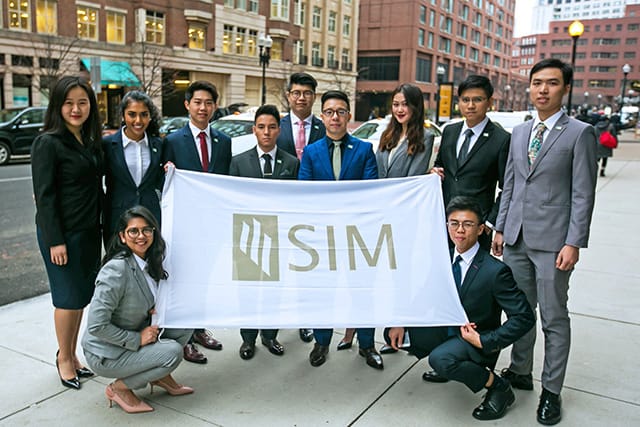 From left to right: Low Jia Lyn, Haziqah Zain, Zuha Musthafa, Bryan Tan, Ow Jiaming, Tan Yao Kun, Andrew Lee, Lee Yann, Yiu Bin Hao, Nathaniel Teo, Chan Yao Hua.
Issues debated this year ranged from countering terrorist networks to the rights of linguistic minorities, and even nuclear disaster prevention and response. Of the 11-member delegation, five pairs were tasked with representing the nation state of Croatia, with a single delegate representing the Czech Republic.
The four-day conference is a gruelling test of will, with the delegates having to cope with jet lag as they worked though the discourse and preparation of documents. In addition – like diplomacy in the international arena – circumstances change constantly over the conference. Alliances shift rapidly, and delegates have to be quick to respond or risk being sidelined.
In preparation for the conference, the team went through months of intensive training, spearheaded by student-trainer Mr Jonah Foong. Aside from performing extensive research, the team had to undergo rigorous mock conference sessions to improve public speaking and knowledge of procedural and substantive matters.
At the end of the conference, the team walked away with a unique learning experience. The opportunity to negotiate with delegates from all around the world and persuade them to one's point of view is unique to HNMUN, and this exposure was something that regulated training sessions in Singapore could not replicate.
Back at home, the SIM GE, International Affairs Society delegation clinched top awards at the annual Nanyang Technological University Model United Nations held from 23 to 25 February 2018. This win was first in the institution's history.
The MUN team prepared papers on topics such as Child Labour Laws, Civil Militarisation in the Horn of Africa, and Foreign Intervention in the Yemeni Civil War. Despite being newcomers to the MUN scene, members of the delegation – consisting of nine students from University of London (UOL), University at Buffalo (UB) and Royal Melbourne Institute of Technology (RMIT) – went up alongside formidable institutions to discuss important geopolitical issues, with some even bagging awards.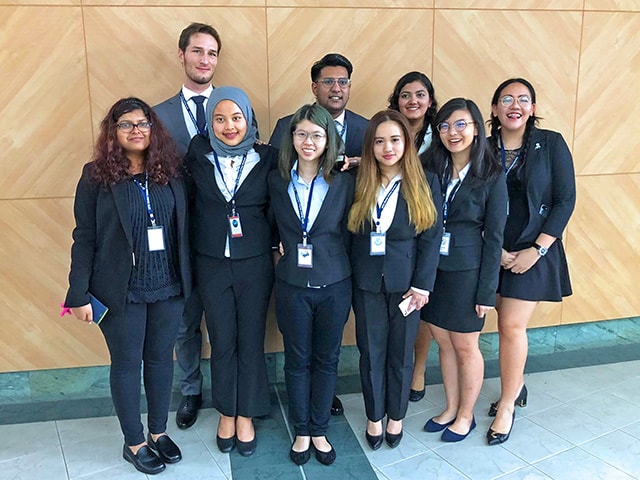 From left to right: Nirupa Sundaravel, Niccolo Baranzini, Aisya Amira, Lee Wen Qi, Emmanuel, Priscilla Ketzia, Ashmika Prasad, Wong Shi Hui, Dianne Ignacio.
SIM-UOL BSc (Hons) in Banking and Finance student and delegation member Priscilla Ketzia clinched the Outstanding Delegate Award in the Social, Humanitarian and Cultural Committee, while fellow schoolmate Wong Shi Hui, a SIM-UOL BSc (Hons) in Economics and Politics student won Best Press Network together with her team.
Nirupa Sundavarel, a SIM-UB BSc (Business Administration), student, also received a verbal commendation.
"What a wonderful experience it has been. NTUMUN was a great prologue, and it is a fantastic platform for anyone wanting to explore the MUN circuit, regionally and internationally," she said.
Here's what the members of SIM International Affairs Society had to say:
"It was an unforgettable and unparalleled four days that allowed me the opportunity to not only immerse myself in a wholly different culture and environment, but to also go through many valuable experiences that have and will undoubtedly shape me for the better. While it was extremely chaotic and fraught with disruptive unforeseen circumstances, it was in equal parts exhausting as it was exhilarating, and an experience that I will never forget."

Lee Yann, SIM-UOL BSc (Hons) in International Relations student

"I went into HNMUN preparing myself for the worst, expecting nothing and yet, was pleasantly surprised by the beautiful friendships forged, by the opportunity to represent my block and ultimately, by how much I learnt within those four days."

Low Jia Lyn, SIM-UOL BSc (Hons) International Relations student

"The training sessions at SIM were very useful as it really trains us to deal with the pressure that typically comes with MUN conferences. The sessions also helped me hone the skills of formal writing of resolutions and clauses that was very beneficial during the conference."

Priscilla Ketzia Aristotles, SIM-UOL BSc (Hons) in Banking and Finance student, Outstanding Award Recipient

"Being in the press corps gave me an opportunity to voice out and get my opinions heard in a contrasting manner, although there were different demands to be fulfilled when in Press Corps."

Wong Shi Hui, SIM-UOL BSc (Hons) in Economics and Politics, part of Best Press Network (only member in the SIM delegation participating in Press Corps)
Posted online, 21 May 2018