Erwin Leonardy
Erwin Leonardy, SIM-University of Wollongong alumnus from Indonesia, is passionate about solving real-world problems. This spurred him to pursue his education at SIM where he picked up fundamental knowledge and soft skills needed to run his legal tech start-up today.
Solving Real-World Problems With Tech Solutions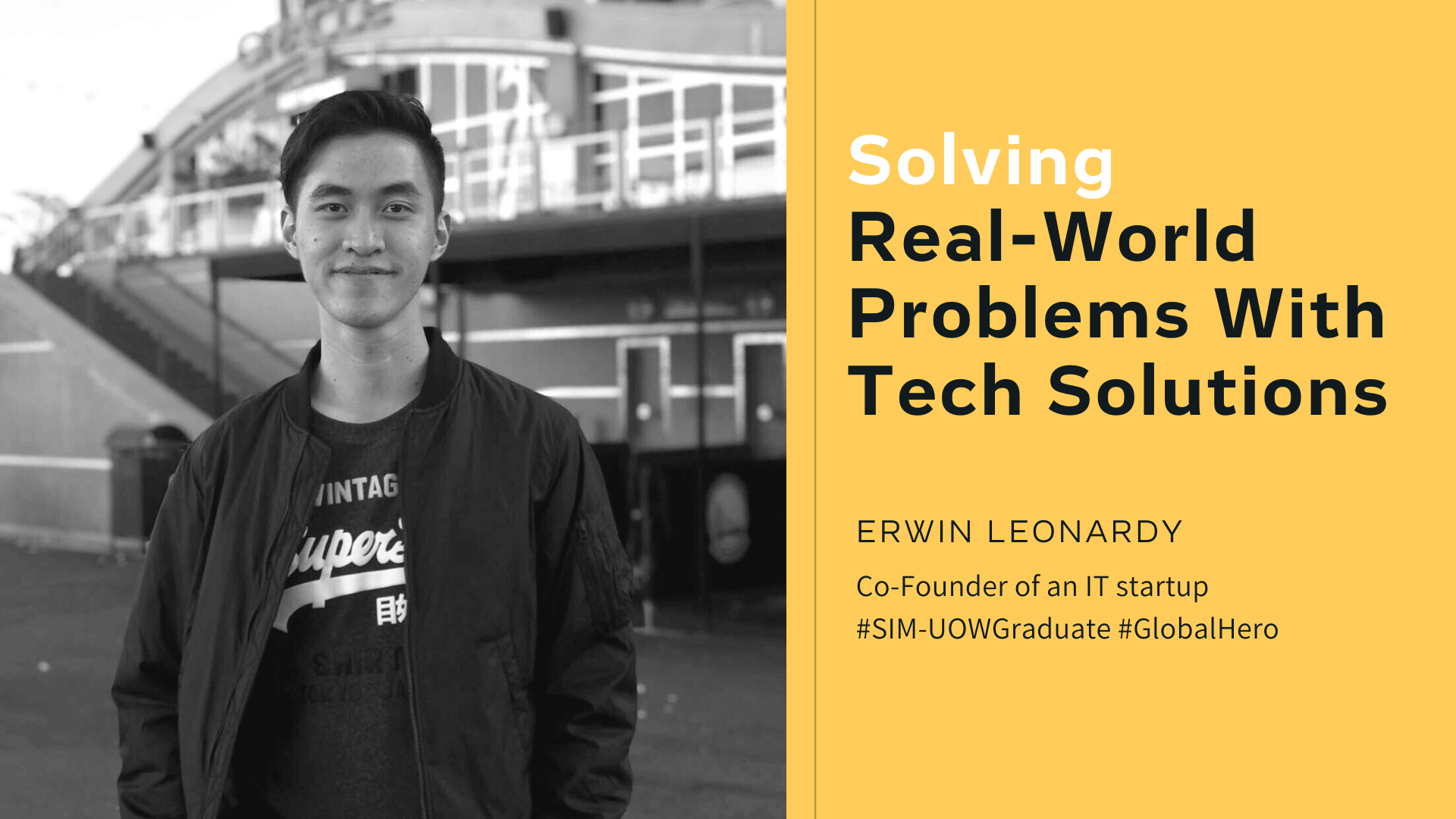 Please share with us on what have you been up to recently?
I've been working on creating a platform for my legal tech start-up in which lawyers and legal clients can make secure transactions.
During a casual meet up with a friend who is working for one of Indonesia's leading legal firms in Jakarta, he shared that this was one of the challenges they often faced. Upon doing further market research, we found that there is indeed a demand for a secure marketplace that procures legal services.

What do you enjoy about it?
The start-up landscape is full of uncertainties but I enjoy having the freedom to pursue something I'm passionate about – solving real-world problems. It is also this uncertainty that has given me the impetus to wake up early every morning.

What were the factors that led you to pursue your education with SIM-University of Wollongong?
The University of Wollongong is one of the few universities that offers a specialisation in Digital Systems Security. The University provides a holistic overview and a strong fundamental knowledge of Computer Science through core modules such as Mathematics for Computer Science and Algorithms & Data Structures. This knowledge helped me in ensuring that we are following the best practices to minimise any security vulnerabilities in our app.
The wide variety of CCA activities was also one of the reasons why I chose SIM GE.

Tell us about your student life experience in SIM GE.
I maximised my time by participating in a wide variety of activities. I volunteered as a Peer-Assisted Learning Leader and joined the EXCO committee of the Innovation and Networking Society.
But one of the most valuable experiences I had would be joining the Harvard National Model United Nations (HNMUN). The rigorous training programme has transformed me into a confident public speaker.

How have these experiences lay the groundwork for your start-up?
With the proliferation of the interconnected Internet of Things devices, the demand for cybersecurity professionals also grows in tandem. These new roles will require critical-thinking skills. I am glad that SIM-University of Wollongong's curriculum and my HNMUN experience have equipped me with the skills to analyse intricate issues in-depth.
I am also glad that I have persisted through the HNMUN training programme. Juggling this and my studies was not an easy task but it was through it that I have been able to foster strong friendships.
We can't deny that these soft skills are as important as our technical expertise.

Any advice for international students to excel at university life?
On top of pursuing academic excellence, do make room for your personal growth by joining a CCA. Get to know more about the CCAs available by attending the SIM Open House or the annual Student Involvement Drive.
Through these activities, I have learned how to lead a team and manage my time better. These are skills needed in the future workplace.

Who is your hero and why?
I aspire to be like my grandfather who is an altruistic person. He has helped build homes and bridges to improve connectivity between villages and send less fortunate kids to school. Even on his birthday, he chose to celebrate it with the underprivileged in Borneo.
Although he is now bedridden and is unable to continue his philanthropy works, his down-to-earth and selfless traits always remind us to stay humble and help those in need.

#SIM-UOWGraduate #GlobalHero
Click here to learn more about the programmes awarded by the University of Wollongong.
Posted online, 09 Apr 2020