Dreaming Big for the Future
Dreaming Big for the Future
It was a good three months' worth of anticipation, from the time applications opened in April 2019 until results were announced towards the end of June 2019.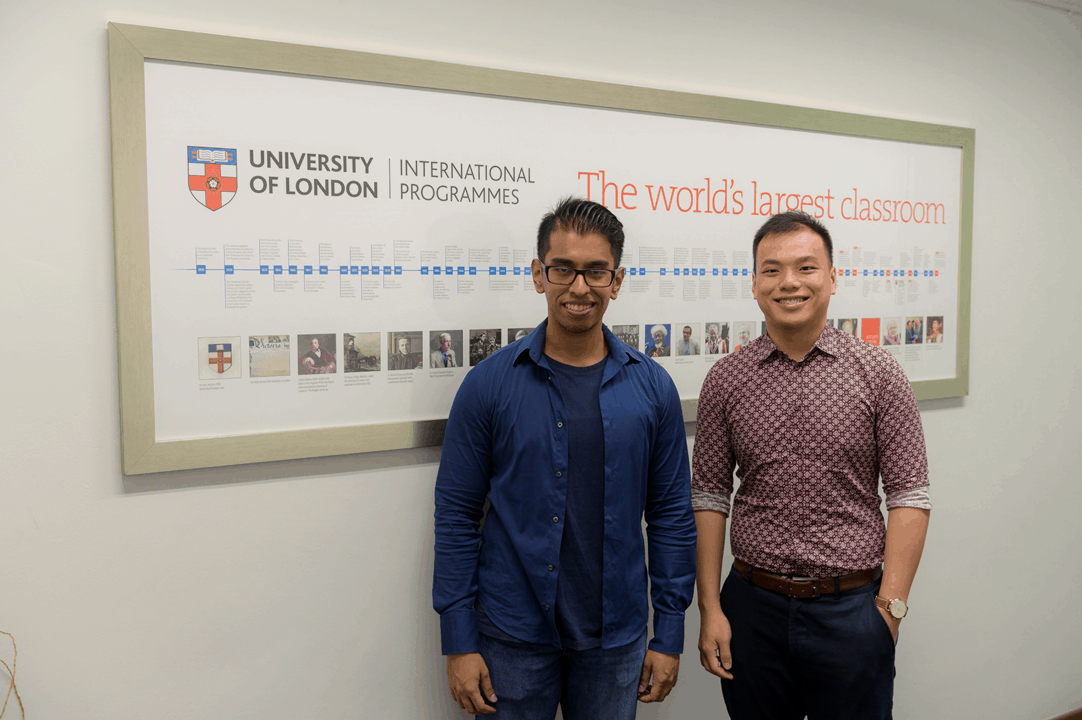 Abdul Hakeem and Aaron Chia are awarded SIM-UOL Masters Scholarships
It was a good three months' worth of anticipation, from the time applications opened in April 2019 until results were announced towards the end of June 2019.
The identities of our new University of London (UOL) Masters Scholarship recipients for 2019 were revealed on 28 June 2019. SIM-UOL alumni Abdul Hakeem bin Akbar Ali, BSc (Hons) Economics and Politics, and Aaron Chia Ming Zhou, BSc (Hons) Economics were awarded.
The University of London has been awarding the scholarships under the auspices of the UOL-SIM GE Regional Centre since 2017 – funding two SIM GE-UoL graduates who have been accepted to study for a one-year full-time master's programme at any of the 17 UoL Member Institutions.
For Hakeem, setting realistic and achievable short and medium-term goals was one of the key things he stuck with in helping him to realise his potential and ability to go for bigger pursuits – from "just doing my best", to "trying to be the best".
"The goal, to me, is to set these short and medium term goals to eventually reach those long term ones. The long term goal need not be highly specific, nor must it be tangible (e.g. I must earn x amount of money by year x) — so long as its attainment is physically possible,"said Hakeem.
Hakeem's interest in International Political Economy (IPE) took shape before classes started. Back in Year 2, knowing that this was a subject he was to do in his final year of study, he carved time in his term break to beef up his understanding of the topic. The inspirational work of Ha-Joon Chang and Karl Polanyi got him hooked. In his words, "You could say that, if Bad Samaritans1 was the start of it all (i.e. my IPE journey), The Great Transformation2 (and excuse the pun) greatly transformed it."
Grappling with the ideal economic world, and contrasting it against the reality of how economics works in a socio-political context fuelled the curiosity and passion to delve deeper, eventually culminating into the aspiration to pursue the MSc International Political Economy at the London School of Economics (LSE).
Aaron's interest in economics came at a time during his National Service stint, "when there was much discussion on interest rate normalisation undertaken by the federal reserve and its potential effects on the global economy." Seeing the role that economics can potentially play "in addressing global issues such as inequality and unemployment" drove him to undertake the BSc (Hons) Economics programme
Despite coming from a different field of study in biomedical science during his polytechnic days, this did not deter Aaron from persisting in the subject. With consistent work in his course of study, his drive and effort paid off well, scoring him good grades. One thing led to another, including the motivation to aim for a First Class Honours, being a topper for Monetary Economics and clinching the SIM Gold award, all of which boosted his confidence to apply successfully for a master's degree at the LSE.
By reading the MSc Economics and Philosophy, Aaron believes that the philosophy-aspect of the course will build and strengthen his foundation in economics. He hopes to "be able to proceed to a PhD programme in economics or a position in the government sector", ultimately "contributing meaningfully to society" in his work. In fact, early into his career, he was with the Ministry of Manpower, and the desire to give back was evident in his time as a volunteer at Meet-the-People sessions.
From Aaron's story, it is never a cliché to say that interest drives learning.
How will you write your story today?
[Footnote]
1 Bad Samaritans is a book written by Ha-Joon Chang
2 The Great Transformation is a book written by Karl Polanyi
Posted online, 25 Jul 2019