Dinah Lim
The Hospitality and Tourism industry is a vibrant and fast-paced one but when you love what you do, things can get a lot more enjoyable. Dinah Lim, a current SIM-La Trobe University student from the Bachelor of Business (Tourism and Hospitality) (Top-up) programme, tells us what she enjoys most about the industry.
At the Heart of Hospitality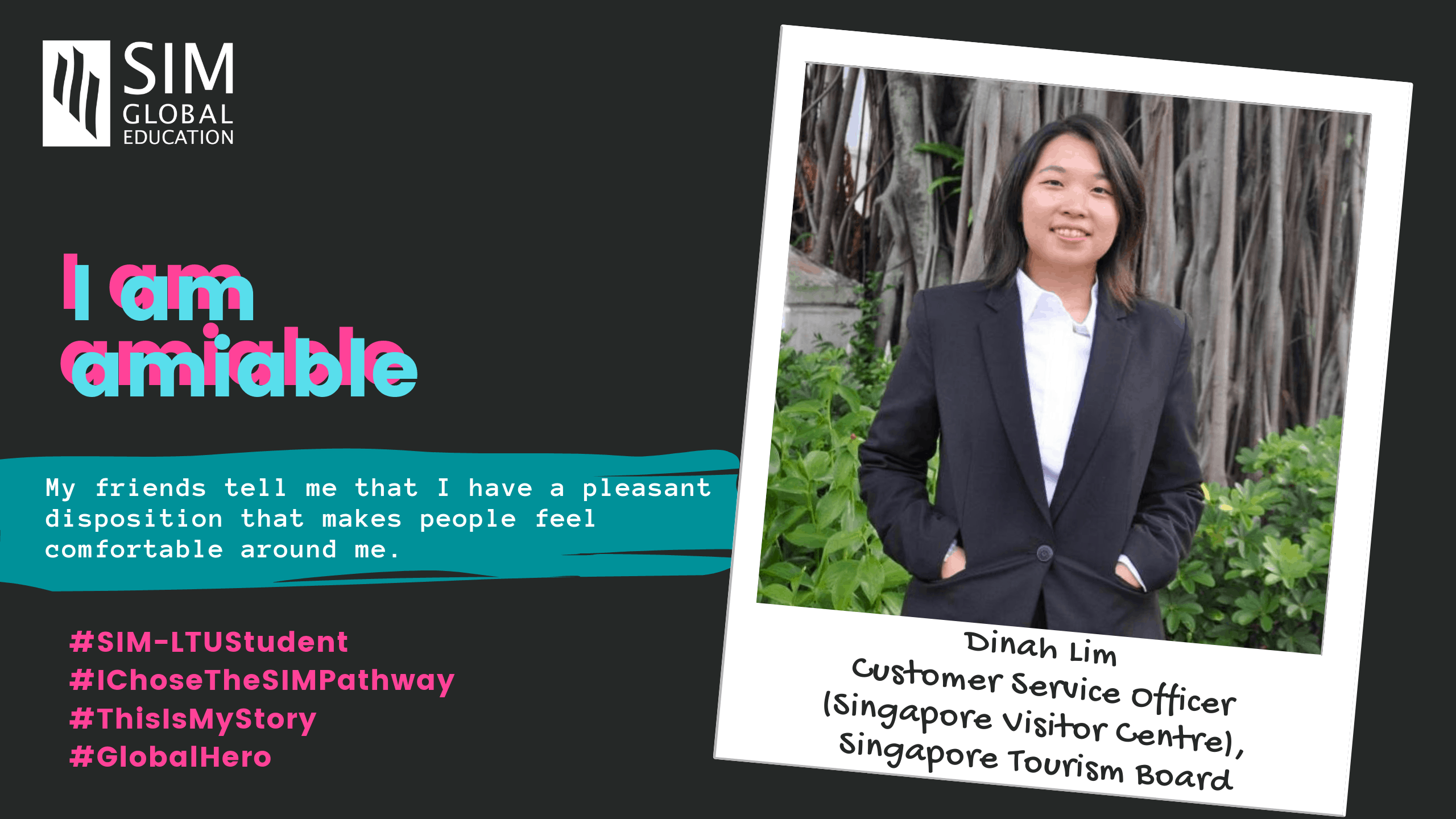 Fill in the blank with the adjective that describes yourself best: I am amiable
Please do elaborate on why you chose the adjective above.
My friends tell me that I have a pleasant disposition that makes people feel comfortable around me. Even when I'm not in my work uniform, I get strangers coming up to me to ask for directions or for help.

How did your interest in the Hospitality and Tourism sector develop? Tell us more.
Since young, I have always been curious about the backend operations of the hotel and tourism-related industry. My interest in this area grew even more through my various work exposure in the relevant fields. These experiences made me realise how dynamic the sector is, and the best part is that I'm always learning new things!

What do you enjoy most about the programme that you're studying?
I like that the curriculum is not heavily reliant on examinations. The different assessment components like reflective journals, video presentations and workshops, helped shape us to become more well-rounded and flexible.
The programme is also really interesting – one of our reports required us to take on the role of a critic at a food and beverage (F&B) restaurant. We had to evaluate the establishment based on the food, service and overall ambience.
Another enjoyable module that left an impression on me was when we were tasked to bring food and drinks of different nationalities to class. We had fun going around to the different 'countries' to try out the various cuisines.

Are you part of any student life activities beyond the classroom?
I am currently the Vice-President of SIM GE's Hospitality, Lifestyle and Retail (HLR) Career Chapter (HLRCC). Earlier this year, my committee and I planned a year's worth of HLR-related events for members of the career chapter. One of which was a site visit to Hotel G where there were career talks and networking sessions with staff from Marriott International and Uniqlo. These events are free for SIM students and we hope to organise more of such activities and gain more members!

Tell us more about your part-time position at the Singapore Visitor Centre.
I am currently working part-time as a customer service officer at the Singapore Visitor Centre. Although I've never envisioned myself in this role, I still took up the position because I was inspired by the support rendered by my family, peers and mentors who encouraged me that this is a good opportunity for me to expand my knowledge on Singapore and tourism in general.

How has the programme that you're studying helped you in your current job?
Some modules in this course like 'Sustainability' and 'International Tourism' have been useful in helping me stay aware of the ongoing issues and current trends in the industry. I find the programme relevant especially since huge events like the iLight Singapore is linked to efforts on working towards a sustainable future.

What do you enjoy most about being a student in SIM GE?
I enjoy the fact that I get to grow and develop professionally even as a student. Each assignment, challenge or event that I participated in, has given me a sense of achievement. Having good friends by my side to share these achievements with is also a bonus. University life may not be easy, but going through this journey with the right company and guidance make it better.

What do you hope to achieve in the next three to five years?
I hope to secure a stable job and progress further within the hospitality industry. Having always been in the frontline, I have plans to also venture in the backend to gain more insights into the other end of operations. I believe this will prepare me to be better equipped for future opportunities that come my way.

#IChoseTheSIMPathway #ThisIsMyStory #GlobalHero
Click here to learn more about the programmes awarded by La Trobe University.
Posted online, 09 Sep 2019