Derek Tan
Over his eight years in the Human Resource sector, there are two things that Derek Tan, an SIM Graduate Diploma alumnus, finds rewarding – seeing individuals thrive when given a chance and the variety of tasks that the job entails. With the SkillsFuture Study Award and the programme, he hopes to enable more individuals and the organisation to succeed.
A Stepping Stone to Success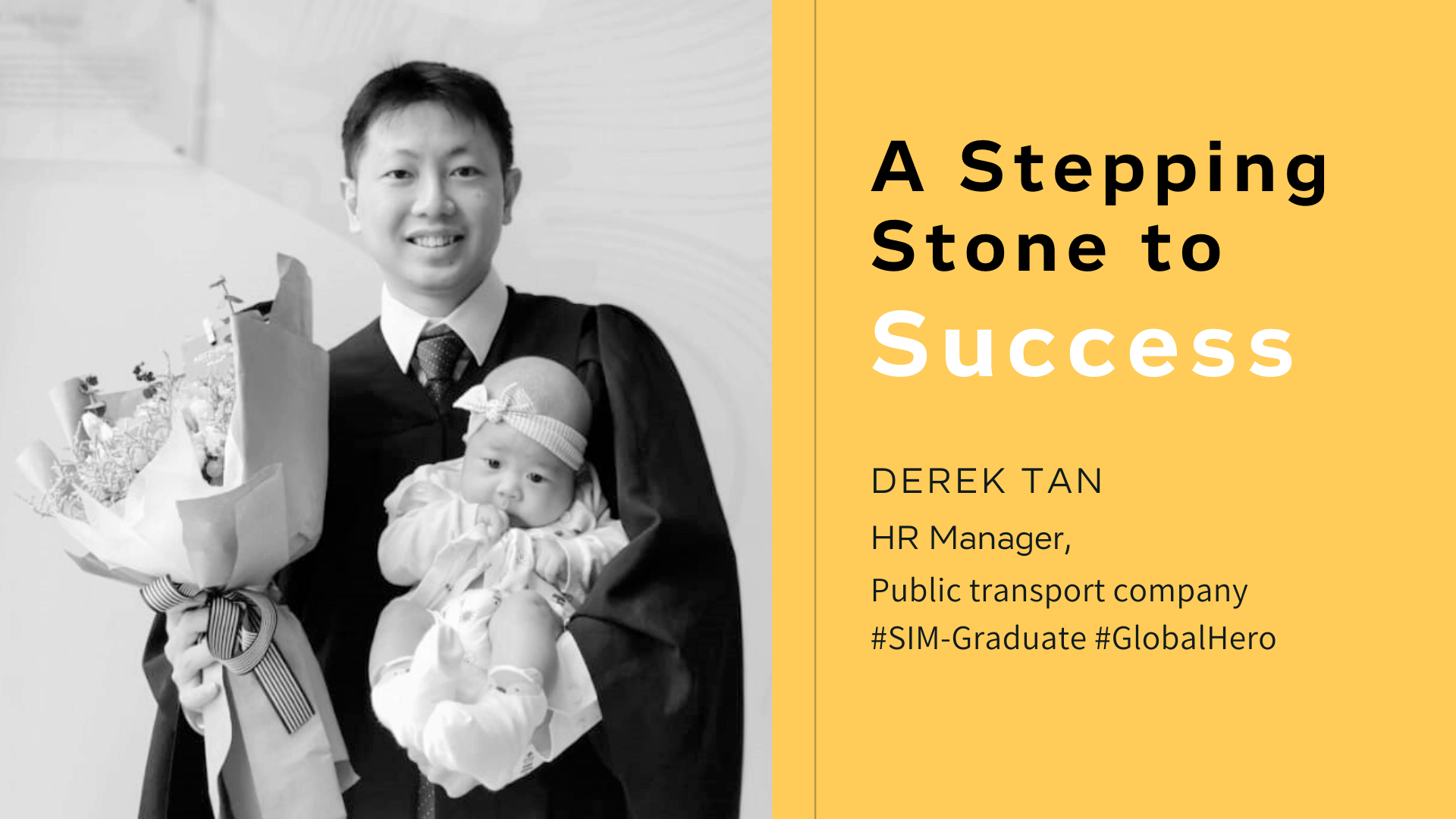 Tell us more about your career journey.
My first job after graduating from NUS was a marketing role with a Malaysian MNC which specialises in the rubber trade. Having worked with them for a while, the company wanted to station me permanently in one of the overseas offices in Thailand. As I did not feel prepared to relocate, I left the role.
However, the network of international clients, agents and friends which I had built during the course of work has helped me to land a role with a recruitment agency that specialises in foreign manpower recruitment.
The new role became a stepping stone into the corporate Human Resource (HR) sector. Since then, there has never been a dull day in the office. The variety of tasks that comes along with the job helps to keep it engaging.
What is the most rewarding moment in your career so far?
Through an interview with an ex-convict, I learned that he had difficulties in gaining permanent employment despite turning over a new leaf. I took a leap of faith and persuaded the hiring manager to put him up for a Rank and File position.
He was grateful and showed it through his exemplary performance in his job. Years later, he was promoted and is now leading a team of his own.
What led you to pursue the Graduate Diploma in Human Resource Management programme with SIM?
I stumbled upon the SkillsFuture Study Award for Human Resource while I was tasked to research on external grants and fundings for the development of our staff.
Since my Bachelor's degree was non-HR related, I thought that I should seize the opportunity to pursue a formal qualification related to the sector. The qualification will be able to open more opportunities for me in my HR career. I applied and was thrilled to be one of the inaugural recipients of the Award.
What were some of the challenges you faced while studying and how did you overcome them?
Initially, I had difficulty coping with the tight deadlines for work and assignments. I soon learned to prioritise and manage my time efficiently between my family, work and studies. This is a valuable skill that I had acquired from this experience.
Strong support and understanding from families and assignment teammates go a long way as well.
What are the advantages of the programme?
The class size is conducive for discussions and there is a good blend of students from various backgrounds. The lecturers are HR professionals who have many years of teaching and industry experience. Additionally, the administrative support from SIM is commendable as well.
The programme has also broadened and deepened my knowledge of HR. I now understand the fundamentals of HR better and at the same time I am able to appreciate how it can evolve to become a strategic partner to the organisation.
Who is your hero and why?
Our founding Prime Minister, Mr. Lee Kuan Yew. He led by example by delivering his promises. He was also sympathetic and empathetic to those around him. I feel that these qualities are important for HR practitioners, especially those in leadership positions, to have.
#SIM-Graduate #GlobalHero
Click here to learn more about the programmes awarded by the Singapore Institute of Management.